Fresh out of this year's Sundance Film Festival, You Won't Be Alone is now playing in theatres. Read our review to find out if the folklore horror drama is worth a watch:
Noomi Rapace is on quite a run. Just a few months ago she starred in the A24 horror drama Lamb, which garnered critical acclaim. Then she starred in the Netflix film Black Crab, which stood its ground in the Netflix Top 10 for weeks. She now returns to theatres with You Won't Be Alone, a folklore horror drama in which a witch tries to discover the meaning of life.
RELATED: BARRY SEASON 3 RETURNS TO HBO MAX APRIL 23
In an isolated village in 19th century Macedonia a young girl gets kidnapped and transformed into a witch by an ancient spirit. When she accidentally kills a villager while visiting the village, she takes on her victim's shape in order to live among the humans and learn about the meaning of life.
The Meaning Behind You Won't Be Alone
What if Terence Malick directed Robert Eggers' acclaimed feature film debut The Witch? You Won't Be Alone is the film we would get and proved that it would be pretty boring. The film is very slow and its paper thin plot and character work make for a very boring watch. We start off with a rather gruesome and atmospheric opening that sets a dark tone, but the film leaves that 20 minutes in. There still are some gruesome scenes, but it all becomes less relevant and only serves to keep the audience's attention. Gore just for the sake of gore.
The rest of You Won't Be Alone is just the Witch pretentiously wandering around trying to find the meaning of life as a human. The theme heavily reminded me of Pixar's latest Oscar Winner Soul, but that film tackled the topic in a fun, engaging and colorful way. To be fair, it's not a very good comparison, due to the films being in different mediums. Yet the statement is that a film about this topic could definitely benefit from a strong, fun genre to sell it with. In Soul it was a body-swap dramedy, while You Won't Be Alone is a horror film, until it isn't.
RELATED: THE BAD GUYS REVIEW: A STYLISH AND FUN HEIST FOR THE ENTIRE FAMILY
There could have been some potentially very effective thematic resonance if the film had stuck to the horror genre, in the veins of the opening sequence. While it has some horrifying scenes sprinkled throughout, the atmosphere never gets as tense as it was in the first 20 minutes. The film quickly becomes a repetition of the witch walking around through the forest, meeting some random humans, having a one-noted conversation with them and starts walking again.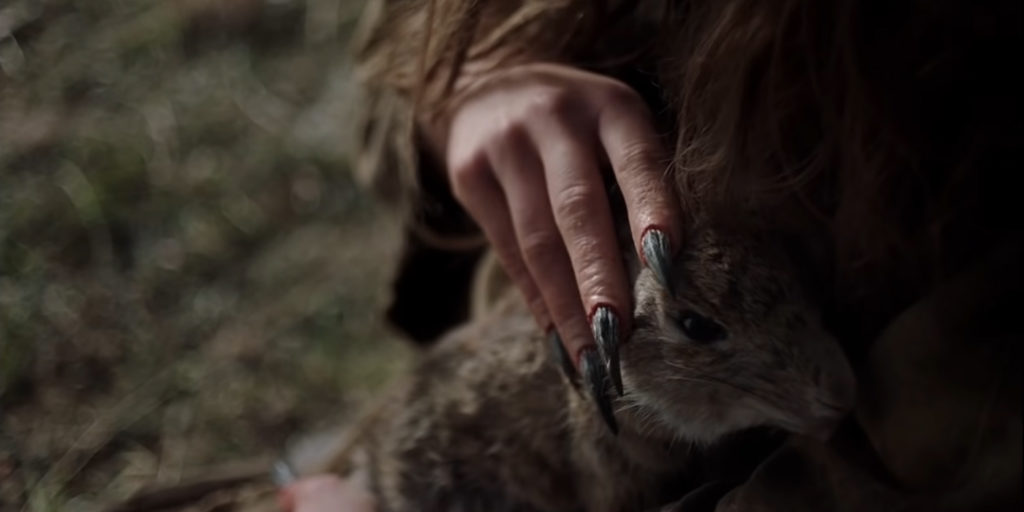 Sometimes there is a more horrific scene happening, but as I already mentioned, it just feels like it is there to stop the audience from falling asleep. But not everything is lost in Goran Stolevski's feature film directorial debut. There is no denying that the make-up and prosthetic work is pretty impressive. It has an even bigger impact in the beginning, where the look of the witch even intensifies the dense atmosphere. Another highlight is the beautiful scenery in which You Won't Be Alone's story takes place in.
The high mountains bathed in the sunlight of the rising morning sun, does make for some beautiful imagery and the great production design, also helps to bring this tale to life. There is also a case to make that the performances by the entire cast are committed, even though very unthankful as they really don't get anything to do, besides wander around and some voice over work.
You Won't Be Alone is not the masterpiece the premise would suggest. A paper thin screenplay and horror with no bite cannot be saved by some beautiful imagery as the story of the witch can't be better described as with the single word: meaningless. And the harsh part about this is that the film wants to be nothing, but this.
2.5/5
The film is currently playing in theatres.
It is directed by Goran Stolevski and stars Noomi Rapace, Anamaria Marinca, Alice Englert, Sara Klimoska and Félix Maritaud.
What do you guys think? Have you seen the film? If so, how did you like it? Let's discuss everything in the comments down below and on our social media.
KEEP READING: DOCTOR STRANGE IN THE MULTIVERSE OF MADNESS DIRECTOR TEASES HORROR ELEMENTS OF THE UPCOMING FILM