The Bob's Burgers crew has an even bigger adventure this summer with the long awaited big screen debut of The Bob's Burgers Movie. During The Bob's Burgers Movie panel at WonderCon 2022, the cast and creatives revealed a few details about fans can expect in the upcoming movie including the fact that it will be set during the last week of school before summer break.
RELATED: BOB'S BURGERS CREATOR TEASES "FAVORITE RETURNING GUEST STARS" IN THE NEW BOB'S BURGERS MOVIE: EXCLUSIVE
Fans also got a sneak peak of the first six minutes of the movie along with a few revelations about what the main characters will be up to. It seems Louise is thinking about taking off her iconic bunny ears, Tina is thinking about her plans for the summer after eighth grade, while Bob and Linda are concerned with money, as usual, but they now also have to deal with a sinkhole that opens up in front of the restaurant.
THE CAST REVEALS WHAT THEIR CHARACTERS ARE UP TO IN THE BOB'S BURGERS MOVIE
During WonderCon 2022, The Illuminerdi had the opportunity to speak to the cast about what their characters will be up to in The Bob's Burgers Movie, learning a few more exciting details. Kristen Schaal and Dan Mintz teased a bit more about what their characters are thinking about in the movie and Eugene Mirman revealed what Gene will be up to as well.
Louise's bunny ears are iconic and this isn't the first time they have been at the center of her story. During the third season Louise finds a nemesis in Logan after he steals her ears. However, the reason behind her need to always hide her head has remained a mystery throughout the entire run of the animated series. Now, it seems this question will finally be answered in The Bob's Burgers Movie:
Kristen Schaal, "You'll see that there's, you're gonna discover the reason why she has the ears and some things in the movie are going to challenge whether or not she should continue to wear them."
RELATED: THE BOYS PRESENTS: DIABOLICAL SUPERVISING DIRECTOR IMAGINES AWKWAFINA'S AREOLA SMELLS LIKE BABY POWDER AND GIVES SEASON 2 UPDATE: EXCLUSIVE
It will be exciting to discover more about Louise and watch as she contemplates a new look in the upcoming movie. And she won't be the only one considering her future. With The Bob's Burgers Movie set during the final week of school before summer break it is technically Tina's last week of middle school. Dan Mintz revealed that Tina is thinking about whether or not she should try and take things with Jimmy Jr. to the next level over the summer.
Dan Mintz, "I mean she's not really focused much past that summer and she just can't decide if she wants Jimmy Jr. to be her summer boyfriend or not. Spends a lot of time agonizing over that."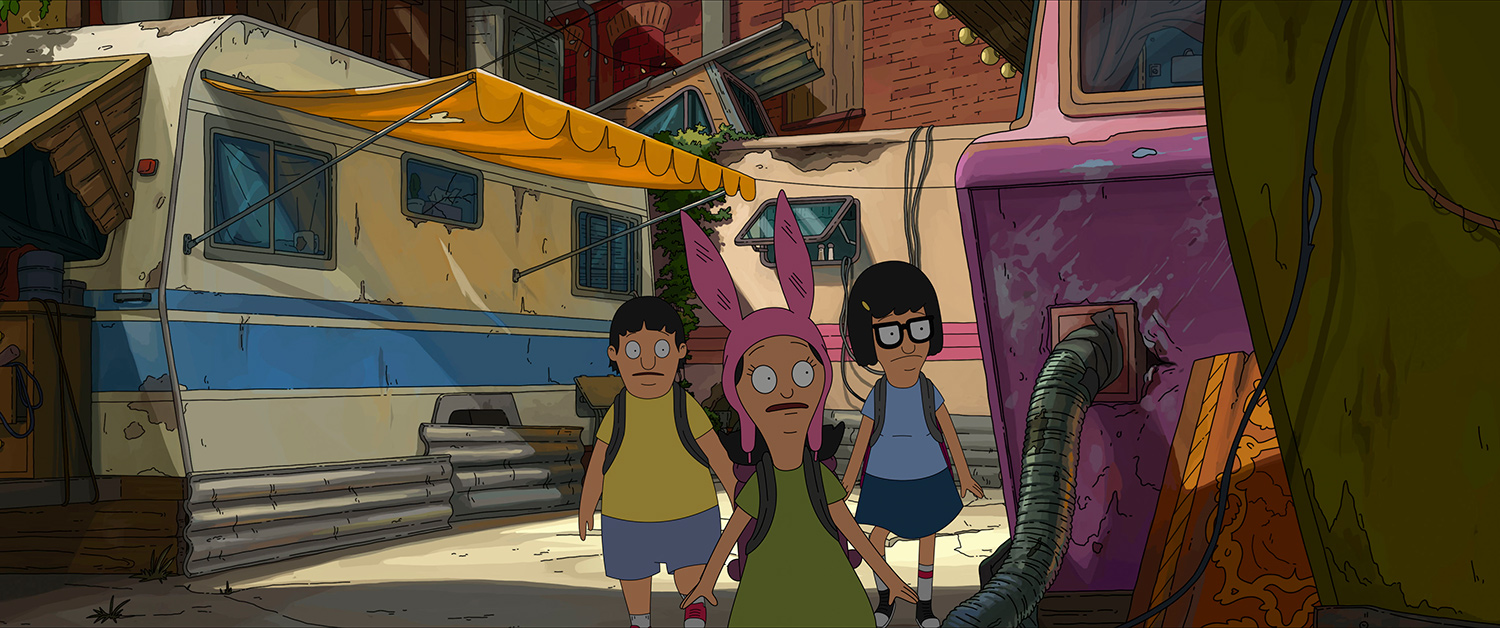 RELATED: WOKE EXCLUSIVE WONDERCON INTERVIEW – WHAT IT'S LIKE FOR THE TOKEN WHITE PEOPLE
Learning more about what Tina and Louise will be up to in the movie is exciting, but one character who's storyline remained a mystery during the WonderCon 2022 panel was Gene. During our interview Eugene Mirman revealed what the Belcher's middle child will be excited about in the upcoming animated adventure:
Eugene Mirman, "I think he is excited to play music. He has a musical dream to fulfill in the movie and then also just to be part of a family and an adventure. He just loves being with his sisters."
The Belcher kids are no strangers to adventure often getting themselves into trouble as they discover quests to explore. What exactly this mysterious adventure will entail is still unknown, but when talking to John Roberts, H. Jon Benjamin, and Larry Murphy we learned that the parents will inevitably be pulled into the mystery as well.
The Belchers are no strangers to money trouble often struggling to make ends meat. It seems this will come to a head in The Bob's Burgers Movie as Bob and Linda are given a deadline by the bank to repay a loan, but that's not all. Bob will not only be dealing with the stress of a looming deadline, but a sinkhole opening up in front of the restaurant cutting them off from their customers.
We asked John Roberts and H. Jon Benjamin how Linda and Bob are handling this stress. John Roberts, who voices Linda, was quick to joke, "The sex is bad." which hilariously devolved into a playful argument between Roberts and H. Jon Benjamin about whether this was Bob's fault or Linda's.
RELATED: WOKE EXCLUSIVE: THE CAST AND CREATIVES REVEAL WHEN THEY GOT WOKE AT WONDERCON 2022
Like Gene, Teddy's arc in The Bob's Burgers Movie remained largely a mystery during the WonderCon 2022 panel. However, in our exclusive interview we learned not only how he is trying to help the Belchers through their financial struggles, but a surprising connection it may have to the larger mystery of the movie.
Larry Murphy, "He tries to come to the rescue and support them by building a mobile burger cart."

H. Jon Benjamin revealed, "And that kind of dovetails with this mystery that they're trying to solve, the kids are trying to solve."

John Roberts continued, "That's right, but the parents kind of get sucked in too. Looking for the kids."

H. Jon Benjamin added, "So Teddy's helping out like he usually does."
RELATED: ATTACK ON TITAN EXCLUSIVE INTERVIEW: VOICE ACTOR BRYCE PAPENBROOK DISCUSSES THOUGHTS ON PARALLELS BETWEEN WORLD WAR II AND THE SERIES
Teddy once again stepping up to help Bob and Linda proves how integral he has become to this family. The larger mystery of The Bob's Burgers Movie is still unknown, but knowing the kids stumble upon it first followed by their parents shouldn't be a huge surprise. Perhaps more intriguing is how exactly Teddy's mobile burger cart could come into play. The Bob's Burgers Movie is primed to be a hilarious and exciting new adventure for the Belchers. Based on the six minute sneak peek the animation is incredible and with these hints about what each of the main characters are up to it looks like each character will have an exciting arc along with the larger mystery.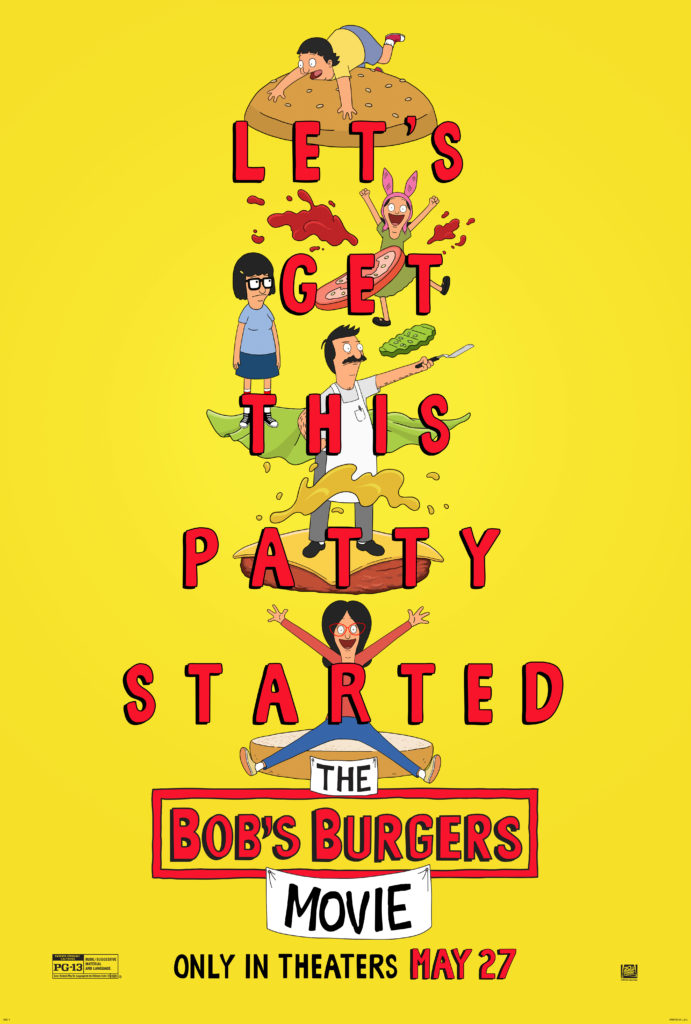 The Bob's Burgers Movie hits theaters May 27, 2022. Are you excited to see The Bob's Burgers Movie? Why do you think Louise wears the bunny ears? How do you think the mobile burger cart could dovetail into the mystery? Leave your thoughts in the comments below or on our social media and check back with The Illuminerdi for more Bob's Burgers and WonderCon 2022 coverage.
KEEP READING: THE BOB'S BURGERS MOVIE CREATOR EXPLAINS THE BENEFITS OF NEW MOVIE BEING 2D: EXCLUSIVE