The Unbearable Weight of Massive Talent is Nic Cage on Nic Cage about Nic Cage and his coming of age.
My online persona being hilariously cocky automatically drew me to this film solely based on the title, The Unbearable Weight of Massive Talent. There is a real and tremendous burden of the highly capable that tends to drive us crazy. There is no way to say that without sounding douchie or pretentious. It is what it is. Other than the film's star, the only other person who comes to mind that has openly acknowledged the afflicting pressure of greatness is Loki who stated, "… I'm burdened by glorious purpose." However, none of our weights match that of Nic F%@!% Cage.
The Unbearable Weight of Massive Talent Knows Exactly What You're Thinking
The Unbearable Weight of Massive Talent is an extremely self-aware and meta-story about the trials and struggles of Nicolas Kim Cappola, renowned the world over as, Nic Cage. Cage plays himself, as well as an inner/previous/made-to-look younger version, Nicky. Nicky is the wild-eyed version of Nic Cage that is wonderfully serviced to the crazy, wild, unhinged Nic Cage much of the media and the world think of him as. It is exactly what people think of when they hear about Nic Cage. I cannot stress enough that regardless of who you are, if you know anything about the "crazy" Nic Cage, Nicky perfectly embodies that image.
RELATED: Fantastic Beasts: Secrets of Dumbledore Review – Opens Up The Magical World and Easily the Best of the 3
This uncanny embodiment of the mildest and wildest interpretations of Cage is the true power of the film. The film knows what we think, it knows what we like and dislike, and it gives it all to us. The control of the meta this film has is a masterpiece in and of itself. But even on top of that, the story, the performances, and overall cinematic production are absolutely brilliant. It is as if The Unbearable Weight of Massive Talent was dropped onto a canvas and a surprising canvas that is unexpected from the sum of its parts.
The story, when written about, is as bland as unbuttered and untoasted toast. There is no way to cover the story beats without it sound cliche and uninspired. The only real selling point is that it is Nic Cage playing Nic Cage. Otherwise, this storyline might as well be the 4th or 5th film of an action franchise that had no intention of making a sequel. Your Speed 2, Taken 3, Die Hard 5s so to speak. However, this is by design.
This plain piece of bread is the perfect starting point that brings everyone in. Then everyone gets to kind takeaway their own parts of the movie and make a sandwich with it. It's very kind of Bollywood in that sense. The movie at its heart is a human story about overcoming one's issues, and finding a real friendship that not only supports you but revitalizes you. It is also an epic buddy comedy of two weirdos. Plus a movie about a parent who wants to fix his relationship with his daughter. It is also a hostage rescue movie. It is as varied as the projects of Nic Cage himself. It is irregular, but somehow never stops making perfect sense.
The Unbearable Weight is Made to Look Light by the Massive Talent
Javi Gutierrez' (Pedro Pascal, left) and 'Nicolas Cage' (Nicolas Cage, right) zooming through the mountains of Mallorca, Spain. Photo Credit: Katalin Vermes/Lionsgate

'Nicolas Cage' (Nicolas Cage, left) enjoying a welcome drink on 'Javi Gutierezz's' (Pedro Pascal, right) compound in Mallorca, Spain. Photo Credit: Katalin Vermes/Lionsgate.

Pedro Pascal as 'Javi Gutierrez' (left) and Nicolas Cage as 'Nicolas Cage' cliff diving into the open waters in Mallorca, Spain. Photo Credit: Katalin Vermes/Lionsgate
The Unbearable Weight of Massive Talent is shouldered by Director Tom Gormican and Nicolas Cage. Gormican is, without a doubt, obsessed with Nic Cage. It is far more than a strong and dedicated fandom, he resonates with Nic Cage in a way that I don't think Nic Cage realized could be possible. His obsession and understanding of Cage are truly profound. He is able to address even the wildest of aspects of Nic Cage the person and the legend, as a joke, but without ever making him a joke. It is not disrespectful, and it never deters from the negative aspects and makes Cage very human despite his superhuman tendencies.
RELATED: Thor: Love and Thunder Funko Pops Release With Teaser Trailer
Nic Cage is the hero of the story. But as viewers will come to discover, is more for marketing and mass appeal. However, he is not necessarily the hero of his [character's] story. Cage gets to tell his story, what he's learned from it, and how it has allowed his character to develop. How close and connected it is to the real Nic Cage is yet to be seen, but it does seem the audience of the film and the general reception of Nic Cage across the media now, appear to be near-identical parallels. Which I believe is great and maybe will give us more higher profile Nic Cage projects. Which is great news.
Because Nic Cage absolutely delivers a career-high performance. First off, kudos to the actor for allowing himself to be the subject of the film. In many ways, it is a tear-down piece of the narcissistic weirdo the legends and stories make him out to be. To be able to let yourself be portrayed in a crazy light takes a lot of fortitude and should be acknowledged. But even on top of that, Nic Cage delivers a fully encompassing performance. He matches his best and most impactful performances as well as his most derided. He is the paradox that broke Abed Nadir. But since it is controlled and intentional, we have to assume he is a genius.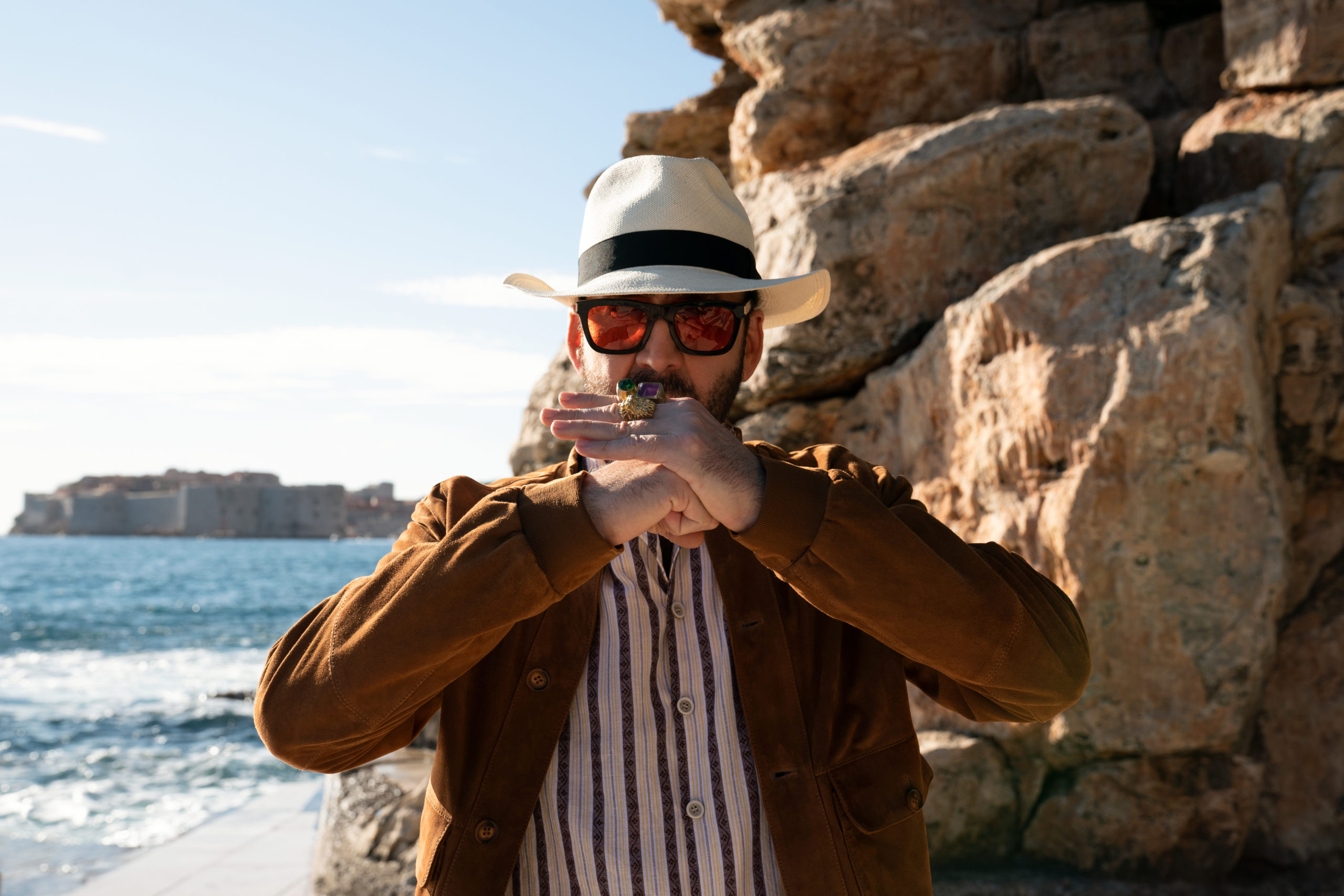 Matching Cage's genius, is his co-star, Pedro Pascal as Javy. Javy is essentially the character form of writer and director Tom Gormican. Javy is far beyond a Nic Cage stan, and much more than obsessed. However, it is not dangerous, delusional, or even sad. It is, probably in the most real terms, a genuine love of Nic Cage. This isn't romantic love or anything like that, just a true and pure love of Nic Cage. Pedro's Javy, regardless of his possible ulterior motives, is just delightful throughout the movie. He will touch your heart and make you smile, making you believe it is the best thing in the world to meet your hero.
Pedro's performance in The Unbearable Weight of Massive Talent is brilliant. He will get viewers to love Nic Cage, love him, love the movie, and come out smiling despite probably needing time to process the movie after watching it. Without a doubt, Pedro Pascal is the heart of the film. While Gormican and Cage are the beares of the weight of massive talent, Pascal is its guide. He drops it to hit the viewers in the feels, then lifts it to make them laugh. If the film had come out later in the year, I would put good money that Cage and Pedro would at the very least be nominated for Golden Globe Awards.
RELATED: Jurassic World: Dominion Funko Pops! Are Now Available
My one critique, of an otherwise flawless movie, is that there is a twist that is pretty obvious before there is even a need or revelation of the twist. I won't spoil it and knowing there's a twist isn't really a big deal. It's not an "I see dead people," type of twist that the whole movie builds up to. It's extremely cliche. And because of some really obvious character costume/design choices, very obvious, very early. Chances are you won't know when you first see it, but when the movie reveals it, it will provide 0 surprise because you subconsciously already connected those dots before you got lost in Cage and Pascal's beautiful friendship blossoming.
Nic Cage At His Best While Being His Worst
The Unbearable Weight of Massive Talent is a geniusly silly movie that knows exactly how genius and silly it is, and how much of each the audience wants and expects. The full control of how meta the film is is truly a mastery of the concept and genre that only one other creator even attempts to reach. Writer and director Tom Gormican truly captures the brilliance and uniqueness of Nic Cage. Cage gives one of his best performances by simultaneously giving his best and lesser performances on demand. Then every aspect of the film is heightened by Pedro Pascal's absolutely delightful performance. If it wasn't for the anime hair color level of signaling, the film would be perfect.
I give The Unbearable Weight of Massive Talent a 4.75/5. The film is currently out now in theaters across the USA.
About The Unbearable Weight of Massive Talent
Release date: April 22, 2022 (USA)
Director: Tom Gormican
Distributed by: Lionsgate Films
Music by: Mark Isham
Screenplay: Tom Gormican, Kevin Etten
Cast: Nicolas Cage, Pedro Pascal, Tiffany Haddish, Ike Barinholtz, Lily Mo Sheen
Description:
Nicolas Cage stars as… Nick Cage in the action-comedy "The Unbearable Weight of Massive Talent." Creatively unfulfilled and facing financial ruin, the fictionalized version of Cage must accept a $1 million offer to attend the birthday of a dangerous superfan (Pedro Pascal).

Things take a wildly unexpected turn when Cage is recruited by a CIA operative (Tiffany Haddish) and forced to live up to his own legend, channeling his most iconic and beloved on-screen characters in order to save himself and his loved ones. With a career built for this very moment, the seminal award-winning actor must take on the role of a lifetime: Nicolas Cage.
Have you watched The Unbearable Weight of Massive Talent? Do you also feel the burden of your own genius? Did you already watch the movie? Let us know what you in the comments below and be sure to share your reactions to the film with us on Twitter.
KEEP READING: Everything Everywhere All At Once is Bona Fide Masterpiece