America Chavez, meet your moms!
As the clock ticks on the release of the highly anticipated universe changing Doctor Strange in the Multiverse of Madness there's still so much we don't know about the film. While we know that it will be littered with fan service type cameos, there's still some unconfirmed cast members that we haven't heard about yet.
RELATED: UNDONE CO-CREATOR TEASES ALMA AND BECCA'S RELATIONSHIP AS BECCA'S NEW ABILITIES GROW IN SEASON 2
The Illuminerdi has your collective backs. We (just like the rest of the world) have learned some new information that reveals atleast two new cast members close to America Chavez who will appear in Doctor Strange in the Multiverse of Madness.
Trust and believe that the reason we were so late reporting on it is because of the potential controversy that circles the characters, their relationship to another character in the film and what this means for the view of the film on a global and social landscape.
America Chavez and Her Mothers
One Take News is reporting that Ruth Livier and Chess Lopez have joined the cast of Multiverse of Madness. They state that they were also able to confirm that they will play the moms of America Chavez. Their names are Elena and Amalia, respectively.
Lopez is a relative newcomer with a few short films on her resume, while Livier has appeared in 90210 and done some voice-acting in video games such as Sly 3, Grand Theft Auto: San Andreas, and Dead Rising 3. These castings may not seem like a big deal, but it's worth noting that the inclusion of these two characters have actually caused some issues with the film releasing in some countries. 
Saudi Arabia, Kuwait, and Qatar had threatened to pull Doctor Strange in the Multiverse of Madness from theaters in the region because of a brief reference America Chavez (Xochitl Gomez) makes to her "two moms" at one point, and it looks like the reality-hopping hero's parents are actually going to appear in the movie.
Disney refused to make the edits Saudi Arabian censors requested. It does seem that Disney is on an upward trend with inclusion and acknowledgment. Recently they stood with the LGBTQ+ community in Florida concerning the "Don't say gay" bill, the activism they have outwardly embraced, and the outspoken executives that have committed to inclusionary change.
This aligns with the standards that they are clearly concerned with.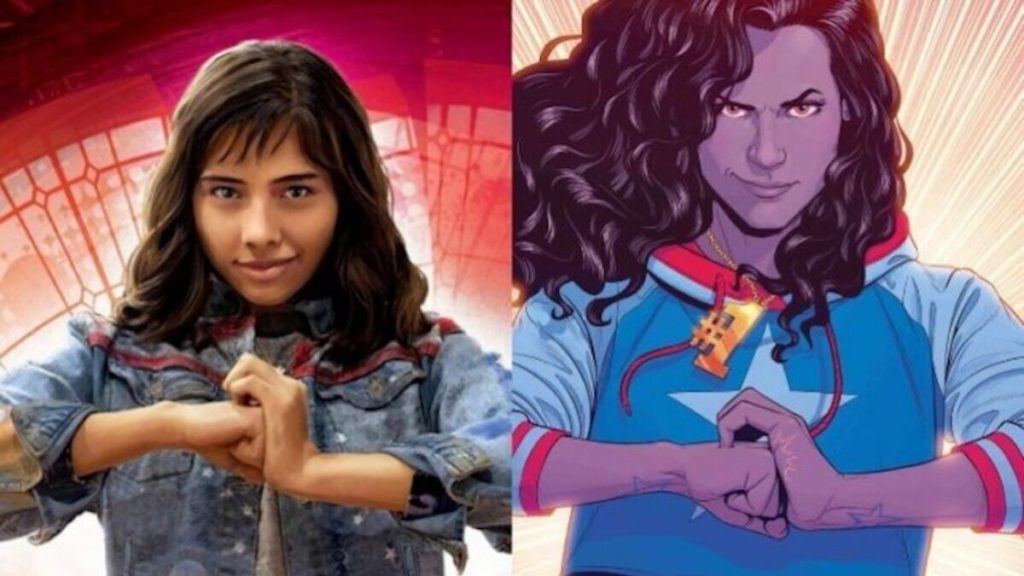 Still, the character also marks major milestones for the Marvel Cinematic Universe as America Chavez's Latinx and LGBTQ+ comics background will be present in the live-action film, while simultaneously breaking down barriers and constructing landmarks that will most likely encourage further discussion.
In the comics, her traditional origin story is that she used her dimension-hopping powers to travel from a universe known as the Utopian Parallel after her mothers gave their lives to save that universe.
I know that we shouldn't interject our personal opinions in these informational pieces and this portion may be edited out but, I personally think this is a long time coming. The LGBTQ+ community is a reality, and one that should also be acknowledged.
It is a marginalized group that is very vocal making it one that is seen and heard. Just like the BIPOC community and many others. America Chavez is aptly named as she represents America now. A melting pot of all truths, creeds, religions, beliefs, lifestyles, and orientations.
Disney has seen the error of their ways, specifically, Song of the South. Marvel aswell with characters like the Ape and Oldow that were depicted as savage ape-like creatures and were depicted in a disparaging way as being ruthless killers.
Nonetheless, America Chavez represents so much to so many. She herself is the line drawn in the sand that is telling the world that your race, and orientation shouldn't be what defines your character or story but rather be an aspect of the character.
Doctor Strange in the Multiverse of Madness hits theaters on May 6, 2022. Are You looking forward to it. Do you have your tickets; What do you think of the casting news? Let us know in the comments below or on social media.
KEEP READING: SNEAKERELLA SNEAK(ER) PREVIEW OF NEW ORIGINAL SONG "KICKS" AHEAD OF MAY 13 RELEASE
Source: One Take News