Doctor Strange In The Multiverse Of Madness is only days away and fans are beyond excited for what is sure to be a truly insane adventure into the Marvel multiverse. The multiverse has been explored in What If…? and Spider-Man: No Way Home, but it looks like Doctor Strange In The Multiverse Of Madness will be taking this to another level.
The Illuminredi had the opportunity to participate in the virtual Doctor Strange In The Multiverse Of Madness press conference with some of the cast, director Sam Raimi, screenwriter Michael Waldron, and executive producer Kevin Feige. During the press conference Benedict Cumberbatch was asked about how he approached his character now, as Strange has developed from his introduction in Doctor Strange to now be an "elder statesman" within the MCU.
BENEDICT CUMBERBATCH TALKS ABOUT DOCTOR STRANGE EVOLVING AND MATURING AS A LEADER
"He's quite a maverick. He's quite an outsider. He doesn't immediately strike you as a leader despite his prominence in the MCU at this moment. And that's what makes him really interesting and conflicted, I think, as a hero. As Sam [Raimi] alluded to its the humanity that keeps people coming back for more and I think we see in this film an iteration of somebody who we've seen very omnipotent, very creative, and sort of omnipresent.

And yet we haven't really understood what the cost of that is. What it is that's fueling that both him as a person, but also within this mysterious realm of sorcerery and magic. So, this one was about examining that and finding his flaws, his faults, his humanity, as well as his strengths. And renewing our understanding of him and deepening our understanding of him.

So, as far as a leader goes, yeah, this is sort of I would say more of a self-examination in the way that Sam described of holding up a mirror to him through this incredible narrative structure we have of the multiverse of other selves than it is examining what his potential is to lead. But I will say this, he's far better at being a collaborator, at working with others, at realizing he can't always be the one to hold the knife and control all himself. So, those are pretty leader like qualities I'd say, but he's evolving."
RELATED: NEW DOCTOR STRANGE IN THE MULTIVERSE OF MADNESS FEATURETTE RELEASED 1 WEEK AHEAD OF PREMIERE DATE
Doctor Strange has become an important part of the MCU especially with a number of the original heroes now gone. Strange has proven himself an important and powerful ally, but as Cumberbatch said the cost of his time in the MCU hasn't truly been explored since his debut in Doctor Strange. It was touched upon in Avengers: Infinity War, Avengers: Endgame, and Spider-Man: No Way Home, but it will be exciting to see this truly explored in the new film in order to more deeply understand this character.
Especially as the fallout of WandaVision will inevitably come to the surface as well. How will Strange handle Wanda, her grief, and her destiny to become The Scarlet Witch? Strange will also be contending with a new young hero, America Chavez (Xochitl Gomez) after his time with Peter Parker. During the press conference Cumberbatch talked a bit about how Strange may have learned from his time trying to help Spider-Man.
RELATED: DOCTOR STRANGE IN THE MULTIVERSE OF MADNESS: MICHAEL WALDRON AND SAM RAIMI DISCUSS THE CRAZINESS OF FILMING DURING PRODUCTION CHANGES
"[Spider-Man: No Way Home] was him trying to be an adult. Trying to be a sort of guardian, I guess, and getting it very wrong to be honest. There was some poor parenting in that film. He got angry with the kid. He tried to take the toy back. It all went a bit wrong. But he's not rigid. He's a very flexible character who is malleable to his experience. He's a very quick learner as we know, not just intellectually, but I think emotionally now as well. He's deepening his emotional language so it's, I would say a maturing leader.
Hopefully this flexibility will come in handy with the new young hero in Doctor Strange In The Multiverse Of Madness. This film marks the introduction of America Chavez into the MCU and it is sure to be interesting. In Strange's attempts to help Peter Parker it seems he may have fractured the multiverse leading to the events of the highly anticipated new film.
It will be exciting to see what he has learned from this experience and how it will impact his attempts to help America Chavez. It will also be interesting to see if his inability to save Peter from sacrificing his friends and the life he had will affect his time with Wanda who is also suffering from the tragedy of losing those she loved and a life she built.
RELATED: DOCTOR STRANGE IN THE MULTIVERSE OF MADNESS OBLITERATES FANDANGO'S FIRST DAY 2022 SALES RECORD
Doctor Strange learning and maturing emotionally could prove to be a truly integral part of his journey. After losing allies during not only Endgame, but Spider-Man: No Way Home empathy instead of arrogance and the need for control may be exactly what the hero needs to heal the wounds he may have caused to the multiverse. Doctor Strange In The Multiverse Of Madness is poised to be one of the biggest and most insane MCU movies to date which is truly impressive.
With the multiverse being fully kicked open, the fallout of Strange's arc in the MCU so far, WandaVision, and so much more this is sure to be an exciting adventure. But perhaps even more intriguing is the fact that this is a chance to learn and understand more about Strange as he has grown and evolved not only as a sorcerer, but a person.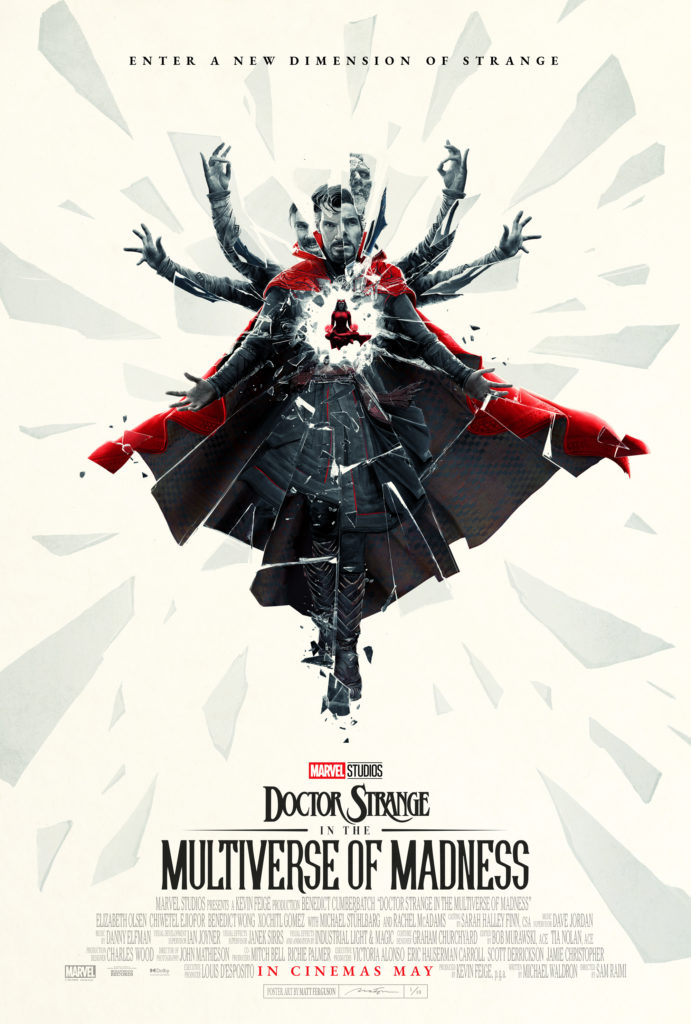 Doctor Strange In The Multiverse Of Madness will release exclusively in theaters May 6, 2022. Are you excited for Doctor Strange In The Multiverse Of Madness? Are you interested in understanding more about the sorcerer and his evolution as a hero? How do you think Spider-Man: No Way Home will affect his style as a mentor? Leave your thoughts in the comments below or on our social media and check back with The Illuminerdi for more Doctor Strange In The Multiverse Of Madness and MCU.
KEEP READING: SAM RAIMI TALKS BRINGING HORROR TO DOCTOR STRANGE IN THE MULTIVERSE OF MADNESS