Doctor Strange in the Multiverse of Madness is finally in theaters, and the internet is on fire with everyone's reactions!
The months leading up to the release of the blockbuster MCU film were filled with rampant speculation about what characters might be showing up in cameos. Many of these speculations were right on the money, as this multiversal mind-$%& did feature a number of brain-melting character appearances. However, other rumored appearances turned out to be nothing more than fan theories (We're looking at you Tom Cruise…).
One of these rumored appearances that ended up on the cutting room floor was that of Wade Wilson, A.K.A. Deadpool. Many fans speculated that Multiverse of Madness would be the perfect place to introduce the character since it opened the door to a multiverse from which any conceivable character could be pulled. While this didn't ultimately happen, the screenwriter for the movie has recently revealed that they considered including him in the film at one point.
RELATED: Doctor Strange in the Multiverse of Madness Review – Good Fast-Paced Horrific Fun
"Yeah, we talked about it," Michael Waldron revealed in an interview with Comicbook.com. "I think we talked about everything in this movie. So, [it] would've been crazy to not raise that, but it ultimately didn't feel like… It just didn't feel the right place. But yeah, of course we talked about it."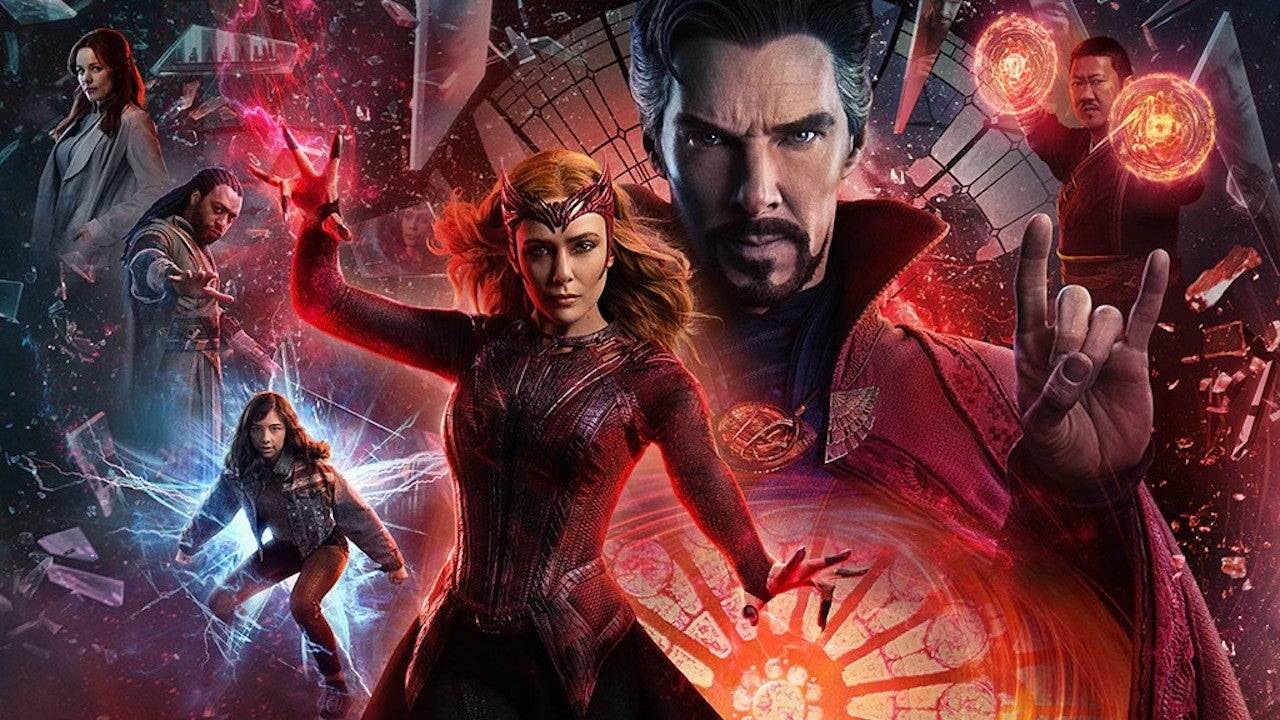 WHY NO WADE IN DOCTOR STRANGE 2?
This quote from Michael Waldron gives us an interesting look behind the scenes, and might just reveal a bit about what we can expect from Deadpool when he finally makes his debut in the MCU. SPOILERS FOR MULTIVERSE OF MADNESS AHEAD!!!!!
RELATED: Doctor Strange 2 Plot Summary Details Possible Cut Baron Mordo Death Scene
For those who've seen the spectacular insanity of the movie, Doctor Strange 2 had no shortage of awesome cameos. Perhaps the most talked-about scene in the movie was when Doctor Strange was introduced to the Illuminati of Universe 838, and fans were able to feast their eyes on Patrick Stewart's Professor X (modeled after the Xavier of the 90s X-Men animated cartoon), Anson Mount's Blackbolt, Lashana Lynch's Captain Marvel, Hayley Atwell's Captain Carter, Chiwetel Ejiofor's Baron Mordo, and John freakin' Kasinski's Reed Richards of the Fantastic Four!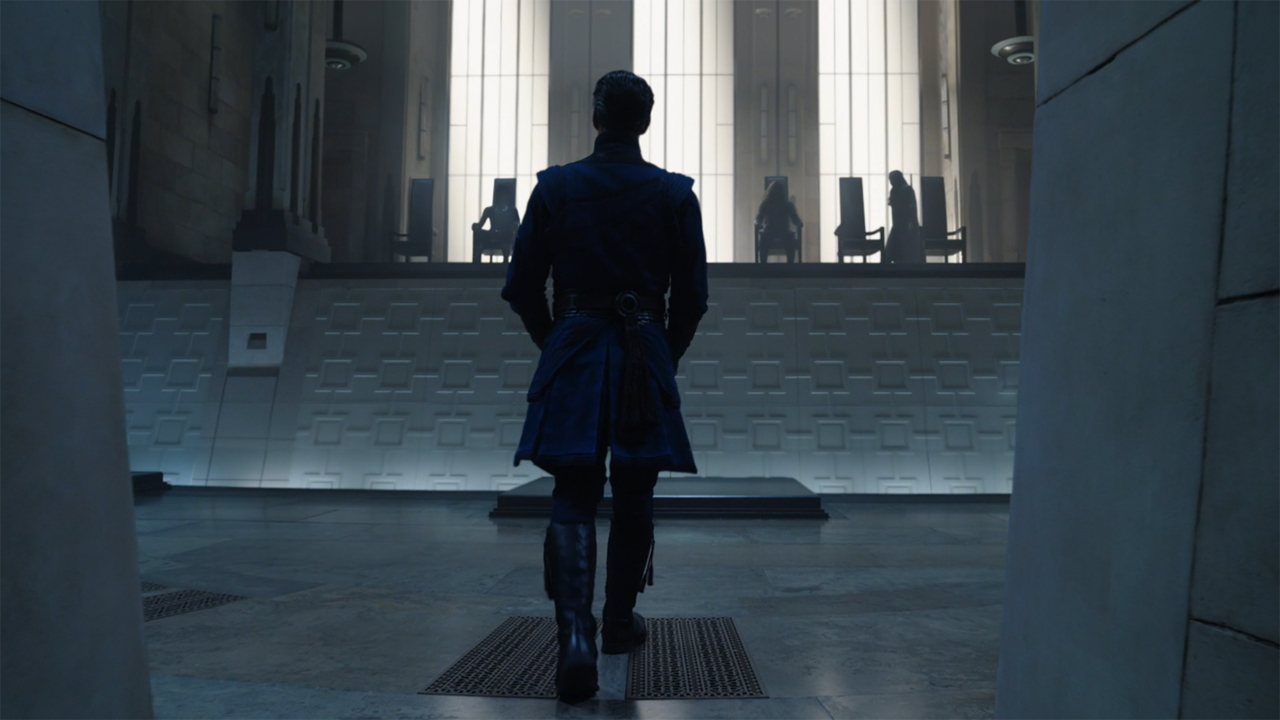 I don't know where you were when you watched this scene, but my theater absolutely lost their minds. And then five seconds later, they lost their minds again as Wanda Maximoff brutally murdered them before our eyes. It was an extremely powerful moment; not just because it opened our eyes to the vast amount of universes and character variants which could now be brought to the big screen, but also because it showed the incredible power of the Scarlet Witch in her full form. The cameos were each amazing in their own way, but they all had a united purpose of showing off the true level of Wanda's powers. They were put in this film to get merked!!!
RELATED: Benedict Cumberbatch Reveals The Infamous Marvel Villain Role He Rejected Before Doctor Strange
And perhaps this is the reason why Deadpool (the merc with a mouth) never made it into the film. You see, these cameos weren't just picked for fan service alone; they had a purpose that served THIS story. The characters were chosen for the specific way that they would be able to interact with Strange and Wanda. If the writers had included Deadpool in the Illuminati line-up, it would arguably have distracted from the story that this movie wanted to tell, shifting the focus away from the core characters and onto the incredibly charismatic Ryan Reynolds.
This would undeniably have caused a tone shift into the irreverent comedy that he is known for, which would conflict with the dark and serious tone of Wanda's rampage in Doctor Strange 2.
Of course, the film might have included Deadpool in another part of Doctor Strange in the Multiverse of Madness…among any of the parallel universes that Strange and America Chavez pass through on their journey…but again, I think this would have been distracting. All eyes would immediately turn to the cussing Canadian katana-carrying crack-up, and away from Strange and Chavez. The writers wanted to wait to introduce him until the right moment, where they could focus entirely on Deadpool without taking away from anything else.
This shouldn't worry fans, however! Deadpool 3 is currently in-process, and it will see Ryan Reynolds once again partnering with director Shawn Levy (Free Guy, The Adam Project) to bring the character to screen in the MCU. The script is being written by Wendy Molyneaux and Lizzie Molyneaux-Loeglin (Bob's Burgers), along with Deadpool and Deadpool 2 writers Rhett Reese and Paul Wernick. With a team like this, it's safe to say that Deadpool is in safe hands.
RELATED: Doctor Strange 2's Elizabeth Olsen Wants Scarlet Witch to Team Up With The X-Men
Last year in an interview with Comicbook.com, Reynolds talked about the pressure of introducing his character into the MCU.
"Deadpool, for me, is kind of like an anxiety inducing tightrope walk," he said. "I always think when I've got Deadpool just right, I'm speaking from experience from Deadpool 1 & 2, that I need to make it 30 to 40% percent better than it already it is. Even if I'm at the moment where I'm like, 'This is perfect, this moment!'

Then, I stop and I go, 'Okay, this has to be 30% better than it already is.' It's a stressful thing to get right, or at least right as far as I'm concerned. I think you're always gonna zig when everybody's expecting you to zag when it comes to that character. As long as Disney's open to doing some pretty wildly divergent or having some wildly divergent uses of Deadpool then I dig it, man. I think it's all great."

SO, WHERE WILL WE SEE DEADPOOL NEXT?
It's hard to say what all of this means for the future of the smart-mouthed killer. Kevin Feige and Marvel Studios seem to be in no rush to unveil all the new toys that they got in their acquisition of 20th Century Fox, and that's okay by us! We would rather they do it right than do it fast.
But if Wade Wilson didn't show up in this, where will he fit in?
After all, we are assuming that Marvel would want to continue with the same version of the character from the first two Deadpool films. Marvel Studios could decide to go with a variant Deadpool from the 616 Universe, but that would undo some of the character arcs and connections that we already have from the previous two movies. If they go with the same version of the character, this would mean he would have to make a jump from his universe into the 616. So wouldn't Multiverse of Madness have been the perfect place to do it?
RELATED: Doctor Strange in the Multiverse of Madness: Benedict Wong Discusses Wong's Evolution from the 1st Film
Well, if we were gamblers, we'd bet that the multiverse isn't going away anytime soon. Just like Thanos was the overarching villain of the first decade of the MCU, we anticipate that the Multiverse will be a recurring problem for our heroes throughout the next few years of Marvel. Charlize Theron showed up in a post-credits scene of Doctor Strange 2 to tease exactly that, and we know that a second season of Doctor Strange in the Multiverse of Madness is finally in theaters, and the internet is on fire with everyone's reactions! What If…? and Loki are coming in the near future.
On top of that, we've also got a new character who can punch holes through universes, and some amazing actors/characters like John Krasinski's Mister Fantastic that the audience wants to see more of.
With all this in mind, there are plenty of places for ole Pooly to show up next, and they might just be saving his introduction for a particular story they want to tell. Perhaps they want Deadpool to go zipping on his own multiversal acid trip through the cosmos, coming up against variant versions of himself? Perhaps they are waiting to bring him in along with the rest of the Fox Universe, including characters like James McAvoy's Professor X and Michael Fassbender's Magneto?
The possibilities are infinite, but it looks like we'll just have to wait a little longer to find out…
Doctor Strange in the Multiverse of Madness is currently playing exclusively in theaters.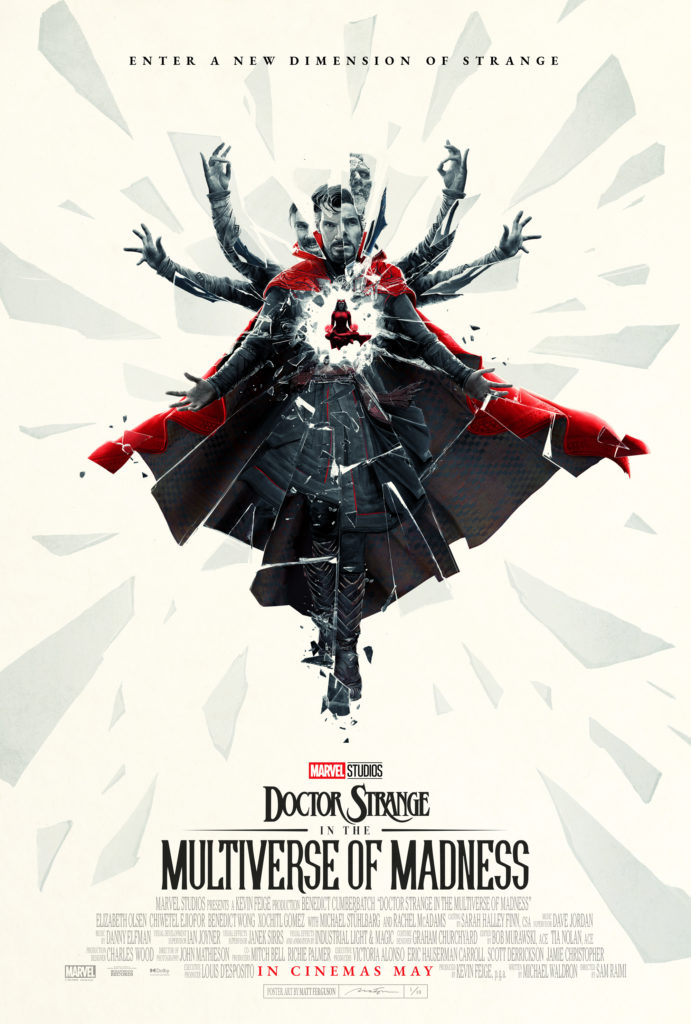 What are your thoughts on Deadpool? When do you think he will make an appearance in the MCU? Let us know in the comments below and share your theories with us on social media!
Source: Comicbook.com
KEEP READING: The Illuminerdi's We're Always Watching Podcast Ep. 1: Doctor Strange In The Multiverse Of Madness