This past week had a few interesting things happen in the world of Hasbro's Power Rangers Lightning Collection. Here is a recap of what happened for the popular collector line this past week as discussed on the latest episode of The Illuminerdi's Ranger Wrap-Up and Toku Topic's Lightning Storm series this past weekend.
NINJA BLUE AND BLACK FIGURES
Revealed back in August 2021 the Lightning Collection Ninja Blue and Black Ranger figures have been spotted more frequently in Target stores around the country. These Target Exclusive figures started to be found about two weeks ago but are also now beginning to ship out for those who had pre-orders for them on Target.com.
The latest updates on those arrival dates show those pre-orders will start arriving for fans sometime between May 26th and June 2nd. Sometime around this timeframe the figures should also be appearing in stock on Target.com as well.
RELATED: HASBRO REVEALS NEW MIGHTY MORPHIN POWER RANGERS LIGHTNING COLLECTION PRODUCTS
This completes the first batch of Ninja Ranger releases at Target for the line as fans now wait for the recently revealed Ninja Red, Yellow, and Kat Pink figures to be released at Target this fall.
RED ECLIPTOR OUT NOW
First shown off during a Fan First Friday event back in December 2021 the Lightning Collection Fan Channel Exclusive release of the In Space Red Ecliptor figure has now been released online. Small business Bitz & Buttons based out of Florida listed the figure in stock early last week before it appeared in stock, and still is listed as such, on retailing Entertainment Earth and Dorkside Toys.
Hasbro Pulse and other Fan Channel retailers had previously listed this release for an August 2022 timeframe but due to these early shipments Hasbro Pulse has began sending out emails claiming they too will also be expecting shipments of this new figure to start going out in the next few days.
RELATED: PRE-ORDERS OPEN FOR POWER RANGERS LIGHTNING COLLECTION IN SPACE ECLIPTOR FIGURE
You can check out a review of this new figure from Toku Topics here.
BLUE RANGER ROLE PLAY UPDATES
A few days ago Hasbro revealed the new Lightning Collection Blue Ranger Helmet and Blue Ranger Power Lance items for pre-order. Since then the codenames for these items have now been discovered, which can be used to help pre-order the items in stores at GameStop or used to find them on other online retailers that might not have decoded the products just yet.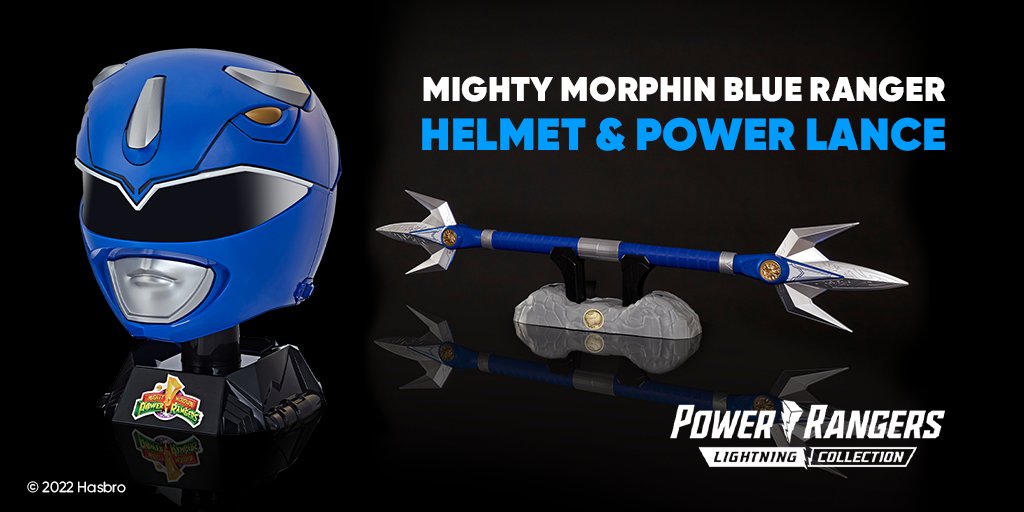 The Blue Ranger Helmet is listed as "PRG DU ABBEY" and the Blue Ranger Power Lance is "PRG DU CATHEDRAL". The original CNET reveal for these items had them listed for release in August and September respectively, however pre-order dates on retailers list them for anywhere between October 2022-January 2023.
For those trying to save up for these new role play items it would be wise to assume the August/September dates to be closer to when these items will actually release, as release dates in the Lightning Collection are known to be all over the place often, sometimes, like with Red Ecliptor, much earlier than originally listed.
RELATED: HASBRO REVEALS NEW POWER RANGERS LIGHTNING COLLECTION BLUE RANGER ITEMS
To stay up to date with all the news for the Power Rangers Lightning Collection fans can check out The Illuminerdi's Josh Perry on his weekly Lightning Storm YouTube series every Saturday at 9:00 am Pacific or on Twitter at @LightningFigPR.
What do you think of the latest news for the Lightning Collection? Do you plan on adding any of these figures to your collection? Leave your thoughts in the comments below. Also, be sure to follow The Illuminerdi on social media to be notified of more Power Rangers news and updates in the future!
KEEP READING: NEW DETAILS ON HASBRO'S POWER RANGERS LIGHTNING COLLECTION WAVE 12