Head of Talent Relations John Laurinaitis and Vince McMahon are currently under investigation by WWE Board of Directors over allegations of misconduct.
The Wall Street Journal dropped a bombshell on the wrestling community. They revealed Vince McMahon is being investigated over an alleged $3 million settlement to a former employee who allegedly had an affair with McMahon.
RELATED: DAMIAN PRIEST RECALLS HOW HE WAS ASKED TO JOIN JUDGMENT DAY
The Journal alleges the separation agreement is from January 2022. The agreement bars the former paralegal from discussing her relationship with Vince McMahon and it also bars her from disparaging him in any way. It looks like the affair did happen as the WWE board has said the employee who was hired in 2019 and her relationship with McMahon was consensual, but who knows, so allegedly.
It Hasn't Been Long And Already Find Some Major Findings on Vince McMahon & John Laurinaitis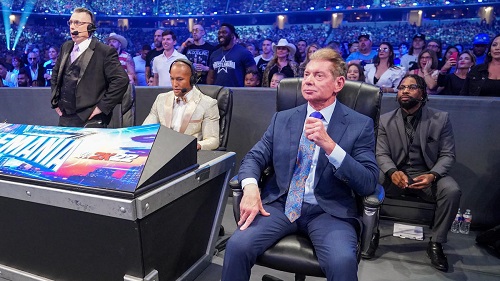 WWE began their investigation in April of this year and it has uncovered other settlements. They found other non-disclosure agreements by former WWE employees. This investigation not only found allegations of misconduct by McMahon, but by Laurinaitis as well. It is not known how many NDAs the WWE Board found or the amount paid out. However, a source mentioned it is in the millions.
Just to make things even more complicated and icky the investigation uncovered Vince McMahon used his own personal funds to pay settlements of the former female employees. These settlements were not only paid for allegations against himself, but ones against Laurinaitis as well.
RELATED: EDDIE KINGSTON SAYS AEW STAR BRYAN DANIELSON IS "A JUDGMENTAL PRICK"
Vince McMahon's personal attorney, Jerry McDevitt, has stated "WWE did not pay any monies" to the former employee which I'm assuming is referring to the paralegal whom McMahon allegedly had an affair with. This seems to be true since it came out Vince McMahon used personal funds and not WWE's funds.
"Business As Usual" But Are Major Changes Coming?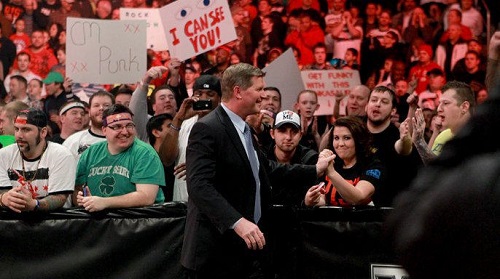 The investigation is primarily focused on these settlements paid out by McMahon. However, the investigation will also include WWE's human resources programs or maybe the lack of. It will also look into the company culture as a whole.
The question of how will WWE handle day-to-day operations as the investigations are underway has come up. According to Dave Meltzer of the Wrestling Observer Radio WWE is "business as usual" and both McMahon and Laurinaitis are expected to be at this week's SmackDown. WWE also sent out a memo according to Wrestlenomics' Brandon Thurston referencing the situation. According to Thurston the memo reads as such: "The Wall Street Journal has published a report about WWE with allegations that we and our Board of Directors take seriously," the memo reportedly said. "We are cooperating fully with the independent investigation initiated by our Board of Directors."
RELATED: STEPHANIE MCMAHON TAKES A LEAVE OF ABSENCE FROM WWE
The investigation is being led by board member Man Jit Singh. Stephanie McMahon is still on the board even though she stepped away from her duties as chief brand officer. Which is an interesting timing to step away from WWE. Her, along with Nick Khan and Triple H would all be well aware of the investigations and perhaps Stephanie and Khan shifted placements because of it.
Misconduct Allegedly Suspected For A While
It was also reported by Fightful Select that many in WWE suspected a relationship between Vince McMahon and the paralegal. It was hinted that she was given a major promotion during the April 2021 budget cuts. She was promoted from Laurinaitis' assistant to a "director" role.
It appears the alleged misconduct by Laurinaitis was also known within the company. Laurinaitis took over as head of talent relations from Mark Carrano who was fired in April 2021 after Carrano sent Mickie James' wrestling gear back in a trash bag after her release. According to Fightful a female wrestler stated recently "she would rather get all her stuff sent to her in a trash bag when she gets fired than to have to deal with Laurinaitis" at the time.  
It is believed Laurinaitis will take the fall for this and end up resigning. This scandal is also believed to be the biggest threat to McMahon's power within WWE since the steroid trial of the '90s.
What do you think WWE should do about this situation?  Should they speak publicly about it or keep its findings internal? Do you think Laurinaitis will be fired, resign or receive a demotion? Do you think this will finally force Vince McMahon to retire? Do you think this will hurt WWE viewership, will it remain the same or increase? If McMahon is forced out leave a comment below as to who you think will take over and who you would like to see take over.
KEEP READING: AEW STAR JEFF HARDY ARRESTED FOR HIS 3RD DUI
Sources: Wresting Inc., Wall Street Journal, Wresting Inc., Wrestling Observer Radio, Wrestling Inc., Fightful Select, Wrestling Inc., Wrestlenomics' Brandon Thurston