Comics book movies must strike a careful balance between a powerful hero and a villain that proves themselves to be a major threat for not just the hero, but often the entire world. The Marvel Cinematic Universe has introduced some truly iconic villains including Thanos, Hydra, Baron Zemo, and many more. Thor will be taking on a new threat with Gorr The God Butcher in Thor: Love And Thunder. He has fought a number of truly impressive villains during his tenure including his own adopted brother, Loki, and sister, Hella. So, how will Gorr stand up to the other MCU antagonists?
The Illuminerdi has the opportunity to attend the Thor: Love And Thunder virtual press conference which included director Taika Waititi, Marvel producer Kevin Feige, and the main cast of the new movie. During the press conference Chris Hemsworth was asked how Gorr The God Butcher stacks up as a villain. Chris revealed that Gorr The God Butcher may actually be his favorite villain in the MCU.
THOR: LOVE AND THUNDER'S CHRIS EVANS REVEALS WHY GORR THE GOD BUTCHER IS HIS FAVORITE VILLAIN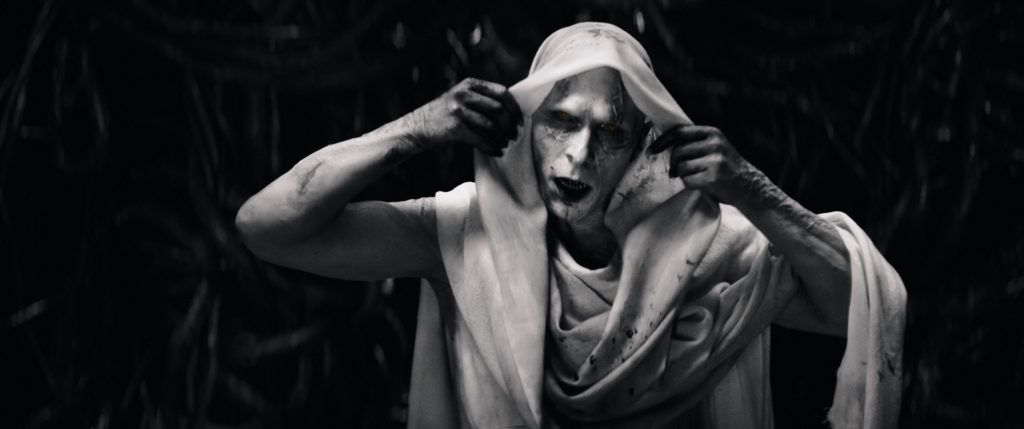 He's my favorite villain in the Marvel Cinematic Universe, and I love everyone I've worked with, but this was particularly special. And a lot to do with what Christian said before, there's this empathic quality there, there's a vulnerability. You kind of find yourself going, oh what's he's doing is wrong, but I get the sort of the motivation behind it. And every time you work with someone different, different characters that bring different things out of you, and that was the case here. And yeah, he did an incredible job. 
RELATED: THOR'S FUTURE AFTER THOR: LOVE AND THUNDER
This is a major claim given not just the impressive villains in the MCU, but specifically the villains that Thor has gone up against. Each villain and teammate brings out a different aspect of the hero. He has evolved throughout the MCU from a cocky warrior to a humble leader who lost his way, and now it seems an adventurer looking for his purpose. He has grieved great losses including both his parents, his adopted brother, and his entire home world. And even with all of these important moments in the Asgardian's journey Gorr has managed to stand out in a truly impressive catalogue of villains.
How exactly Gorr has managed to make himself stand out is still a mystery, but the fact that Taika Waititi and Christian Bale have managed to infuse sympathy into this murderous character is an impressive feat. Gorr's goal is to wipe out all Gods with Thor himself being one of the MCU Gods. It will be interesting to see what Gorr and his mission brings out of the hero. But, Gorr is not the only character that is likely to bring out a new side of the Asgardian. In Thor: Love And Thunder he will come face to face with his ex-girlfriend Jane Foster who will be the hero Mighty Thor.
RELATED: THOR: LOVE AND THUNDER'S TESSA THOMPSON LOOKS BACK ON VALKYRIE'S ARC FROM INFAMOUS RAGNAROK ENTRANCE TO THOR 4
Jane Foster was one of the first characters to open up a new side of the God of Thunder teaching him humility and kindness which he had lacked as a spoiled warrior prince. Now, she is back in the picture using his hammer and his moniker. Valkyrie, who is serving as the King of Asgard, also had an impact on him and is returning to join him on his adventure. How each of these characters and so many others, including the Guardians of the Galaxy and Korg, will help Thor continue to evolve is sure to be compelling to see play out on screen.
Thor: Love And Thunder hits theaters July 8, 2022. Are you excited to see Thor: Love And Thunder? Are you looking forward to Gorr The God Butcher's debut? Who is your favorite MCU villain? Leave your thoughts in the comments below or on our social media and check back with The Illuminerdi for more MCU and Thor: Love And Thunder.
KEEP READING: THOR: LOVE AND THUNDER'S CHRISTIAN BALE EXPLAINS HOW HE INFUSED GORR THE GOD BUTCHER WITH SURPRISING SYMPATHY