Thor: Love And Thunder is bringing back a fan favorite hero from Thor: Ragnarok with Valkyrie. Valkyrie proved to be a perfect addition to the MCU and Thor's journey in particular with the character balancing comedy, trauma, and impressive fighting skills. Her infamous entrance in Thor: Ragnarok, when she falls off her own ship, is not only memorable, but perfectly captured where the character was during that time. Now, in Thor: Love And Thunder Valkyrie is leading her people on Earth in New Asgard as their King.
The Illuminerdi had the opportunity to attend the Thor: Love And Thunder virtual press conference which introduced director Taika Waititi, Marvel producer Kevin Feige, as well as the main cast of the movie. During the press conference Tessa Thompson broke down Valkyrie's journey from drunkard bounty hunter to King of New Asgard. She also teased where Valkyrie is in Thor: Love And Thunder and why she joins Thor on his mission in the new movie.
TESSA THOMPSON LOOKS BACK ON VALKYRIE'S JOURNEY AND TEASES WHERE THE CHARACTER IS IN THOR: LOVE AND THUNDER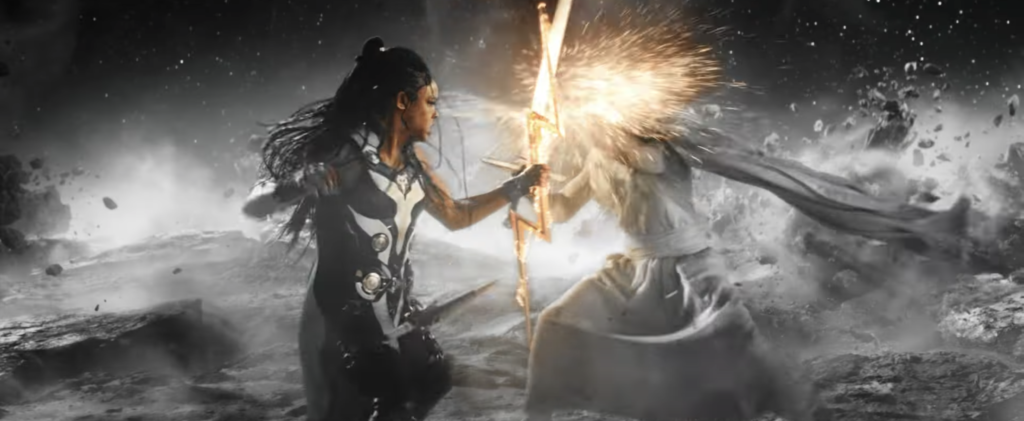 "It's been really fun. I mean it's the thing that I really enjoy about these films and certainly I think something that Stan Lee talked a lot about, whether it's a villain or a hero the thing that sometimes connect them to their power, whether it's used for good or bad, is actually their trauma. And so when we first met Valkyrie she had a tremendous amount of it and she was dealing with that by drinking a lot. And for Taika and I, we talked a lot about, like, upending what a female superhero looks like.

That you sort of have this moment where she comes out and you think it's gonna be sort of that badass thing and then she immediately falls over. And that was really fun to both try to inhabit the spirit and the kind of physicality that it takes to be a hero, which is its own skill. It's like, Chris is so tremendous at it and it's not an easy thing to do. And then also to allow her to be fun and sort of goofy.

And it's just been really nice, with this one we also talked about the idea of someone who has a job they really love, but they're also kind of disgruntled. She was a professional soldier for thousands of years and now finds herself kind of stuck in bureaucracy. So, she's really missing being on the battlefield and missing her sisters and so it's been very fun to get to have that again with Natalie in particular as Mighty Thor."
RELATED: THOR'S FUTURE AFTER THOR: LOVE AND THUNDER
Audiences met Valkyrie when she was in a dark place. She had lost everyone she cared about and fought with, watching as they were wiped out by Hela, and with that she also lost her purpose. Digging into Valkyrie's trauma and exploring how it connects her to her power, not just physical power, as a leader gives deeper insight into the character. Exploring a hero who has lost their purpose only to find it again is a fascinating arc. Valkyrie going from protector of Asgard and loyal to Odin, to drunk scrapper and bounty hunter, to protector of Asgard then leader, is a thrilling evolution.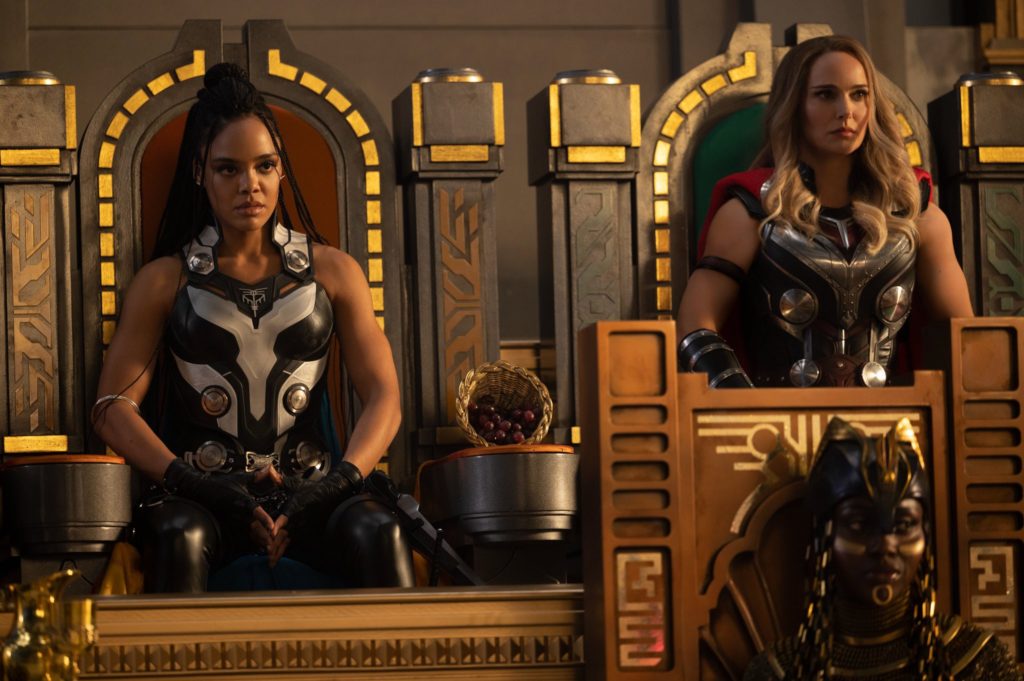 Tessa Thompson also teased what audiences can expect to see from the King of New Asgard in Thor: Love And Thunder. It seems that while Valkyrie is happy to lead and protect her people she is also missing the life of a warrior. While a part of the Valkyries she was constantly fighting amongst her sisters-in-arms and after losing them and her purpose, she was still able to find a way to continue fighting. Now, she is responsible for her people which comes with a ton of bureaucracy and paper work.
RELATED: CHRIS HEMSWORTH TALKS ABOUT HOW HE RELATES TO THE LEGENDARY THOR AFTER 11+ YEARS
However, it seems like Valkyrie may find some of the camaraderie she has been missing with Mighty Thor. It will be thrilling to see Valkyrie not only leading her people, but teaming up with both Thor and Mighty Thor. Thor and Valkyrie have a respect and trust with Thor abdicating the throne to her, but they also have a hilarious bond as well. It will be exciting to see Valkyrie's relationship with Mighty Thor especially after Thompson has hinted at their bond being similar to Valkyrie's with her past sisters-in-arms.
Thor: Love And Thunder hits theaters July 8, 2022. Are you excited to see Valkyrie as the King of New Asgard? What do you think of her arc so far? Are you looking forward to her teaming up with both Thor and Mighty Thor? Leave your thoughts in the comments below or on our social media and check back with The Illuminerdi for more MCU and Thor: Love And Thunder.
KEEP READING: MARVEL STUDIOS WILL REVEAL FUTURE PLANS AT SDCC 2022