The MCU's newest movie, Thor: Love And Thunder, is the fourth solo movie in Thor's journey and will introduce exciting new characters including a compelling new hero with the Mighty Thor and a dangerous new villain with Gorr The God Butcher. Early reactions have praised Christian Bale's portrayal of this infamous villain who is hunting down the Gods in the MCU which includes Thor.
The Illuminerdi had the opportunity to attend the Thor: Love And Thunder virtual press conference which included the main cast of the film, director Taika Waititi, and Marvel producer Kevin Feige. During the press conference Christian Bale explained not only how he found Gorr's character, but how the costume, makeup, and prosthetics were an important part of the journey. Bale explained why it is more fun to play villains and teased some surprising sympathy for the God Butcher in the upcoming film.
CHRISTIAN BALE TEASES GORR'S UNEXPECTED SYMPATHETIC ORIGIN IN THOR: LOVE AND THUNDER
"There's a great pleasure in playing a villain. It's a lot easier to play a villain than it is to play a hero. Chris [Hemsworth] had a much tougher job. Everyone is fascinated with bad guys, immediately. And then the beauty of it is that Taika can make it bloody hilarious and then really moving as well, in this story. And then I don't know if it's pushing it too much to say sympathy, but certainly you sort of understand, maybe, why this guy is making awful decisions. And he is a monster, he is a butcher, but there's a possible understanding of why he came to be that way."
RELATED: CHRIS HEMSWORTH TALKS ABOUT HOW HE RELATES TO THE LEGENDARY THOR AFTER 11+ YEARS
Taika Waititi is famous for bringing comedy as well as the emotion into his movies with not only Thor: Ragnarok, but films like Jojo Rabbit as well. It is exciting to hear he will be bringing that special mix of comedy and pathos in the new MCU adventure as well. It is also fascinating to hear that Gorr The God Butcher will be a character the audience will understand, if not agree with, in Thor: Love And Thunder. Gorr is hunting down all Gods, but how exactly the quest begins and how both Taika and Bale infuse it with sympathy is still a mystery.
Christian Bale also talked about how the makeup and prosthetics were an important part of finding Gorr. Bale explained that until he was physically able to get into the character Gorr was still an abstract within his mind. When he was asked how it felt to have the full makeup and prosthetics on he explained:
"Loved it because you don't really know exactly what you're doing with a character like that until you see it completely. It's in your imagination and we didn't have that long. We talked about it during quarantine in an abstract way, but then put it on and worked out, okay, this was a pious man with tattoos and he's cut those off and so we'd have all of those scars. And that's when you really get to start playing with it and experiment as you film. You discover it as you go."
RELATED: THOR 4: WHO IS THE TERRIFYING GORR THE GOD BUTCHER IN LOVE AND THUNDER?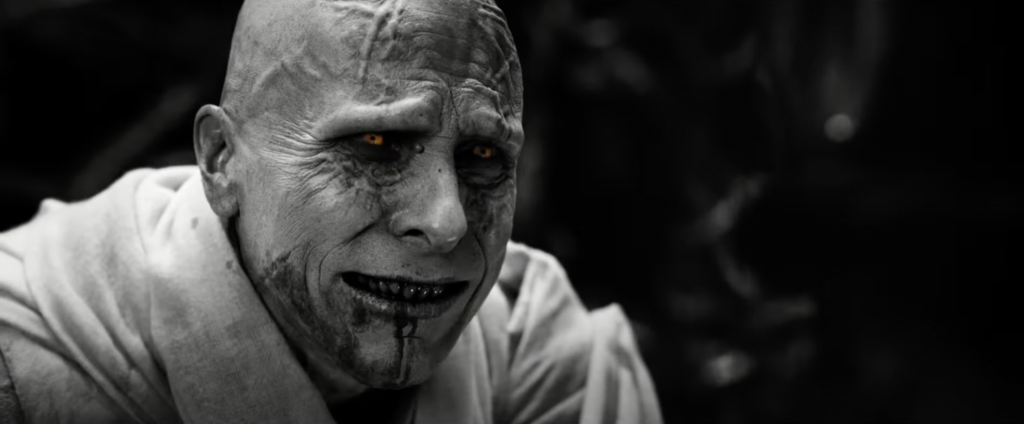 Gorr's appearance is marred with gory scars with the character appearing black, white, and grey in comparison to the bright bombastic colors of the other characters. The hint that Bale gives about Gorr's scars, religious tattoos he gruesomely mutilated himself, is an interesting piece of character information. It demonstrates not only Gorr's dedication to his mission to destroy the Gods, but teases his personal history with Gods as well. To lose so much faith that one not only begins hunting Gods, but destroys their own symbols of faith is a horrific prospect. It also makes perfect sense why this part of the process was integral in Bale figuring out how to get into the mindset of Gorr.
RELATED: THOR'S FUTURE AFTER THOR: LOVE AND THUNDER
Gorr has been praised by many as a top tier Marvel villain and with the hints he has dropped about his past with the Gods and the fact that audiences will likely feel somewhat sympathetic towards him, he is primed to be an amazing addition to Marvel's rolodex of villains. Bale is a tremendous actor and his past as a superhero, playing Batman in Nolan's Dark Knight trilogy, could give him tremendous insight into how to be an excellent villain. It will be thrilling to see how he bring this infamous character to life in Thor: Love And Thunder while infusing him with a surprising amount of sympathy.
Thor: Love And Thunder hit theaters July 8, 2022. Are you excited to see Christian Bale play Gorr The God Butcher? What do you think about what he has teased for the villain? Are you looking forward to seeing how they make this character sympathetic? Leave your thoughts in the comments below or on our social media and check back with The Illuminerdi for more MCU and Thor: Love And Thunder.
KEEP READING: MARVEL STUDIOS WILL REVEAL FUTURE PLANS AT SDCC 2022