Thor: Love and Thunder was a non-stop thrill ride of a romantic comedy, with fans already discussing its effect on the Marvel Cinematic Universe and its post-credits scenes! Now, we're breaking down those scenes and what they mean for the future of the MCU!
Watch The Illuminerdi break it all down here:
Thor: Love and Thunder Post-Credits Scenes EXPLAINED!
VIDEO: Asher Freidberg
---
***SPOILER WARNING for Thor: Love and Thunder***
How Thor: Love and Thunder Ended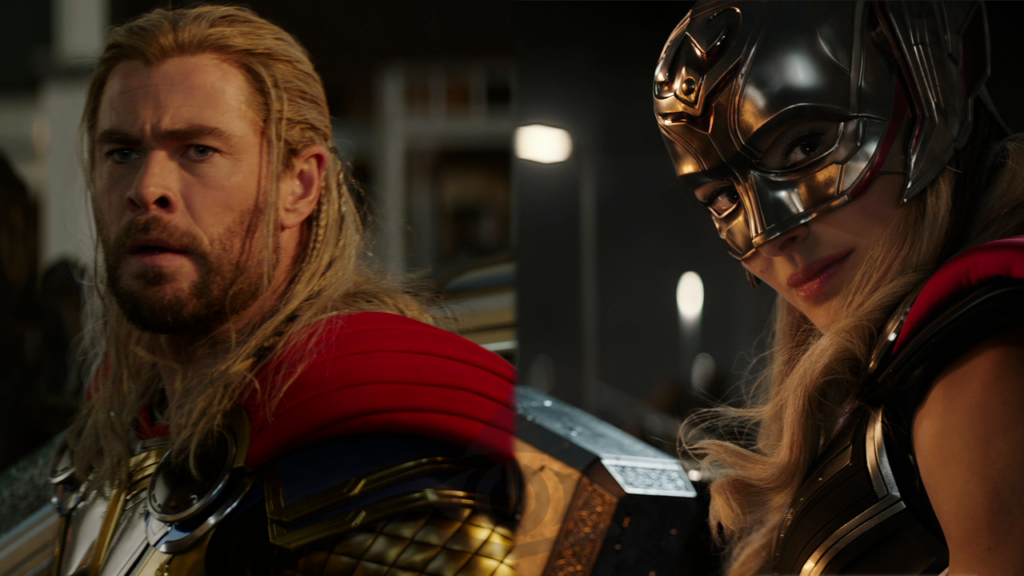 RELATED: WILL PATRICK STEWART RETURN AS PROFESSOR X AFTER DOCTOR STRANGE 2?
To quickly summarize the end of the fourth Thor film, the tale ended with what appeared to be the death of Jane Foster, while Thor took in Gorr's newly revived daughter as his own. Ending on both a sad and uplifting note, fans of Thor are already wanting more, and we've been given a tease into what that might be.
The Debut of Hercules
In the first post-credits scene for Thor: Love and Thunder, we saw the return of Russell Crowe's Zeus. While the character appeared to be killed by Thor after he attacked Korg, it seems he survived his wounds. We guess gods just heal differently. What's more, is that he feels the gods have become a joke in comparison to the superheroes the universe is seeing a rise in.
His response to seeing the gods' status fall is to send in a superhero of his own; his son, Hercules, played by Brett Goldstein (Ted Lasso, Uncle, The Bill). This scene appears to tease that Hercules will be the gods' agent among superheroes. Zeus looks to show the universe that gods can be superheroes too in a bid to reclaim the respect they have lost.
RELATED: ARE THE AWE-INSPIRING WEST COAST AVENGERS COMING TO THE MARVEL CINEMATIC UNIVERSE?
Hercules could be set up as the villain of Thor 5, challenging Thor as the defender of Earth. After being nearly killed by Thor, Zeus wants revenge, and we imagine his son does too after the attempt on his father's life. Hopefully we'll see Hercules eventually step away from his corrupt father and maybe even join a future team of Avengers!
Mighty Thor Makes It To Valhalla
The second post-credits scene of Thor: Love and Thunder featured Natalie Portman's Mighty Thor making it to Valhalla following her death. There, she would meet Idris Elba's Heimdall, Thor's close friend who died at the hands of Thanos in 2018's Avengers: Infinity War, where he thanked her for saving his son. He then tells her she is welcome to stay here. The key phrase we found interesting is that Heimdall made it sound like a choice. We do not really know the rules of Valhalla in the Marvel Cinematic Universe, perhaps she could be reborn through The Yggdrasill Tree.
We doubt Marvel would opt to have The Mighty Thor permanently killed off after her debut. Fans had a very positive reception to the character, and it would be in the studio's best interest to keep her character around. Perhaps she will choose to be reborn and join Thor and their newly adopted daughter.
RELATED: WHAT'S NEXT FOR SAM WILSON'S CAPTAIN AMERICA IN THE MARVEL CINEMATIC UNIVERSE?
If her character is truly dead, we might potentially see a return through the multiverse, perhaps in the rumored upcoming Secret Wars project, a storyline she played a large role in in the comics.
Thor: Love and Thunder is now in theaters. What were your thoughts on the fourth Thor film? Are you excited to see Thor face off against Hercules? Do you think Jane Foster's Mighty Thor is gone for good? Let us know in the comments and on our Twitter!
CONTINUE READING: WHO IS THE HOOD? – IMPORTANT FUTURE MCU CHARACTERS YOU NEED TO KNOW!
---
FAMILIES ARE REELING FROM AN UNTHINKABLE TRAGEDY AFTER A GUNMAN KILLED SEVEN CIVILIANS AND INJURED THIRTY-EIGHT.