The acclaimed Hulu comedy series Only Murders in the Building has been renewed for another season.
When the first season premiered in the summer of 2021 it was an instant hit. Audiences and critics quickly fell in love with the characters, actors, and the show overall, which lead to a quick Season 2 renewal and a lot of Emmy buzz. The show garnered 17 nominations, including two noms for Best Actor and Best Comedy Series at this week's Emmy nominations. Now Hulu has renewed their most-watched original comedy for Season 3.
Only Murders In The Building Is Only Getting Weirder
The news came in the morning before the 4th episode of the second season premiered. Here is what the streamer had to say about the renewal:
"Only Murders in the Building is the true crown jewel of our slate. Its appeal across generations, the intersection of humor and heart, and its truly original approach are a hallmark of and testament to Dan [Fogelman], John [Hoffman], Steve, Marty, and Selena's work," said Hulu Originals and ABC Entertainment president Craig Erwich in a statement. "We are grateful to be able to continue telling the stories of Charles, Oliver, and Mabel to viewers that have consistently shown us they crave more of this story."
Only Murders in the Building follows an unlikely trio of a failed Broadway director (Martin Short), an aged television star (Steve Martin), and a young artist (Selena Gomez), who all share a love for True-Crime podcasts. But when a murder hits their New Yorker apartment building they try to solve the murder and start a podcast of their own.
The charm of the show, besides a beautiful score, production, and costume design, as well as clever teleplays, comes from our leading trio. While Steve Martin and Martin Short have worked together for a long time, most notably in Three Amigos! and on SNL, it is their back and forth with Selena Gomez that brings the laughs.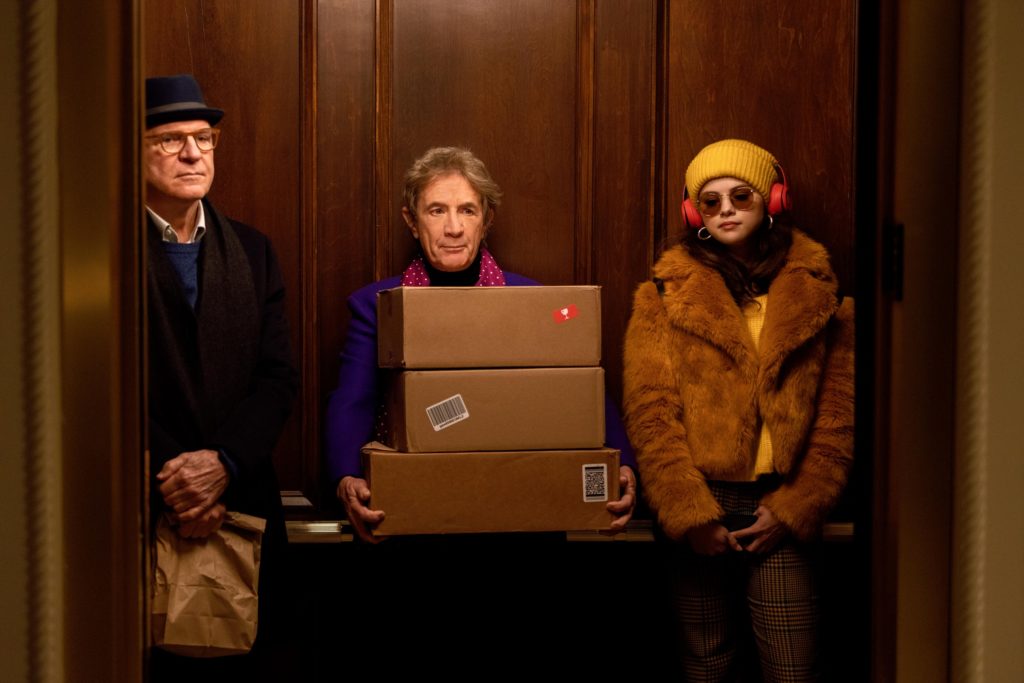 Steve Martin is best known for his leading role in the Father of the Bride duology, Planes, Trains & Automobiles, and The Pink Panther ideology which he also co-wrote. As a writer, he also worked on some other films and TV specials. He has won an Honorary Oscar and one Emmy for writing The Smothers Brothers Comedy Hour.
Martin Short is best known for his roles in Santa Clause 3: The Escape Clause, Mars Attacks, and How I Met Your Mother. But for several voice acting performances in shows and films such as Big Mouth, Frankenweenie, and Madagascar 3 as well. He recently starred in the Apple TV+ series Schmigadoon and The Morning Show, for which he earned an Emmy Nomination adding to his two Emmy wins.
RELATED: ONLY MURDERS IN THE BUILDING EYES DAVID LETTERMAN AS CELEBRITY CAMEO IN SEASON 2: EXCLUSIVE
Selena Gomez is mostly known for her music career and Disney channel roles including The Wizards of Beverly Place. But in recent years she also starred in films by known directors such as Woody Allen's A Rainy Day in New York and Jim Jarmusch's The Dead Don't Die and a cameo appearance in Adam McKay's The Big Short. She also leads the voice cast of the Hotel Transylvania franchise.
Only Murders in the Building was created by Steve Martin and John Hoffman. The latter is best known for his work as a writer, director, and producer on Netflix's Grace & Frankie. Dan Fogelman, the creator of the acclaimed drama series This is Us, executive produces the show.
Season 2 features new cast members including Cara Delevingne, Tina Fey, Amy Schumer, and Shirley MacLaine. They join supporting cast members: Aaron Dominguez, Amy Rian, Jackie Hoffmann Jayne Houdyshell, and Michael Cyril Creighton.
I love this show, so I'm very excited about the quick Season 3 renewal. For my liking, it could have gotten Season 4 greenlit right along. With Season 2 not even halfway done, I have no idea where the story is heading, but I'm just excited that the show will be back (probably) next year!
Only Murders in the Building is streaming on Hulu with new episodes coming every Tuesday.
What do you guys think? Are you a fan of the show? Who is your favorite character? Let's discuss everything in the comments down below and on our Social Media.
KEEP READING: MARVEL HEAD KEVIN FEIGE REPORTEDLY WARNED SONY ABOUT THEIR MISGUIDED PLAN TO BUILD SPIDER-MAN CINEMATIC UNIVERSE WITHOUT SPIDEY