Only Murders In The Building, Hulu's crime dramedy features a star studded cast with Steve Martin, Martin Short, and Selena Gomez starring as a group of true crime podcast junkies turned amateur detectives. The first season saw the intrepid detectives solve the murder of Tim Kono, but they were quickly thrust into a new investigation when they were found by the police standing over the dead body of fellow Arconia resident, Bunny.
With Only Murders In The Building season two primed for a new mystery, one that the group needs to solve more than ever, fans are eager for Hulu's hilarious crime series to return. The ridiculous trio will be taking on a case that is even more personal in the second season of Only Murders In The Building, specifically because it looks like they will need to clear their names of Bunny's murder. And with this new investigation will come a host of new characters.
RELATED: RUMOR: NEW ECHO SERIES MAY HAVE FOUND A DIRECTOR
We at The Illuminerdi revealed some exciting character descriptions for a number of new characters that will be introduced in season 2, including a character named Alice. Earlier this month Variety broke the news that Cara Delevingne will be joining the second season of Only Murders In The Building as Alice, a sophisticated and astute art world insider who will become embroiled in the new mystery.
ONLY MURDERS IN THE BUILDING INTERESTED IN DAVID LETTERMAN, MURRAY BARTLETT, AND CHRISTINE KO FOR SEASON 2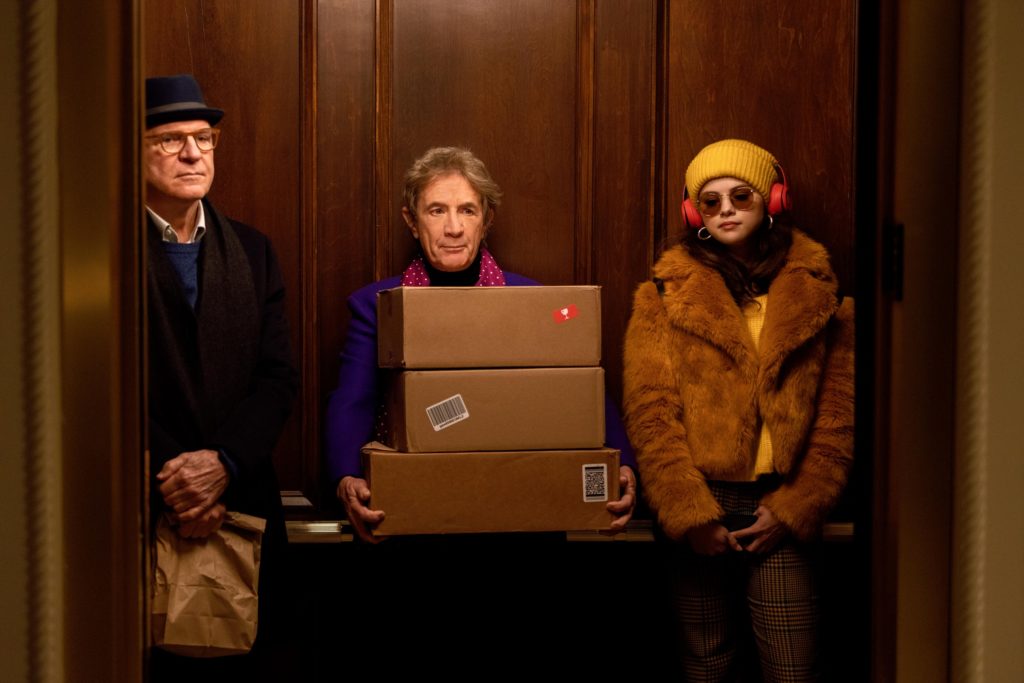 We've continued digging into Only Murders In The Building and have managed to make a few more interesting discoveries. According to our sources Only Murders In The Building is interested in Murray Bartlett (Iron Fist, The White Lotus) to play the father of Steve Martin's character Charles. It looks like the series will be exploring a bit more of Charles' past in the new season with his father showing up in flashbacks.
RELATED: THE ACOLYTE: LUCASFILM IN ADVANCED NEGOTIATIONS WITH AMANDLA STENBERG TO PLAY MYSTERIOUS LEAD CHARACTER: EXCLUSIVE
Only Murders In The Building is negotiating with Christine Ko (Dave, Upload) to play the new character Nina Kim. Nina is described as gorgeous, affluent, very pregnant, and powerful. Nina has a take no prisoners pragmatism in order to get what she desires. With Bunny gone, Nina is taking her chance to become the new Board President of the Arconia and she is willing to do whatever it takes. Nina's desire to take Bunny's position makes her a prime suspect for the trio's new case.
The first season of Only Murders In The Building featured a cameo from Sting, as the trio of amateur detectives incorrectly suspected the famous musician of murdering Tim Kono. And it looks like the series is looking to continue the trend of celebrity cameos, but this time Hulu is eyeing David Letterman as the potential celebrity to make an undoubtedly hilarious cameo as himself. If Letterman does make an appearance as himself he would also be playing a new resident of the Arconia. Hopefully Letterman pans out as seeing him interact with Martin Short, Steve Martin, and Selena Gomez would be unquestionably fantastic.
The second season of Only Murders In The Building is shaping up to be full of new twists and turns as well as a ton of comedy. With new characters and a new mystery the intrepid trio of detectives will surely get into ridiculous new trouble. And while the first season dove into the Mabel's (Selena Gomez) background it seems the new season will explore more of Charles' with flashbacks including his father and an appearance by Lucy, who Charles' helped raise when she was younger and he was dating her mother.
Are you excited for season 2 of Only Murders In The Building? Do you hope David Letterman appears as himself in the second season of Only Murders In The Building? Leave your thoughts in the comments below or on our social media and check back with The Illuminerdi for more Hulu and Only Murders In The Building news.
KEEP READING: ONLY MURDERS IN THE BUILDING: EXCITING NEW CHARACTER DESCRIPTIONS FOR SEASON 2 OF THE STAR STUDDED MYSTERY COMEDY SERIES: EXCLUSIVE