Comic book adaptations rule both the big and small screen, but while most focus on the standard square jawed superheroes Prime Video is bringing a new breed of hero to audiences. Paper Girls, an adaptation of the popular Brian K. Vaughn comic of the same name, introduces four young girls, Mac, KJ, Erin, Tiffany, who work a newspaper route in their hometown in the 1980s. The four girls are unexpectedly pulled into a shocking war centered around time travel and control over the timeline.
We had the opportunity to speak with the cast of Paper Girls including Adina Porter and Jason Mantzoukas who play Prioress and Grandfather respectively. Prioress and Grandfather are on the same side of the time war attempting to keep control over the timeline. Prioress is tasked with hunting down the accidental time travelers.
During our interview we asked Jason and Adina to break down the complicated relationship between their characters as former partners with Prioress now taking orders from Grandfather.
ADINA PORTER AND JASON MANTZOUKAS GIVE INSIGHT INTO THEIR CHARACTERS AND COMPLICATED RELATIONSHIP IN PAPER GIRLS
Adina, began "Well, you learn that through the comics, but then also through the show, that Prioress and Grandfather have history, and that they work together. I said that, maybe thinking of-"

Jason jokingly interrupts, "The way you said it salacious, they have history. Ooh-la-la, wait. I was like, "What comics are you reading?""

Adina continued, "I meant in that, the bond that you have when you fight with someone in a war. You know what I mean? There's that intimacy that you're not going to get on a dating app. So, that's why there wasn't that. But the history that comes along with that, and following, Grandfather is my boss. But I think there might have even been a time when I could have been promoted, but he got the job."

Jason further explained, "It's referenced in the show, but it's a little bit more clear in the comics. You get some flashback moments where we see a period when Prioress and Grandfather, or who is now known as Grandfather, were partners in one of those big battle robots, that they were together fighting in this time war that's been happening for so long. For them, it's been happening for so long.

And that Grandfather has gotten promoted, and is now in this leadership position. But there is still that bond between them, where Prioress can poke at him, and he can poke at her. And there's a history that's there, that's just below the surface, so that, I think, it gives a lot to what could be otherwise these villain characters, but it gives them a personality, and a history with each other that's really wonderful."
RELATED: GREEN LANTERN AND BLACK ADAM STAR ALDIS HODGE REVEALS WHY HE ASPIRES TO BE LIKE JOHN STEWART IN REAL LIFE: EXCLUSIVE INTERVIEW
This is not the first warrior that Adina Porter has played. Throughout Paper Girls Prioress is a major threat for the girls chasing them through time to eliminate the threat to the timeline. As the series progresses, more of Prioress' personality and history is revealed bringing out an unexpected pathos.
We asked Adina how she approaches a this kind of character, a warrior with a hidden pain under the surface:
"I guess my life, I'm a stoic warrior that's got some pain underneath, quite honestly. My job in life as an actor, I've always wanted to do, is to make the crew laugh and the producers cry. So, that's what I try to do."
RELATED: MORE INTRIGUING DETAILS ABOUT MARVEL'S X-MEN DELAY UNTIL 2025 AND BEYOND: EXCLUSIVE
Prioress is the main threat throughout most of Paper Girls, but near the end of the first season the real threat comes into play, Grandfather. Jason Mantzoukas is famous for playing hilarious and at times unhinged characters in countless series both live action and animated. Usually the unhinged aspect of his characters is used for more comedy based, but Paper Girls approaches it differently. What is so exciting about Paper Girls is that the humor used by Jason's character, Grandfather, has an underlying threat and menace. The humor hints at a cavalier attitude towards humanity and life.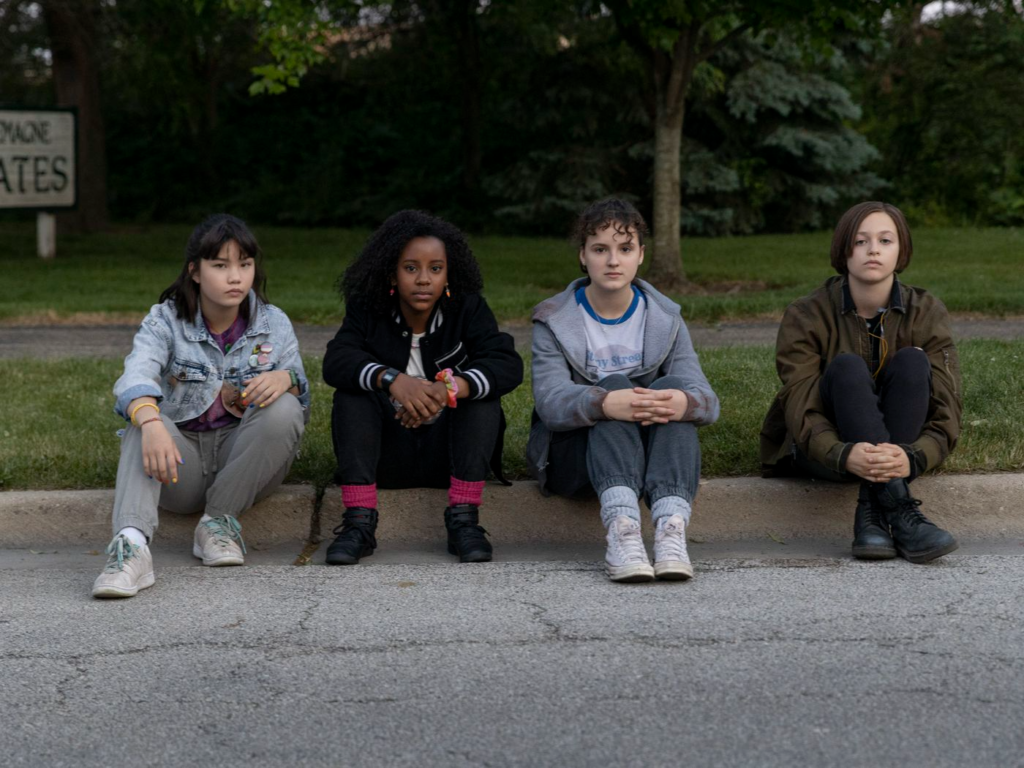 "I think that's exactly what I was trying to find, and trying to dial in is, I wanted, I think Adina is present for so much of the series in that first season, as the threat, as the threat who is chasing them, who is hunting them down in a lot of ways through these episodes. And for Grandfather to show up near the end of season one, as this different energy, this funny, Birkenstock wearing glib, laughing kind of guy. But then, what's underneath it is true evil or true, not evil, but malice, or a casual disregard for human life, let's say, is certainly present in some of the actions that he takes.

And almost a delight in some of the more violent things that happen. And that was fun to play around with him, find so that Grandfather can remain this looming antagonist, but also be somebody that the paper girls can have a conversation with that is fun, and funny, and interesting. And not just like, "I'm going to get you girls," kind of thing. It's fun. It's fun to play a character that has a real undercurrent of menace, but presents as charming, and funny, and casual."
The best villains have a charm to them and Grandfather is no different. Jason infuses his natural comedic timing into the role, but balances it with an undertone of menace, charm, and power. Paper Girls is a complex story that tackles mortality, power, the ideas of one's future versus reality, and so much more. The cast is impressive with everyone bringing a layered and dynamic performance. Adina Porter and Jason Mantzoukas have a compelling chemistry not just with each other, but the young stars as well. Adina Porter and Jason Mantzoukas elevate their roles bringing a depth to the antagonistic roles especially Prioress as Paper Girls progresses.
Paper Girls will be available on Prime Video July 29, 2022. Are you a fan of the Paper Girls comics? Are you going to watch Paper Girls? What do you think about the complicated relationship between these two characters? Leave your thoughts on our social media and check back with The Illuminerdi for more.
KEEP READING: ANT-MAN AND THE WASP QUANTUMANIA COMPOSER CHRISTOPHE BECK TEASES A NEW CINEMATIC TONE FOR 3RD INSTALLMENT