Prime Video's newest comic adaptation Paper Girls, based on the Brian K. Vaughan comic of the same name, is an exciting science fiction coming-of-age story. Paper Girls is centered around four young newspaper delivery girls, Erin (Riley Lai Nelet), Mac (Sofia Rosinsky), KJ (Fina Strazza), and Tiffany (Camryn Jones), who work in their small town in the 1980s. The four paper girls are unexpectedly thrown into the future and are hunted by individuals fighting a secret war for control of the timeline.
The Illuminerdi had the opportunity to speak with the stars of Paper Girls about the new series. We asked Riley Lai Nelet, Camryn Jones, and Fina Strazza how they balanced the science fiction elements of the series with the coming-of-age journey their characters go through.
PAPER GIRLS STARS TALK ABOUT BALANCING SCI-FI WITH COMING OF AGE IN THE NEW SERIES
Riley Lai Nelet answered:

"I think our writers did a really good job with incorporating that and also just staying true to the comic."
Fina Strazza continued:
"Cause even though we have these large scale sci-fi sequences and these like larger than life action packed moments, we still have that down to earth, heart of the show where we can explore our character's connections to each other. And it is about the sci-fi, but really it's about the character growth and it's about them finding themselves and their coming of age and finding out who they are."
Riley Lai Nelet added:
"And also learning to trust themselves as well as one another."
Camryn Jones concluded:
"And I think the older versions also helps to humanize it with the sci-fi and I think it all together just makes it one crazy ride."
RELATED: PAPER GIRLS STARS GIVE INSIGHT INTO ALI WONG AND WORKING WITH THEIR "OLDER SELF": EXCLUSIVE INTERVIEW
Comic book adaptations have taken over the big and small screen with superhero movies and series becoming some of the biggest successes. However, there are a ton of comic book adaptations, like Paper Girls and another Vaughan adaptation Y: The Last Man, that don't focus on traditional superhero stories. Brian K. Vaughan has created tons of amazing comics including this coming-of-age science fiction fan favorite. With so many comic adaptations we were curious about what crossovers the stars would love to see.
PAPER GIRLS STARS REVEAL WHAT CROSSOVERS THEY WOULD LOVE TO SEE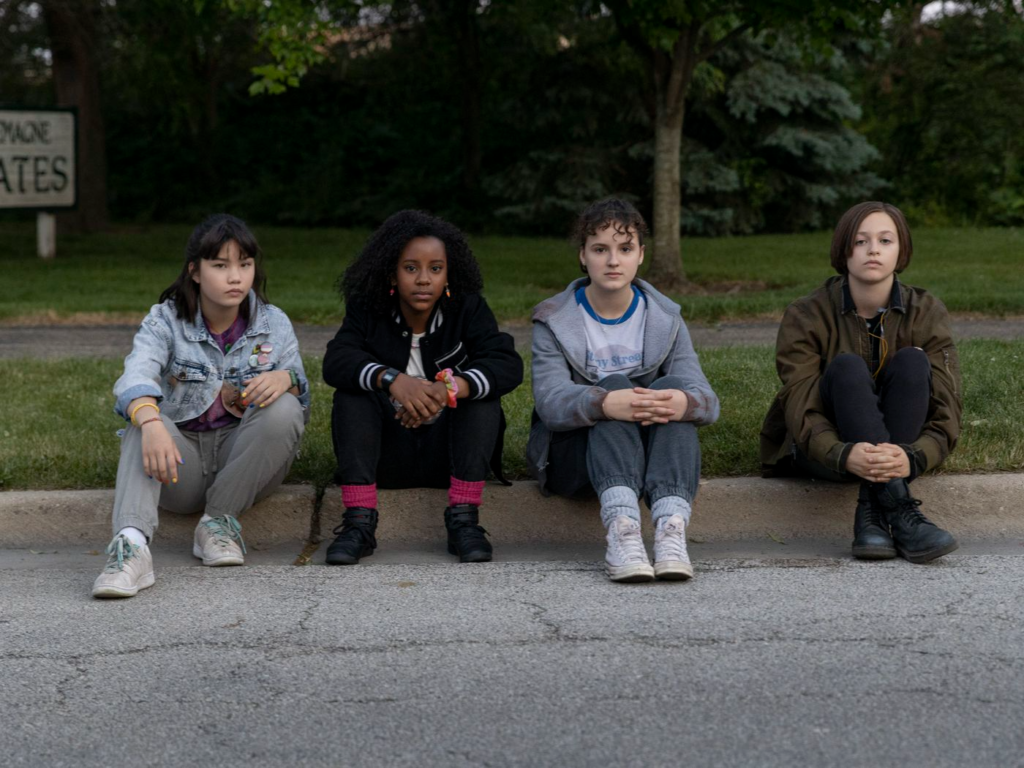 During our interview with Sofia Rosinsky, she chose one of the most iconic Gotham characters from DC comics. "Okay, I'm going to say probably Catwoman." While Adina Porter wants to see the Paper Girls meet up with the famous teenagers from Archie comics. "I'm not a comic book expert. So, I'm going to have to think about the comics that I read. So, it would be Archie, and Veronica, and Betty, hanging out with the Paper Girls." She made clear that this was specifically the comic book version of the characters not the Riverdale versions. However, Jason Mantzoukas had an intriguing pitch that opens the door not to just one crossover, but an entire television universe.
Jason pitched:
"I'm trying to think. For me, the answer would probably be, I would love for it to cross over with another Brian K. Vaughan story. I would love for it to intersect, wouldn't it be great if we jumped to a future, where we're inside of the Private Eye, or Saga, or anything that has, wow, that would be incredible. He's so good at world building, and so incredible at telling human stories, inside of larger genre facades, that I would love for the Paper Girls to jump into a place where suddenly we see other characters from Brian K. Vaughan stories that we recognize."
Adina was quick to agree:
"Hearing that, you've got to pitch. That's brilliant."
Jason added:
"That I would love, but the Brian K. Vaughan-Verse."
RELATED: PAPER GIRLS STARS JASON MANTZOUKAS AND ADINA PORTER ON THEIR CHARACTERS' COMPLICATED RELATIONSHIP IN NEW SERIES: EXCLUSIVE INTERVIEW
When we spoke with Camry Jones, Fina Strazza, and Riley Lei Nelet, Riley had a similar thought, "Maybe another one of Brian's. Saga is a very popular." Brian K. Vaughan has created so many amazing comics with masterful world building. The possibility of finding a way to connect all of these iconic stories on screen is beyond exciting. With both Paper Girls and Y: The Last Man already being adapted there will hopefully be even more soon. Maybe Jason Mantzoukas' pitch will come to fruition and fans will get to not only experience more of Brian K. Vaughan's comics in television form, but they could all converge in an epic new adventure.
Paper Girls is available now on Prime Video. Are you excited to watch Paper Girls? What comic adaptation would you like to see crossover with Paper Girls? Would you like to see a full Vaughan-Verse created? Leave your thoughts in the comments below or on our social media and check back with the Illuminerdi for more.
KEEP READING: SPIDER-MAN FRESHMAN YEAR: DETAILED BREAKDOWN OF MARVEL CHARACTERS COMING TO ANIMATED SERIES: EXCLUSIVE