Paper Girls, based on the Brian K. Vaughan comic of the same name, is Amazon's newest young adult sci-fi series. Paper Girls follows Mac, KJ, Erin, and Tiffany four young newspaper delivery girls who live in their small town in the 1980s. When the sky turns purple they are unexpectedly pulled through time and into an on going struggle for control of the timeline. They come face to face with deadly threats, their future selves, and shocking revelations about the universe.
We here at The Illuminerdi had the opportunity to speak with the stars of the new series about their characters, the bond they form with each other, and what it was like working with the actresses that portrayed their older selves. Riley Lai Nelet revealed how she bonded with Ali Wong.
PAPER GIRLS CAST GIVE NEW INSIGHT INTO THEIR CHARACTERS
"For me, it was just an honor to be able to work with Ali Wong. We bonded a lot over food, because we both loved to eat and it was just great to interact with her and I think we had a lot of fun crafting Erin."
It is hilarious to learn that Riley and Ali bonded over food, but the collaboration to create Erin is clear with both actresses portraying the same character at different points in her life. Camryn Jones talked about working with Sekai Abenì and how she learned from collaborating with her.
"It was amazing to work with Sekai. She was so cool and so professional and we really had this bond and I feel like we became, she was like another big sister to me by the time we finished filming. And it was just so amazing to work with her because she taught me so much and it was a great experience."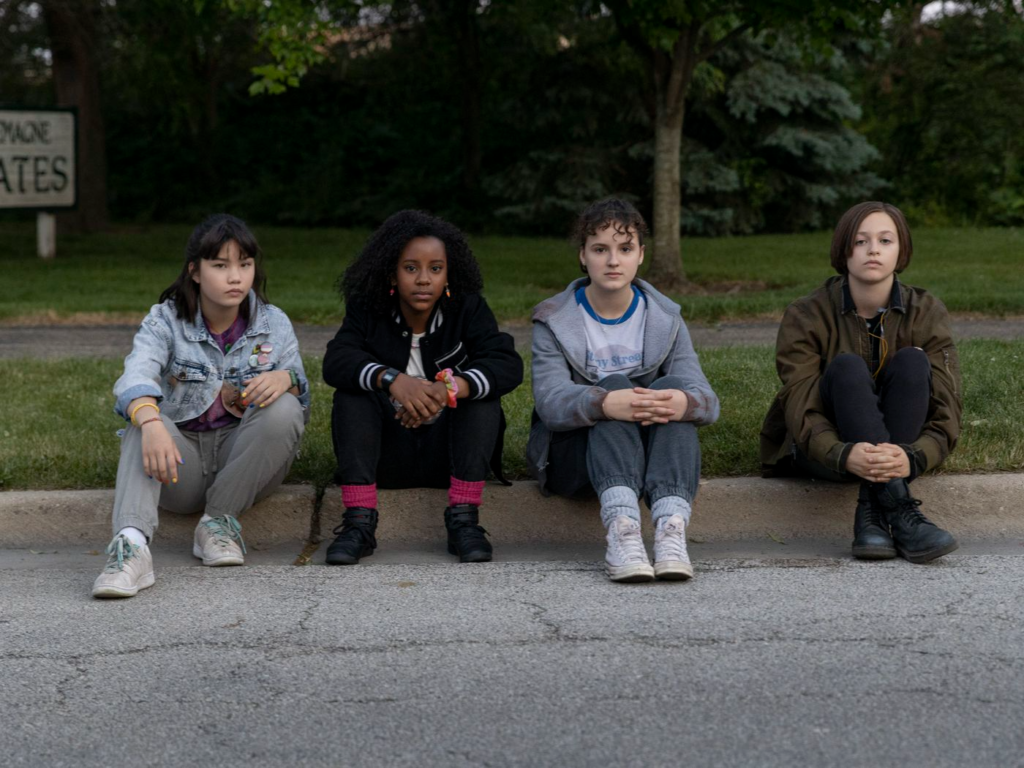 Fina Strazza's character KJ doesn't directly interact with her future self in Paper Girls, but she did reveal how they worked together to create certain mannerisms after joking about how much fun it was to work with the older versions of Erin and Tiffany, Ali Wong and Sekai Abenì respectively.
"It was also great for me to work with their older self. They, they were incredible and working with Delia, we got to spend some time together on set and she was lovely. And we went over a few of my mannerisms to try to have her copy me in a way while playing an older version. So I'm excited to see how all of it comes together and what audiences think of everybody."
RELAED: GREEN LANTERN AND BLACK ADAM STAR ALDIS HODGE REVEALS WHY HE ASPIRES TO BE LIKE JOHN STEWART IN REAL LIFE: EXCLUSIVE INTERVIEW
Paper Girls skillfully combines the coming of age genre with sci-fi using the science fiction element of time travel to dig into each of these characters. Erin comes face to face with a future she not only wasn't expecting, but is clearly unhappy with. During our interview we asked Riley what it was like to play a character who is obviously upset about who she would grow up to be.
"I think Erin has this certain perception of thinking that adults always have it figured out and they know everything. And then when she meets her older self, when she has to confront her, she realizes that it isn't exactly how she expected it to be. And she starts off to be quite quiet and timid. And when all these crazy things start coming at her, we really start to see how she's feeling eternally and it's she learns this lesson of no matter what has happened or what's going to happen. It's important to live in the moment and savor it."
Part of what is so exciting about the sci-fi element of Paper Girls is the mystery element of the larger time travel conspiracy. As the series progresses Tiffany becomes more engrossed in the mystery of time travel and helping the group who are attempting to make the time line better. During our interview we asked Camryn about playing a character who is pulled into the time war while her friends only desire is to find a way home.
RELATED: ANT-MAN AND THE WASP QUANTUMANIA COMPOSER CHRISTOPHE BECK TEASES A NEW CINEMATIC TONE FOR 3RD INSTALLMENT
"I thought it was so cool. Because, I'm not going to lie. I would be gung-ho I would be so excited because I'd just be genuinely curious, like how do I do this? How do I work this? And especially with all the technology involved for all this time travel and everything. I, it was cool because it was like a drastic change because they were like, no I'm going home. I'm quitting the paper route. I'm not doing nothing. And Tiff was like, I'm about to go do this with or without y'all. But I'm I liked that it was with them because that was a good time."
We also had the opportunity to speak with Sofia Rosinsky whole plays Mac in Paper Girls. Mac has a particularly interesting and dark storyline after learning that her future is much more grim than her friends. During our interview we talked to Sofia about how the friendship between the four paper girls was forged out of hardship and what it was like to play a young character facing her mortality.
Well, you have to dive down deep. It's quite a hard pill to swallow. And I think just taking the time to really let it sink in and allowing it to affect you, I think. That's what I would say, yeah.
The paper girls' bond is not forged from similar interests or the things that typical children bond over. Instead it is a bond forged from hardship and fear. When thrown into the future and being hunted by unknown individuals the four girls must stick together in order to stay safe and survive. Throughout Paper Girls many conflicts come up due to different backgrounds, different desires, and fundamental differences in personality. Sofia talked about the bond that was formed and how her character doesn't expect to care about the other young girls.
RELATED: SECRET INVASION: OLIVIA COLMAN PLAYING UNION JACK IN NEW MCU SERIES: EXCLUSIVE
"I think that, well, they're a motley crew. And I think that at least for Mac, she hasn't been around many other girls her age. And I think if she has, I think they're going to be some troublemakers, I think. And she's used to keeping her head down and just trying to get through, get through this early part of her life. And it's interesting to see the way that the characters interact, because they're all from such different backgrounds. And yet when they're thrown into this mess, they really are forced to, I guess, to be there for one another. It's a very interesting and beautiful journey that they all have together."
Paper Girls tackles a truly compelling coming of age story focused on four very different girls as they also must navigate being thrown into an insane war for control over all of time. The struggles that each young woman must overcome while also working together is thrilling to experience as they attempt to not only survive, but find a way to return home. Paper Girls is the perfect balance of humanity and sci-fi with a talented cast of young actresses.
Paper Girls is available now on Prime Video. Are you excited to watch Paper Girls? Have you read the Paper Girls comic? Are you interested more in the science fiction or coming of age aspect of Paper Girls? Leave your thoughts on our social media and check back with The Illuminerdi for more Paper Girls.
KEEP READING: PAPER GIRLS STARS JASON MANTZOUKAS AND ADINA PORTER ON THEIR CHARACTERS' COMPLICATED RELATIONSHIP IN NEW SERIES: EXCLUSIVE INTERVIEW