The games are going to begin yet again, with the official announcement of Saw 10 confirming the return of director Kevin Greutert and an October 2023 release date. 
In a recent report from horror news outlet Bloody-Disgusting, the director of Saw 10 was revealed to be Kevin Greutert, who helmed the sixth and seventh installments in the franchise. Additionally, a release date of October 27, 2023 was announced. 
RELATED: NEW LORD OF THE RINGS VIDEO GAME BEING MIGHTILY FORGED FROM WETA WORKSHOP
The Saw franchise is something of an unstoppable force in Hollywood. The first installment, Saw, captured the audience's imagination through a brutal game of torture, violence, and deceit that pushed the limits of the genre. 
SAW 10: SAW 6 & 7 DIRECTOR KEVIN GREUTERT RETURNS TO DIRECT
The most recent two installments in the Saw franchise stepped away from some of the saga's trademarks, polarizing fans in the process. Jigsaw and Spiral: From The Book Of Saw boasted considerably higher budgets than the first seven installments, and they used far more CGI than fans were accustomed to. Perhaps most importantly, the eighth and ninth films left the ongoing, episodic and fairly linear storyline of Jigsaw and his apprentices behind.
While Jigsaw did feature Tobin Bell as John Kramer, AKA Jigsaw, a large portion of the story took place in the past, building out Kramer's history, as he died several installments ago. Despite that, the mastermind behind the sick, twisted nightmare of Jigsaw was still a disciple of Jigsaw, trained by the master of violence himself. Spiral took things a step further, presenting fans with a copycat killer who never knew Jigsaw, and was merely inspired by the serial killer's quest for change through bloodshed.
SAW 10 ARRIVES IN THEATERS ON OCTOBER 27, 2023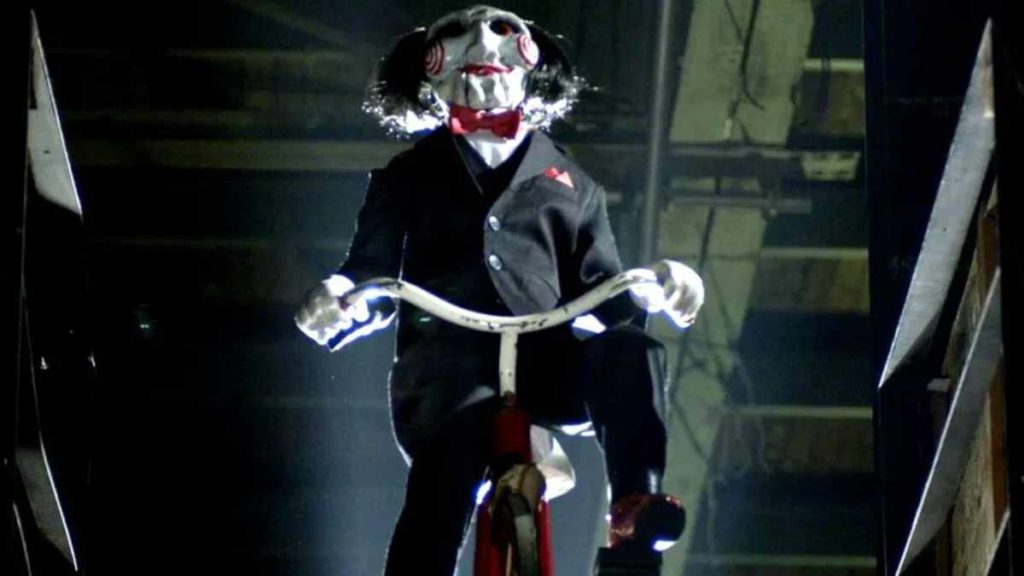 While there is certainly value in Jigsaw and Spiral, they aren't quite up to par with the first seven Saw films. If Kevin Greutert wants to succeed with Saw 10, he needs to go back to the basics. The storyline should feature at least six diabolical traps for the victims to go through, and they should be crafted as practically as possible. CGI should only be used when absolutely necessary, and when it does appear, it should be indistinguishable from the practical elements of the film. But well-designed traps are not all Saw 10 is going to need.
Jigsaw needs to return.
As you probably remember, John Kramer is deceased, making that a seemingly tall order. But Tobin Bell seems interested in reprising his role, and rumors of his casting for this very project have already begun to swirl. And it's not like death has kept Jigsaw from terrorizing humanity year after year, for Kramer has been dead the majority of the franchise at this point.
From Lawrence Gordon, to Mark Hoffman, to Logan Nelson and William Shenk, the message of Jigsaw resonated with these monsters, and they are all more than capable of carrying on his work. With the exception of Shenk, all of these characters could be part of a John Kramer flashback scene in Saw 10. 
SAW 10: WILL JIGSAW OR HIS DISCIPLES RETURN?
Jigsaw's symbols, weapons, motifs and lessons are all tools which these murderers are more than familiar with. They can revive the nightmare, changing the lives of both horror fans and the citizens of the unfortunate city wherein this franchise takes place. An admittedly over-the-top but decidedly exciting possibility for the storyline of Saw 10 could be a sort of twisted battle for the cowl. The franchise hasn't seen Detective Gordon since his turn as Jigsaw's apprentice was revealed at the end of Saw 7.
Likewise, Jigsaw's failed apprentice Mark Hoffman's fate was left unknown, after Gordon trapped the sociopath in the same room where he was stuck back in Saw 1. While survival seemed unlikely, Gordon left Hoffman with a saw to remove his foot with, and Hoffman's determination and resilience cannot be understated. In other words, we didn't see Hoffman die in Saw 7, and while we haven't been teased with his return ever since, the director of that film is tackling Saw 10. Accordingly, a return for either Hoffman, Gordon or both seems more than likely. 
Perhaps those two have watched the games of Jigsaw and Spiral from afar, learning the identities of their fellow Jigsaw successors. Imagine if Hoffman, Gordon, Shenk and Nelson took part in a lethal game to decide who truly deserves the mantle of "Jigsaw". They could either be placed in the game themselves, to test their survival skills, wit, and will to live. Alternatively, they could design four different games, filled with new characters, in order to determine who is the best at creating games that honor John Kramer's vision.
While these may be little more than the hopes and dreams of a Saw fan today, anything is possible in the upcoming Saw film. The franchise is known for its mind-blowing twists and turns, several of which director Kevin Greutert is responsible for bringing to life. With the release of Saw 10 just over one year away, more details on the project are sure to surface soon.
Until then, always remember that "the saw is family". I can't wait for the games to begin.
What do you think of the official Saw 10 announcement? Are you excited for the upcoming horror movie? Let us know your thoughts in the comments below or on our social media! 
KEEP READING: SNIPER: ROGUE MISSION'S RYAN ROBBINS REVEALS WHY HE SHOULD BE THE NEXT WOLVERINE