Fans of Harley Quinn can relax a little following some of the recent purges at HBO Max and Warner Bros. Discovery. An announcement on the show's official Twitter account today confirmed the animated comedy series to be picked up for a fourth season.
You can check out the announcement on the show's Season 4 renewal from the official Harley Quinn Twitter below:
HARLEY QUINN GETS A SEASON 4 RENEWAL
The irreverent DC animated show receives a fourth season renewal ahead of the Season Three finale, which will air on Sept. 15. Also, Warner Bros. Discovery confirmed in a press release that series writer Sarah Peters (Workaholics, Master of None), who has written on the series since the first season and is currently a consulting producer, will be elevated to executive producer and showrunner for Season 4.
RELATED: HARLEY QUINN'S NEW TRAILER PROMISES MORE MAYHEM, MADNESS, AND ROMANCE IN SEASON 3
Season 3 depicts Harley Quinn (Kaley Cuoco) and Poison Ivy (Lake Bell) after they wrapped up their "Eat. Bang! Kill. Tour." They return to Gotham City as a new power couple in love and villainy, who are now ready to take over. Together with their ragtag crew of King Shark (Ron Funches), Clayface (Alan Tudyk), and Frank the Plant (JB Smoove), Harley and Ivy seek to become better versions of themselves, win an awards show, and fulfill Ivy's dream to turn Gotham City in an Eden-like plant paradise.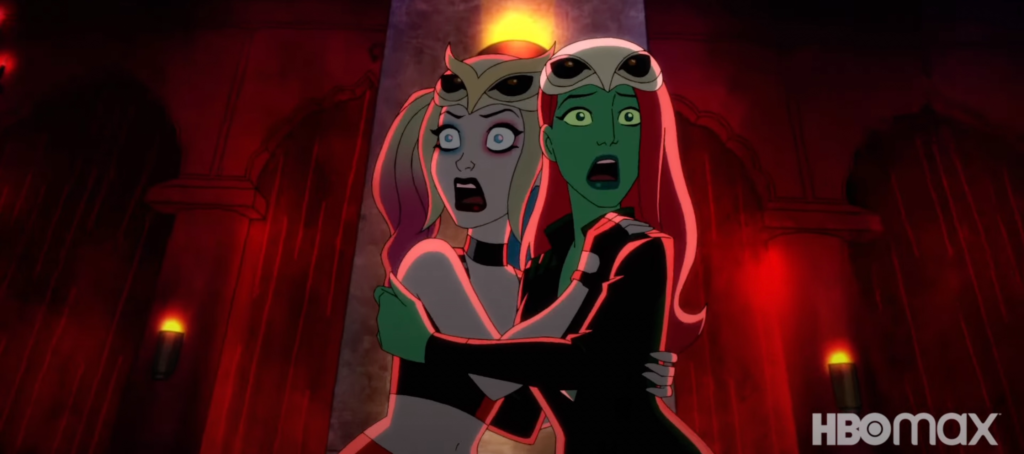 The news will likely be a welcome relief to fans of the show, especially in light of the recent corporate shakeup at Warner Bros. Discovery, which has seen projects get outright canceled despite being near completion, such as the Batgirl live-action movie. Also, multiple animated shows have been pulled from the HBO Max streaming service, creating discord and confusion in the animation community.
Thus far, the show has been an outrageous ride across the DC Universe, focusing on the relationship of Harley Quinn, Poison Ivy, and their crew as they look to strike out on their own. Harley Quinn is also highly rated by critics as it currently has a 96% rating on Rotten Tomatoes.
HBO Max has been the subject of a great deal of controversy in recent weeks. In light of that, the renewal of a beloved and popular animated series such as this will likely be seen as a smart move. While the renewal may not kill off the recent controversy, it does give HBO Max a rare win and a positive bit of momentum they can put forth to fans at the moment. In the eyes of angry fans of shows such as Infinity Train and Mao Mao: Heroes of Pure Heart, this move likely won't repair a lot of damage, but it will at least grant a win to Harley Quinn fans.
RELATED: HARLEY QUINN OFFICIALLY RENEWED FOR SEASON 3 ON HBO MAX
DC's Harley Quinn was developed by Justin Halpern, Patrick Schumacker, and Dean Lorey, with Halpern and Schumacker serving as executive producers. Kaley Kuco, Sam Register, Jessica Goldstein, and Chrissy Pietrosh are also executive producers for the hit series.
The animated series was previously on the now-defunct DC Universe streaming service before it later moved to HBO Max for Season 3. The DC Universe show is produced by Delicious Non-Sequitur Productions and Yes, Norman Productions in association with Warner Bros. Animation.
Harley Quinn Season 3 is currently streaming on HBO Max, with new episodes debuting on Thursday. A planned spinoff of the show called Noonan's, featuring series reoccurring character Kite-Man, is also currently in the works.
What do you think of the news? Are you happy, relieved, or excited about the show's fourth season renewal? Let us know your feelings about getting a Harley Quinn Season 4 on our official Twitter account.
KEEP READING: HARLEY QUINN: EVERYTHING WE KNOW ABOUT THE CRAZY 3RD SEASON!
SOURCE: HBO Max, Twitter