In one of the most shocking leaks in gaming history, an anonymous leaker uploaded over 90 screenshots and videos from GTA VI online.
The leak hit Twitter early Saturday morning and sent the gaming industry into a spiral. The next installment in the Grand Theft Auto series has been one of the most highly anticipated games since the release of GTA V in 2013.
RELATED: GOD OF WAR: RAGNAROK STORY TRAILER DELIVERS MORE GRIPPING ACTION & INTRIGUE
The images and videos give fans a look at an incredibly early build of the game, but it already looks incredibly promising.
GTA VI LEAK SHOWS OFF DIFFERENT CHARACTER MODELS AND GAMEPLAY
The leaks show a really impressive early build of GTA VI, giving fans of the series a look at what Rockstar is considering including in the highly-anticipated game.
One of the videos showed a female player model robbing a breakfast restaurant. The video was very reminiscent of GTA V's gas station robbing feature, but this version seemed to expand on what the player could do. GTA V only allowed players to walk into and rob specific gas stations, and they could only interact with the worker. The leaks suggest that Rockstar is testing a larger version of this feature, allowing players to enter much larger buildings and rob them, with the option to interact with any of the customers inside.
RELATED: CYBERPUNK & DARK MAGIC COLLIDE IN UPCOMING SERIES HEXWARE
The video then showed a seamless transition to the outdoors as the character tries to escape from the incoming police. The player then hijacks a cop car and drives off to complete the escape.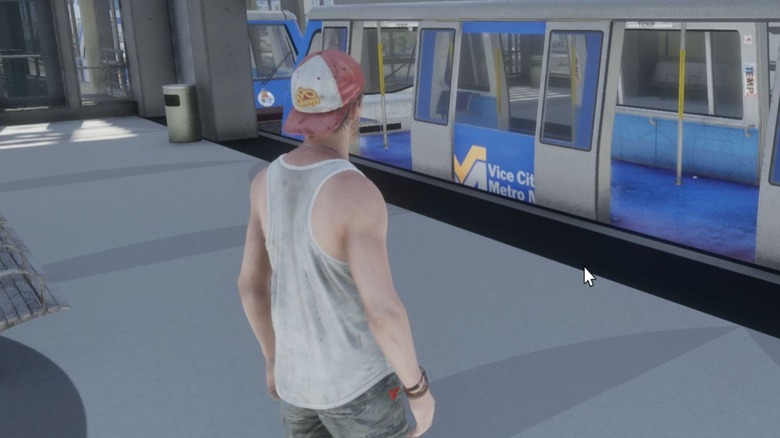 With GTA VI, Rockstar also looks to include and improve on other features. Not only do the robberies look updated, but the leaks also had many smooth-less transitions that were black loading screens in the previous installment. One video showed the female player model experiencing a massive strip club (about the size of the nightclubs in GTA Online) before walking out into the city. The transition from strip club to city was seamless and featured no loading screen.
Rockstar also might be updating the character swapping feature from GTA V. Another video showed a seamless transition from a female player model to a male one. The change could be through console commands, or it could suggest that Rockstar is working on a faster way to switch between playable characters in GTA VI.
Another feature that seems to be getting updated for GTA VI is shooting from inside a vehicle. In the previous game, players would see a reticle pop up on-screen and use that to aim at whoever they wanted to fire towards, but GTA VI may include a rehaul of this feature. Rockstar is testing an update that features the player model leaning out the window and firing at targets, similar to Fortnite's mechanic.
RELATED: CRUNCHYROLL HOME VIDEO DECEMBER 2022 RELEASE SCHEDULE
Rockstar has since filed copyright claims on most of the tweets featuring the leaks, removing them from the platform. The leaks came from many different Twitter accounts, and no one has claimed the leak as their own.
ROCKSTAR ISSUES STATEMENT ON GTA VI LEAKS
Shortly after the leaks blew up the internet, Bloomberg reporter Jason Schreier reached out to Rockstar sources to confirm the leaks' validity. Schreier then tweeted a confirmation that the leaks were, in fact, real and from an early build of GTA VI. Schreier labeled the leak as one of the most significant leaks in video game history.
RELATED: GHOST RIDER ENGINE OF VENGEANCE MARVEL LEGENDS HASLAB CAMPAIGN LAUNCHES ONLINE
Rockstar released an official statement regarding the leak on Monday, revealing the leak came from an outside source and not a Rockstar employee.
We recently suffered a network intrusion in which an unauthorized third party illegally accessed and downloaded confidential information from our systems, including early development footage for the next Grand Theft Auto. At this time, we do not anticipate any disruption to our live game services nor any long-term effect on the development of our ongoing projects.

We are extremely disappointed to have any details of our next game shared with you all this way. Our work on the next Grand Theft Auto game will continue as planned and we remain as committed as ever to delivering an experience to you, our players, that truly exceeds your expectations. We will update everyone again soon and, of course, will properly introduce you to this next game when its ready. We want to thank everyone for their ongoing support through this situation.
Needless to say, GTA VI is well in development over at Rockstar Games, and the leaks are very promising, though bad for the company. If fans have issues with the quality of the game, they should remember that this is an early build that allows Rockstar to test features. GTA VI will be much more polished once it's inevitably released.
What do you think of the GTA VI leaks? Are you excited about its eventual release? What other changes or features would you like to see in the upcoming game? Let us know in the comments below or on Twitter, and check back with The Illuminerdi for more video game news.
KEEP READING: MARVEL CINEMATIC UNIVERSE'S COSMIC WEAPONS ARE PRIMED TO CONNECT THE MULTIVERSE SAGA: EXCLUSIVE
Source: Jason Schreier & Rockstar Games