Avatar, the most successful movie of all time, is heading back to the big screen where audiences will be able to experience this sci-fi fantasy visual marvel the way James Cameron intended. This movie pushed a number of aspects of the film industry forward with technological advancements, proof that original IP can be major successes and more. The motion capture technology that the actors used during the filming process manages to fully capture their performances in a truly stunning way.
The Illuminerdi had the opportunity to attend the recent virtual press conference for Avatar which will be rereleased in theaters later this month. The press conference included writer, director, producer James Cameron as well as stars Sam Worthington, Sigourney Weaver, Zoe Saldana, Michelle Rodriguez, and Stephen Lang.
ZOE SALDANA REVEALS WHAT SHE LEARNED FROM HER EXPERIENCE ON AVATAR
During the press conference Zoe Saldana talked about how working on Avatar changed her as an actor including her process and what she learned from working with James Cameron.
"I mean, we can see all the opportunities that being a part of Avatar gave me. And I was able to sort of build a career and a lifestyle and still support my family, which for artists, it's a very important thing. I think that as an artist that loves, in a very unconditional way, storytelling, it really instilled in me that discipline to dig deeper. To create a backstory for a character. Because the character, in order for you to understand where your character is, you need to know where your characters come from. And that is something that I practice that I don't have a training in acting.

But I do feel that being a part of Avatar was my Juilliard. It was my NYU course where I really got to play with people that were genuinely wishing me to succeed. And it was an environment that was very playground-like. And therefore, I was very free. And I got to try so many things. And I remember Jim saying so many times, like, "There's no such thing as a mistake." You know, just, you try it, and if we don't like it, at least we tried it. 

And I also would hear him say to other people. "If I'm coming at you because something isn't working, and you come at me with some bullshit story, you better just tell me, 'I don't know what happened, sir."" [LAUGH] And I remember that. I remember going, "Don't ever have everything to say. When you don't know, you just don't know, and let's keep finding it." So that is just, that's definitely something that I'm practicing in my career. And now as a mother, I get to pass some of those teachings [LAUGH] to my kids. I don't know if they're assimilating it, but I'm gonna keep trying."
RELATED: AVATAR: THE WAY OF WATER: WATCH THE MIND-BLOWING AVATAR 2 TEASER TRAILER RIGHT NOW!
While Zoe Saldana had been acting for nine years by the time Avatar hit theaters, this film truly put her on the map. Saldana gives a stunning performance in the movie from heart wrenching sorrow to unfettered joy. It's no surprise that Saldana learned a tremendous amount from her experience working on this movie and that she carried those lessons with her into her other work. Without Avatar Zoe Saldana may not have gained the role of one of her most beloved characters in another major franchise, Gamora.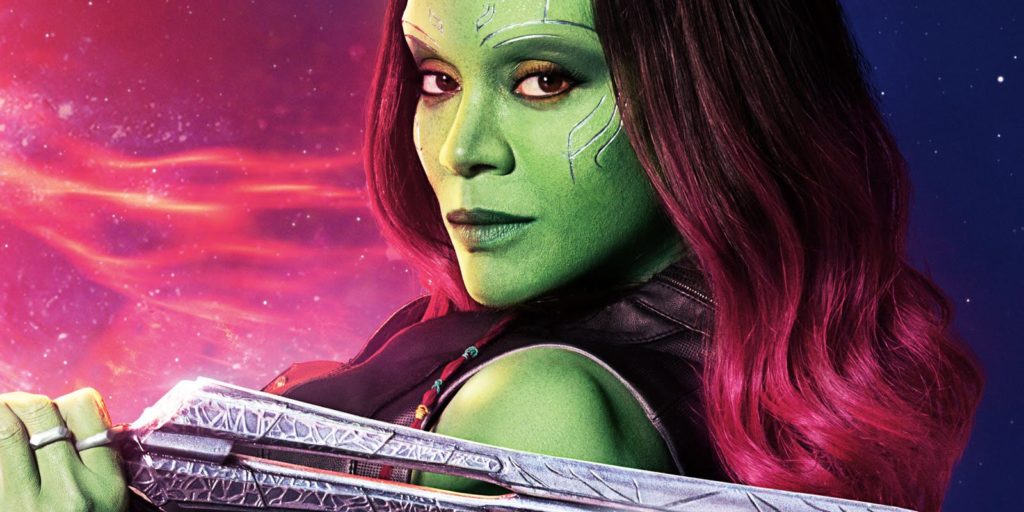 Zoe Saldana is no stranger to major franchises playing not only Neytiri in Avatar, but Nyota Uhura in J.J. Abrams Star Trek franchise before becoming one of the Guardians of the Galaxy. Saldana's performance in Guardians of the Galaxy, Guardians of the Galaxy Vol. 2, Avengers: Infinity War, and Avengers: Endgame captures the same nuance that she brings to Neytiri with a bit more comedy.
RELATED: AVATAR STAR MICHELLE RODRIGUEZ SHARES HOW WORKING WITH JAMES CAMERON FOREVER CHANGED HER PERSPECTIVE ON FILM
Her ability to emote so clearly in the motion capture suit proved integral to her ability to show those similar emotions while playing Gamora. It will be fascinating to see how Zoe Saldana has grown as an actor in the thirteen years since the first movie came out and how her other roles, like Gamora, have helped her evolve as a performer. Saldana was a stand out in the first Avatar and will undoubtedly be stealing scenes in The Way Of Water as well.
Avatar will be rereleased in theaters September 23, 2022. Avatar: The Way Of Water is scheduled to hit theaters December 16, 2022. Are you a fan of Avatar? Are you excited to see the movie in theaters again? Are you looking forward to The Way Of Water? Leave your thoughts in the comments below or on our social media and check back with The Illuminerdi for more on the Avatar franchise.
KEEP READING: AVATAR CREATOR JAMES CAMERON EXPLAINS WHY THE 3D MOVIE CONTINUES TO BE A GRIPPING CINEMATIC EXPERIENCE