Marvel Studios officially announced the Werewolf by Night Disney+ special at D23 just 3 weeks ago, after The Wrap first reported it in August of 2021.
The special stars Latino actor Gael Garcia Bernal in the lead role of Jack Russell, who is also Wolf Man, with Laura Donnelly co-starring as monster hunter Elsa Bloodstone. Award-winning composer Michael Giacchino made his mainstream directing debut with the Haloween special, which finally arrives on Disney Plus next Friday, October 7th.
Giacchino has composed numerous box-office spectaculars and award-winning scores for films, including The Batman, Spider-man: No Way Home, Doctor Strange, Jurrasic World, Rogue One, and Inside Out, but Werewolf By Night is his first true step into the directing arena. He has previously directed smaller projects which include a short comedy monster film starring Patton Oswalt by the name of Monster Challenge, and an episode of the Star Trek series of shorts titled Short Treks.
The composer has had a long-standing relationship with Marvel, having composed numerous scores for Marvel Studios films along with the music for the Marvel Studios title card seen before every Marvel Studios project. To see Giacchino's first big directing big be a Marvel project is therefore no surprise, as it is clear that Kevin Fiege deeply trusts Giacchino to deliver in all aspects.
RELATED: MARVEL'S NEW WEREWOLF BY NIGHT CAST MEMBER MIGHT BE THE MYSTERIOUS VILLAIN OF THE SERIES
When asked about directing a project for the first time with Werewolf By Night, Giacchino answered saying that he had originally always wanted to direct and that music composition was just something that came to him and stuck. He said that he had always wanted to direct but had remained busy amidst a heap of composing jobs. The opportunity to direct a short-form TV special for Disney+ was the perfect project for him.
While promoting the project before its release next week, Giacchino spoke about the much-talked-about violence and gore in Werewolf By Night, and how he and his team expected the project to get a TV-MA mature rating which is equivalent to an R rating for films.
Violence And Gore In Werewolf By Night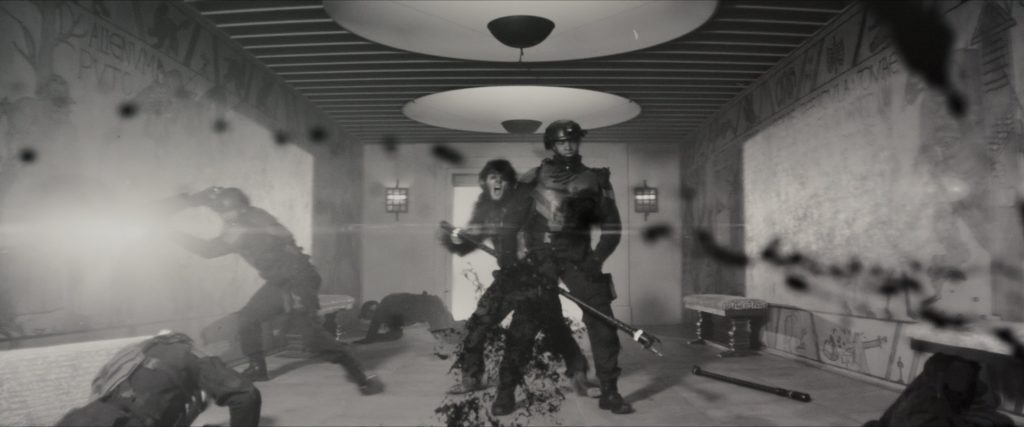 Michael Giacchino told Brian Davids of The Hollywood Reporter, "We had always assumed it would be TV-MA, but I wasn't always involved with what was happening on that end in terms of ratings and all of that," while speaking on the violence and blood in Werewolf By Night. This shows that the special will indeed showcase a new brand of gore, violence and bloodiness, previously unseen in the MCU.
As the first reactions for Werewolf By Night poured out, a common theme among them was real praise for the amount of violence and gore on display. Even from the trailer, it was clear that we were in for a different kind of project, the trailer included shots of a severed hand with blood spraying out along with multiple guards being murdered with blood pouring out and being sprayed across the camera. These are all things we haven't witnessed in previous Marvel projects.
With Marvel Studios previously always operating as a family-friendly studio, the expectation has always been that Marvel projects would only include watered-down violence to fit with the Disney standard. However, as of late, we've seen Marvel Studios handle much darker topics and include more violence with Moon Knight and Doctor Strange in the Multiverse of Madness. It seems that this special will be carrying on this trend and further extending it to heights we previously haven't seen.
One reason Giacchino noted for why Werewolf By Night may have been able to get away with that TV-14 rating was the special being in black and white, which is most likely true. This shows that Marvel was ready to release their first TV-MA project, marking a big step forward for the studio.
Marvel Studios previously confirmed at San-Diego Comic Con in July this year, that their upcoming animated series Marvel Zombies would be the first TV-MA rated Disney+ original, along with Deadpool 3 now being set in the MCU and confirmed to be R rated, by Kevin Fiege back in 2019. This shift for Marvel regarding maturity rating presents a bright future ahead for the standard of violence shown in future projects like Daredevil: Born Again and Echo, more akin to the violence seen in Marvel TV's Defenders shows and Fox's Deadpool and Logan.
Are you excited for the more mature (without a capital M) Werewolf By Night? Let us know your thoughts in the comments below!
KEEP READING: LOUNGEFLY DEBUTS DELIGHTFUL TED LASSO, JASMINE, AND BLACK PANTHER MINI-BACKPACKS