Amsterdam has arrived, and everyone is feeling like they just got run over.
Why actors still want to work with David O. Russell, a filmmaker who consistently abuses their talent on set through well-documented incidents, is a mystery. On top of headbutting George Clooney on the set of Three Kings after the actor told him he was physically and verbally bullying the crew, the director also physically assaulted Christopher Nolan at a party with a chokehold after Jude Law wanted to drop out of I Heart Huckabees to star in The Prestige.
There are other instances in which the director demeaned his talent, most notably a video which leaked online of him yelling at Lily Tomlin between takes, but none is more appalling than when he personally admitted to the police that he had sexually assaulted his transgender niece. He personally admitted it. This final incident should've been the nail in the coffin for the filmmaker.
RELATED: SPIRIT HALLOWEEN THE MOVIE: A TWEEN-FRIENDLY SPOOKFEST
And yet, stars like Christian Bale, Margot Robbie, John David Washington, Anya Taylor-Joy, Rami Malek, Chris Rock, Zoe Saldaña, Mike Myers, Michael Shannon, Timothy Olyphant, Andrea Riseborough, Taylor Swift, Matthias Schoenaerts, Alessandro Nivola, Robert De Niro, Leland Orser, and Colleen Camp thought it was acceptable to work with him (some listed here are frequent collaborators) for…an Oscar nomination? Then they may not be pleased to know that Best Cinematography is the only option, because the rest of Amsterdam is an absolute mess.
Amsterdam Looks Nice, And That's About It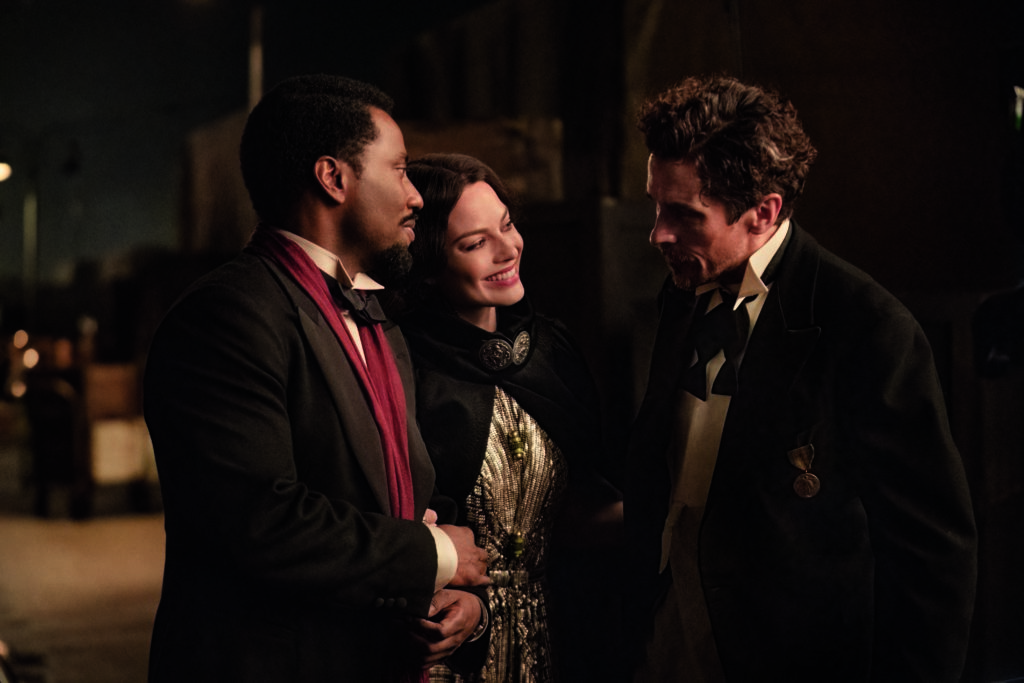 Literally, the only reason why anyone would want to see this movie is to observe the beautiful shots of Emmanuel Lubezki, who makes his grand return to the big screen six years after Terrence Malick's Song to Song. His wide shots look incredible on an IMAX screen, and he makes impeccable use of subdued colors during flashback scenes in World War I, or when the movie reaches its climax at a gala, with a sepia tone-like yellow filling the screen. You can't deny it's some of his best work, but the movie he's collaborating on isn't worth watching.
On top of O. Russell being a generally terrible human being, he can't seem to direct actual emotion from his ridiculously talented actors. It takes a feat to make someone like Anya Taylor-Joy feel blank onscreen, but he sure has pulled it off. Aside from a fully committed performance from Bale and Washington, two highly charismatic performers, most of Amsterdam's cast is wasted in either pitifully short roles (Taylor Swift, get a better agent!) or play characters that don't exploit their true talents.
I will say that I enjoyed Mike Myers and Michael Shannon together, playing two respective British and American spies, only because they know comedic timing. Myers hasn't had the best late-stage of his career after the release of the disastrous The Love Guru, but he's one of my favorite comedians. And it's always a joy to see him on screen having fun, even if he shouldn't be in this mess.
Because, yes, Amsterdam is indeed a mess. It starts out relatively simply: Dr. Burt Berdensen (Bale) and his friend Harold Woodsman (Washington) are accused of the murder of Elizabeth Meekins (Swift) after the actual murderer (Olyphant) points the finger at them during a chaotic scene. The police (Schoenaerts & Nivola) ask them to clear their names by submitting documents that confirm Meekins hired the doctor and his attorney to examine his father's body, whom she believed was poisoned by a malicious organization.
RELATED: ANDOR REVIEW: A NEW DARK IMMERSIVE EXPERIENCE FOR STAR WARS FANS
And then…well, I'm afraid I lost myself. The movie consistently moves to 1918 Amsterdam, where Burt and Harold meet Valerie (Margot Robbie), and 1933 New York where "present-day" events of the movie take place, all for a rather hackneyed commentary on how fascism takes its roots. But it takes way too many detours with its main protagonists and over complexities itself too much that its main message gets lost in a sea of repetitively tedious scenes and overlong monologues featuring an impeccable cast who seem to have no idea what they're doing.
Yes, Myers and Shannon are funny, but did they really have to monologue about cuckoos? Or how about the random scene in which Christian Bale sings and dances for…no reason at all? Or the multiple scenes of Robert De Niro's character monologuing about the same thing? Worse yet, two scenes in which Bale, Robbie, and Washington sing the most nonsensical "nonsense" song imaginable. I wonder how much they got paid to do this. I wouldn't be proud of myself, for sure.
And as the movie swerves with more characters, plotlines, and "reveals" that happen out of nowhere, you would think that Amsterdam would ultimately amount to something tangible, or at least one final reveal where the audience goes "A-ha!" and everything starts to become apparent that everything we watched before purposefully led to this.
But Amsterdam only ends with a whimper, having wasted one of the most brilliant ensemble casts in any movie this year, even if everyone desperately tries to do their best. Here's what they need to be doing: stop saying yes to David O. Russell. They won't get an Oscar out of this. Moviegoers should also do the same thing. And even if it was a good movie, my stance on Russell would stay the same.
Score: 30%
Amsterdam is now playing in theatres everywhere.
NEXT: HOCUS POCUS 2 REVIEW:  SILLY SEQUEL LACKS THE HORROR OF ITS PREDECESSOR, BUT SHOULD ENTERTAIN FANS