Disney has released the official trailer for Diary of a Wimpy Kid: Rodrick Rules!
Diary of a Wimpy Kid was created by Jeff Kinney, originally released online on the educational website Funbrain, running from September 2004 to June 2005. By 2009, it received almost 20 million views, with many readers requesting a print version. In 2006, Kinney signed a deal with Abrams Books to make it a reality; the following year, the first installment was released and became a bestseller. Its popularity spawned numerous sequels, with the 17th installment, Diper Överlöde, to be released on October 25, 2022.
The Diary of a Wimpy Kid series centers on Greg Heffley, a hapless, cynical middle school student who narrates and illustrates his life in a journal. Although prone to acts of cruelty to fulfill his selfish desires, he is not completely without a semblance of conscience. Kinney based Greg on his own worst traits growing up in middle and high school.
Oh, Brother! The New Diary of a Wimpy Kid: Rodrick Rules Trailer Is Here!
From Web to Print to Film: A Heffley Story
Diary of a Wimpy Kid previously had a series of live-action film adaptations from 2010 to 2017. Of the 11 books published at the time (the twelfth book, The Getaway, was published almost 6 months after the final film), only four of them were adapted, though elements from other titles were implemented: Diary of a Wimpy Kid, Rodrick Rules, Dog Days, and The Long Haul.
RELATED: STRANGE WORLD CREATORS REVEAL HOW NEW CHARACTER SPLAT DOESN'T HAVE A VOICE ACTOR AT ALL
The first three films starred Zachary Gordon, Robert Capron, Rachel Harris, Devon Bostick, and Steve Zahn among the main cast. Although the first two films followed their source material, Dog Days merged the book's predecessor, The Last Straw, to keep up with the aging actors.
Because most of the original actors have outgrown their roles, The Long Haul recast new actors. Compared to its predecessors, The Long Haul was a critical and commercial failure. It was also the last production from 20th Century Fox before Disney purchased the company in 2019. That same year, Disney announced their plans to reboot Diary of a Wimpy Kid, along with Home Alone and Night at the Museum, for Disney+.
RELATED: 'BLACK PANTHER' WARRIOR M'BAKU & MORE FROM WAKANDA COMING TO AVENGERS CAMPUS
The first film adaptation of the Diary of a Wimpy Kid reboot released on December 3, 2021 on Disney+. Originally planned as an animated special and follow-up to Dog Days, it was eventually retooled into the reboot film after Kinney decided against future live-action adaptations of his series. Bardel Entertainment provided the animation for the new Diary of a Wimpy Kid, having previously worked on The Ice Age Adventures of Buck Wild. Among the voice cast are Brady Noon, Ethan William Childress, Chris Diamantopoulos, Erica Cerra, and Hunter Dillon.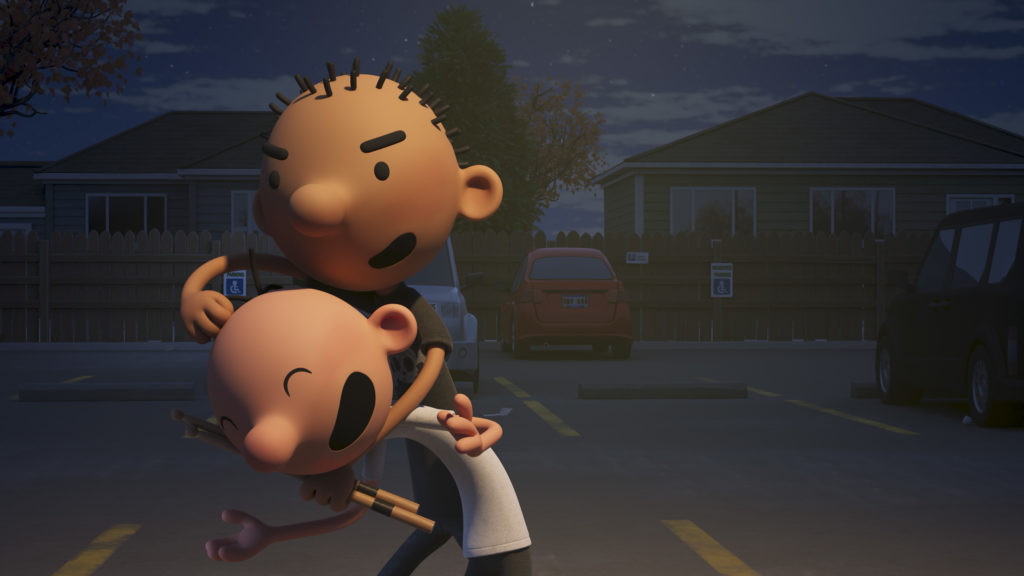 As with the live-action adaptation, the animated Diary of a Wimpy Kid: Rodrick Rules focuses on Greg and his relationship with his older brother Rodrick. In this installment, Rodrick blackmails Greg with an embarrassing secret about an incident that occurred on summer vacation. Greg desperately tries to prevent the revelation while putting up with his brother's torment and the beginning of a new school year.
Diary of a Wimpy Kid: Rodrick Rules is set to premiere on December 2, 2022 on Disney+. What are your thoughts on the Rodrick Rules trailer? Do you have a favorite installment in the Diary of a Wimpy Kid books? Where does Rodrick Rules rank? Are you a fan of the animated or live-action films? Let us know over on Twitter!
KEEP READING: EXCITING CREED 3 TRAILER DROPPED BY THE UNDEFEATED MICHAEL B. JORDAN HIMSELF
Source: Disney