Ladies and gentlemen, the Creed 3 trailer has arrived, let's get ready to rumble!
The Illuminerdi had the pleasure of attending the Creed 3 press conference, where we got an exclusive first look at the film's trailer. The press event, hosted by ESPN's Kelley L. Carter, featured Creed star Michael B. Jordan, who makes his directorial debut with the upcoming sequel.
RELATED: WAKANDA FOREVER DIRECTOR RYAN COOGLER EXPLAINS UNEXPECTED INCLUSION OF NAMOR'S ANKLE WINGS
Though we got to see the trailer early, it's now widely available for viewing, and man, we can't wait to see it in theaters.
THE CREED 3 TRAILER PROMISES AN EMOTIONAL STORY BEHIND THE BOXING GLOVES
Michael B. Jordan has his hands full with Creed 3, serving as actor, director, and producer, and the trailer showcases all of his talents.
The movie follows Adonis "Donnie" Creed (Michael B. Jordan), who's been living a life of luxury for the past seven years, signaling a significant time jump since Creed 2. Donnie acknowledges the people he has to thank for this life, Bianca (Tessa Thompson), Rocky (Sylvester Stallone), and his father, Apollo Creed (played by Carl Weathers in the original series). Neither Stallone nor Weathers appears in Creed 3, marking the first film in the Rocky series not to feature Stallone.
RELATED: TREVOR NOAH ANNOUNCES HIS FINAL DAY ON THE DAILY SHOW
Donnie's life is good. The events of both previous Creed films left him with fame and fortune, which he uses to give Bianca and their daughter, Amara, the best possible lives. Things are turned on their head when a friend from Donnie's past returns, Damian (Jonathan Majors), who's spent the last 18 years in prison. The trailer doesn't reveal what got Damian locked up, but he and Donnie were like brothers as kids.
The trailer reveals that, when they were younger, Damian was the star boxer of the two. Coming out of prison, he's in insanely good shape and ready to prove he's still got what it takes to make it big. Donnie, seemingly feeling guilty for Damian's arrest, gives him a chance, and we see him sparring at Donnie's gym. Damian is a monster in the ring who overpowers his sparring partner and shows no mercy for an already-beaten opponent.
RELATED: CHRISTIAN BALE REALLY WANTS TO JOIN THE STAR WARS UNIVERSE
From the looks of it, Damian makes it big in the boxing world. We see clips of him fighting professional matches where he continues dominating other boxers, never holding back. When Donnie confronts Damian, he reveals his true nature. Damian resents Donnie because Donnie lived the life that he should have had, but instead, he spent half of his life behind bars. Now that he's out and has the resources, Damian's coming for everything Donnie has.
The Creed 3 trailer teases a massive showdown between Donnie and Damian, culminating in a high-stakes boxing match that could rival all previous Rocky fights.
RELATED: WATCH THE LAST OF US TEASER TRAILER FOR STUNNING NEW HBO SERIES
During the press event, Michael B. Jordan described Creed 3 as the most challenging project he's ever been a part of. It's a passion project for the first-time director, and he prides himself on using the lens of a Rocky movie to give audiences a look into the lives of young Black men while also representing the greater Black culture, Mexican boxing culture, and ASL individuals.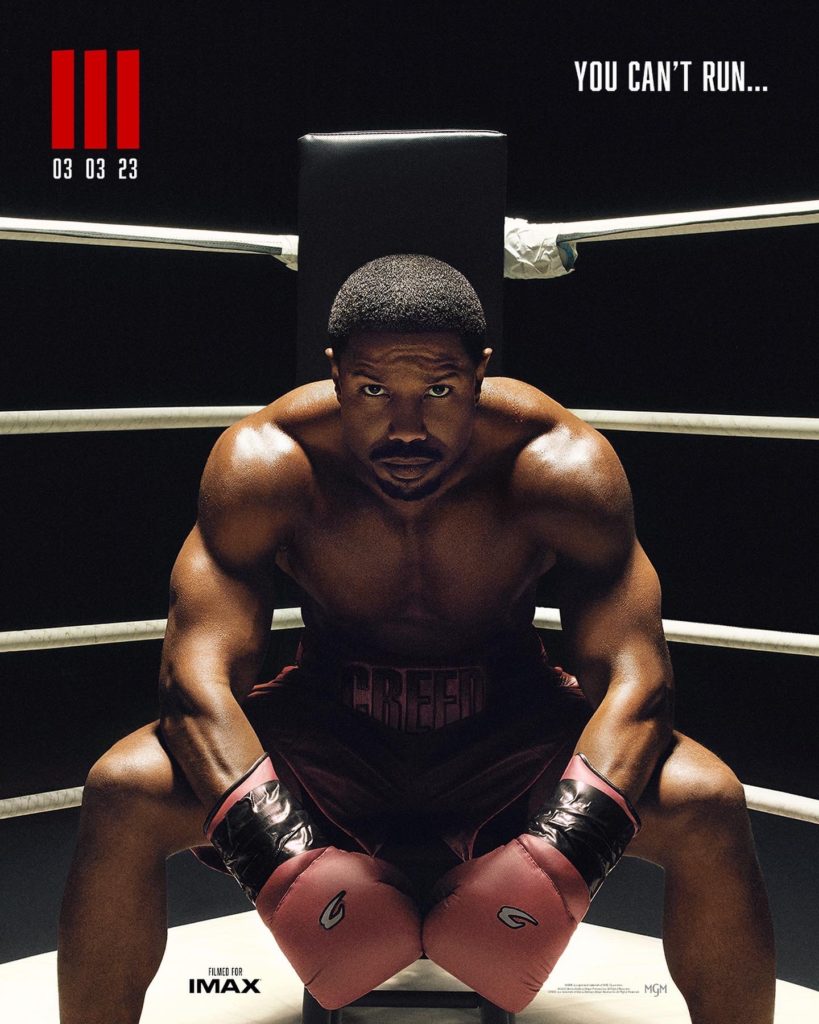 Creed 3 opens in theaters on March 3, 2023. What do you think of the trailer for Creed 3? How do you feel about Michael B. Jordan taking over the Rocky franchise? Where would you like to see the story go next? Let us know in the comments or on Twitter, and check back with The Illuminerdi for more Creed 3 news!
KEEP READING: JONATHAN MAJORS' TRAINER DESCRIBES KANG AS AN IMPOSING "WARRIOR" IN ANT-MAN 3
Source: Michael B. Jordan