Walt Disney Animation Studios has made some truly amazing movies in the nearly hundred years they have been around and their newest action adventure movie, Strange World, is primed to be another success for the studio.
Strange World boasts gorgeous animation and a unique completely original world, but with a story rooted in family and legacy. And like many Disney properties, from Disney Animation, to Pixar, to Star Wars, Strange World is introducing a new cute, but odd sidekick who is sure to captures audience's hearts, Splat!
RELATED: LIGHTYEAR: CHRIS EVANS REVEALS WHAT HE LOVES MOST ABOUT THE BUZZ & SOX DYNAMIC
The Illuminerdi had the opportunity to attend a press junket for Strange World at Walt Disney Animation Studios where we were shown exciting footage of Strange World and participate in a Q&A with Director Don Hall, Co-Director and Writer Qui Nguyen, and Producer Roy Conli. The creators of Strange World talked about the new character Splat, who is sure to capture fan's hearts as quickly as Lightyear's Sox. Don Hall explained what inspired this new character and how it was a challenge for the animators.
STRANGE WORLD CREATORS REVEAL INTERESTING NEW DETAILS ABOUT THE CHARACTER SPLAT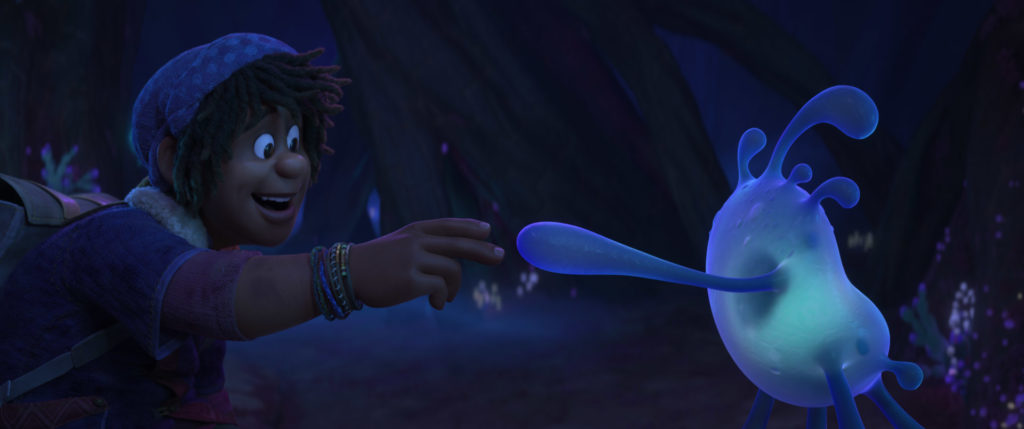 "I wouldn't say it's a trope of these movies, but a lot of these type of movies they do find an ally. So, our explorers find an ally in this hidden world. So it's like, alright, well, who's gonna be that ally And I love the idea of like, for Baymax, stripping away everything. Baymax is a blank slate, he's got two little dots for eyes that blink and that's kind of it, right?

I wanted to go even further with this one, and basically say, "Okay, you get no face animators. You get nothin'." And just see what they can do. And, again, I knew the creative potential of our people and our animators who are just the best in the world. And I knew that we could take something that is really nebulous and weird, and let them let them run with it and they would provide all the personality."
RELATED: ANDOR STARS TALK ABOUT EXPLORING THE VILLAINOUS EMPIRE AT THE HEIGHT OF ITS POWER
Splat is a fun character for the Clade's to meet and ally themselves with in this underground world they discover. Given how alien and sometimes dangerous this world can be it makes sense to find an individual to help them navigate it. It is an interesting challenge to create a character with no face who is still able to communicate and emote, but Disney Animation has proven their ability to do this for years. Co-Director and Writer Qui Nguyen talked about how Splat follows in the footsteps of some of Disney's most beloved animated characters including Aladdin's Magic Carpet.
"It actually also connects like to the history of Disney animation too. Some of our very memorable characters, like the Carpet from Aladdin, or the Brooms from Fantasia don't have faces and are forced to communicate through pantomime. And so this is a great opportunity to kind of celebrate a character in our film that celebrates that. And that gets to communicate or is challenged to communicate with pantomime and through other inventive means to communicate with our main characters. It was super fun, also allows for just an immense amount of entertainment, as well."
Part of what makes the underground environment feel so real and immersive is not only the animation, but the sound design. Everything from the vegetation to the creatures is completely different than what the Clade's and audiences are used to with the sound adding to this feeling. Director Don Hall was quick to praise sound designer Shannon Mills explaining that when he pitched the idea to him he described Strange World as, "This is sort of like a Star Wars type movie where you have free rein to bring your imagination to this, these characters because there's really no, we have no boundaries."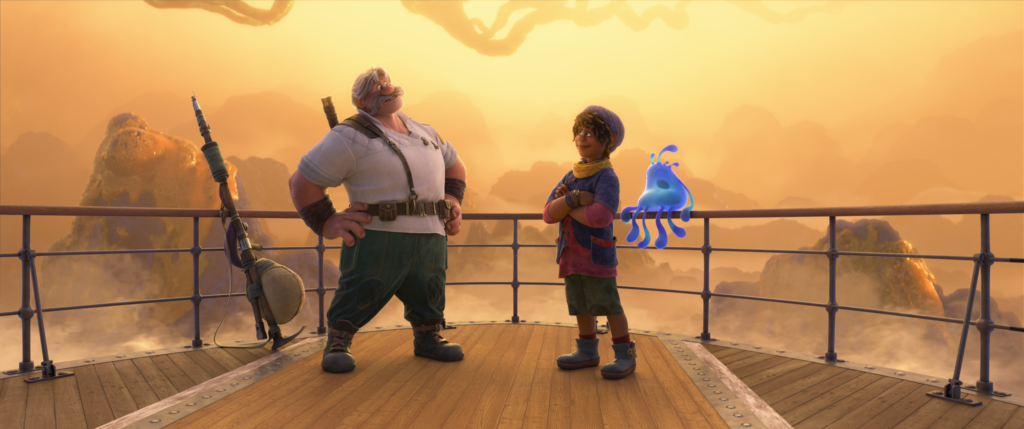 However, Shannon Mills had an interesting challenge with this new movie beyond creating the sound design for a completely new and alien world. Co-Director and Writer Qui Nguyen revealed that there is no voice actor behind the character Splat, instead sound designer Shannon Mills created the "voice" of Splat for Strange World.
"Splat, you might notice has no character actor behind his voice that is completely created."

Director Don Hall jumped in, "No Alan Tudyk. It's not Alan Tudyk."

Qui Nguyen continued, "That is completely built by Shannon and his sound design. So he actually got to work his magic as kind of a character voice. Just using the machines and crazy devices, that I don't know what they are, to make these sounds. So, he made a performance, it wasn't just there to create the environment. It also created a performance in the movie that the characters's interact with it's incredible."
RELATED: THE ACOLYTE CASTS MANNY JACINTO IN THE CHILLING NEW STAR WARS SERIES
Splat's "voice" being completely built from the ground up by sound designer Shannon Mills is an impressive feat especially given how the audience needs to connect with this faceless amorphous blob. Strange World is primed to be a truly unique animated adventure with the environment and creatures feeling one of a kind and alien while still seeming familiar. Splat is sure to become a fan favorite, but it will be exciting to see how this creature captures the hearts of not only fans, but the Clade's as well. Disney has created truly amazing characters that fans love for decades and with Walt Disney Animation Studios coming up on 100 years honoring these kinds of characters feels especially poignant.
Strange World is scheduled to hit theaters November 23, 2022. Are you going to see Strange World when it hits theaters? Are you excited to see the newly created world featured in the movie? Are you looking forward to meeting Splat? Leave your thoughts in the comments below or on our social media and check back with The Illuminerdi for more Walt Disney Animation and Strange World.
KEEP READING: STRANGE WORLD CREATORS EXPLAIN HOW NEW FILM IS INSPIRED BY INDIANA JONES, KING KONG AND NATIONAL LAMPOON'S VACATION