Black Adam star Sarah Shahi explained the relationship between her character Adrianna Tomaz and Black Adam. 
Black Adam is a new DCEU movie starring Dwayne "The Rock" Johnson in the title role, coming exclusively to theaters on October 21, 2022. The Rock is joined by an all-star cast, including Sarah Shahi, Aldis Hodge, Pierce Brosnan, Viola Davis and more. 
Sarah Shahi plays Adrianna Tomaz in Black Adam, a character who becomes the super-powered antihero "Isis" in the world of DC comics. Isis/Adrianna Tomaz and Black Adam fall in love, and become the joint rulers of Kahndaq. 
The upcoming DCEU movie explores the life of Adrianna Tomaz before she gets the powers of the Egyptian goddess Isis, as she fights for her country and family. In a recent interview promoting Black Adam, Sarah Shahi explained Adrianna's perception of the titular antihero.
BLACK ADAM: SARAH SHAHI EXPLAINS THE DIFFERENCE BETWEEN ADRIANNA & BLACK ADAM
"Well, she can't shoot electricity through her eyes…But no, she's human. And they do have their similarities. She's, for all purposes, a badass, although I hate that word. And they both have a lot in common in the sense that they were family people.

She has a son. She lost her husband. He had a family that he had since lost. So the idea of seeking revenge to protect your family, or to redeem the death of your loved ones, is something that I think resonates with the two of them.

Adrianna was like Tomb Raider meets Indiana Jones. And so it was important not only to show just her toughness and her ability in that sense but also her vulnerabilities and the softness in her. Because she does, kind of, become the Black Adam Whisperer.

To watch that transition happen and to see how they affect each other in that space was also important."  

– Sarah Shahi, Black Adam
Adrianna may not be able to shoot electricity through her eyes yet, but if Black Adam gets sequels to continue the story, that day may be coming. Isis has powers akin to Black Adam's (superstrength, energy manipulation, flight, etc.) and control over all of the elements. Her future powers may mirror Black Adam's but in this movie, it is the commonality of loss that unites this unlikely pair.
Vengeance is not something Steve Rogers would condone, but revenge has a long history in the world of comic book superheroism. Ghost Rider, Punisher, Deadpool, and more antiheroes have brought about positive change through grim acts of retaliation, and it sounds like Black Adam and Adrianna Tomaz are joining the cause. 
RELATED: WAKANDA FOREVER DIRECTOR RYAN COOGLER EXPLAINS UNEXPECTED INCLUSION OF NAMOR'S ANKLE WINGS
Though we won't know how romantic the relationship between Adrianna and Black Adam is or isn't until the day of release this weekend, Sarah Shahi's description of her character as "the Black Adam whisperer" guarantees a very personal and intimate relationship between the two.
BLACK ADAMl: SARAH SHAHI SAYS ADRIANNA IS "TEAM BLACK ADAM"
Sarah Shahi went on to further tease Adrianna's union with Black Adam in the interview, explaining that "Team Black Adam" fights for Kahndaq at all costs.
"Yes. Well, she is all Team Black Adam. It's like this movie, the purpose of this movie is to blur the lines between heroes and villains. That is something that is such a definition that can be subjective.

She has the full capacity to save something; to have the rebirth, you need to destroy something else. The country cannot survive if Intergang is around. They need to go.

It's like she really, and the JSA, they are counter to that. They want justice and peace, but they want it by saving everybody. When they come in, saying, "We're your heroes; we want to protect you." And Adrianna has that speech where she's like, "Well, where were you 20 years ago when all this stuff happened?" That's not a hero!

They're coming from their own needs and looking at it from that perspective, and I'm coming from it from my own needs and what serves our country."

– Sarah Shahi, Black Adam 
There is a history of superheroes and other forces trying to come into Kahndaq with a savior complex. More often than not, it is the unrestrained brutality that Black Adam uses to rule and protect that brings these false gods into Kahndaq's border.
Sarah Shahi teased the continuation of that plot thread, now in live-action for the very first time. The Justice Society of America are apparently going to come into Kahndaq, perhaps to deal with the criminal group "Intergang", but more likely to deal with the perceived threat of Black Adam to the outside world. 
RELATED: TITANS SEASON 4: FRESH FIRST LOOKS AT JINX, BROTHER BLOOD & MOTHER MAYHEM 
When they arrive, the world's first team of superheroes are not going to be met with the warm reception they might expect, and rightfully so. One of the most important elements in Black Adam is its depiction of an oppressed Middle Eastern society. 
THE BLACK ADAM FAMILY AND THE IMPORTANCE OF KANHDAQ'S ONSCREEN IDENTITY
How characters like Adrianna and Black Adam are shown reacting to the outside world and foriegn superpowers like the JSA could make or break the thematic underpinnings of the film. The relationship of Kahndaq and its protectors to the Justice Society and Intergang could be a powerful story if handled with precision and care.
Finally, we couldn't overlook Sarah Shahi saying that Adrianna Tomaz is "team Black Adam". In DC Comics, just like the Shazam family exists, so does the Black Adam family of characters.
RELATED: JONATHAN MAJORS' TRAINER DESCRIBES KANG AS AN IMPOSING "WARRIOR" IN ANT-MAN 3
 In addition to the Man in Black himself, Isis, Osiris, and Sobek are part of the Black Adam family, a group that could certainly be described as Team Black Adam. Maybe we're reading into this too much, or maybe Sarah Shahi just teased the introduction of this very special superteam to the DCEU.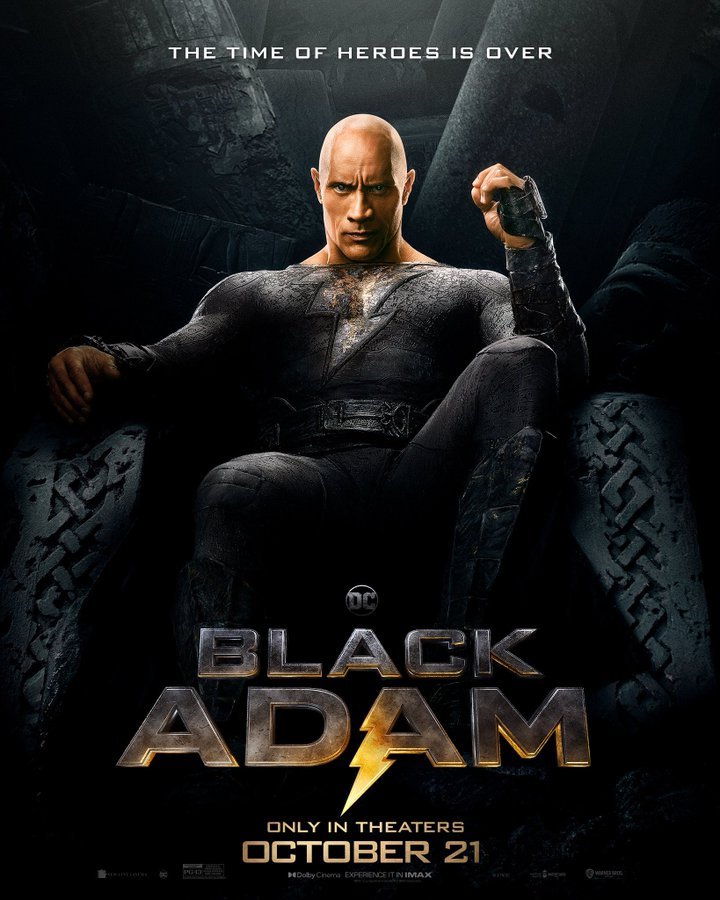 No matter what comes after this movie, we at The Illuminerdi are incredibly excited for the theatrical release of Black Adam on October 21, 2022. Are you excited to see Sarah Shahi as Adrianna Tomaz in Black Adam? Let us know your thoughts in the comments below or on our social media! 
KEEP READING: WEREWOLF BY NIGHT REVIEW: THE 1ST MCU HALLOWEEN SPECIAL IS THRILLING BUT UNBALANCED  
Source: Screenrant