Black Adam looks to elevate the DCEU with a perfectly dosed injection of adrenaline with the presence of Dwayne "The Rock" Johnson. The latter keeps advocating that the "The Hierarchy Of The DC Universe" is about to change. From the marketing shown, it's clear there is a sense of balance from a rich story about an anti-hero struggling to adjust to modern reality while toeing the line of slipping into the moral grey and learning to put the past behind him. 
The Man In Black himself, Dwayne Johnson, is currently making the rounds promoting his new superhero film. Hearing Johnson go into immense detail and express pure passion for this character while foreshadowing what's in store for DC fans was incredible. Check it out.
Dwayne Johnson Reveals His Passion For The Titular Character
"Look, I'm a fan too, just like you, like many people out there. And the two goals were, number one, let's respect the mythology and put our best foot forward to create and deliver this version of Black Adam. Let's tell this origin story, but excuse my language; let's fucking go for it. Fucking go for it. And then I think in the energy… I'm sorry. The intention of going for it, I think there's a mass appeal to this guy."

Dwayne Johnson, Black Adam
RELATED: SHE-HULK: HERE IS WHY TATIANA MASLANY IS PERFECT FOR THE MARVEL ROLE ACCORDING TO CREATORS
One of the greatest things about having a Black Adam film is the ability for DC, Warner Bros, and Seven Bucks Production to take notice of the fans and respect the crowd. All while showing creativity along the lines of a passion project, and make no mistake, the latest DCEU film is a spectacle from beginning to end. It feels like a perfect blend of Dragonball Z and Zack Synder's cinematic vision with the promise of a solid, cohesive narrative.
According to Johnson Jaume Collet-Serra Had a "Dirty Harry" Vision for the DCEU
"Jaume (Collet-Serra) had a vision for tone, temperament, pace, and action.  He also had a hunger that I noticed on Jungle Cruise. It felt like he wanted to disrupt, elevate and grow the DC universe. Collet Serra was the one who came to me first, and he said, 'Man, let's create the Dirty Harry of superheroes because that's who Black Adam is.' 

He doesn't give a fuck, but he gives a fuck about people whom he loves and whom he wants to protect. I loved our director, Jaume Collet-Serra. And also, for me, what I had to do was, it was such a departure from anything I played in the past, so he helped me with the character."

Dwayne Johnson, Black Adam
RELATED: BLACK ADAM: SARAH SHAHI EXPLORES ADRIANNA TOMAZ'S COMPLICATED RELATIONSHIP WITH "TEAM BLACK ADAM" 
Johnson's comments echo the promise and brilliance that this new path and partnership of working with DC mirrors a balance of director-driven projects while building on the humanity of the comics. In this case, Collet and Serra flesh out the lore of Black Adam, akin in tone, similar to how Matt Reeves did for Batman or Zack Synder did for Superman, even what Sam Raimi achieved with Tobey Maguire. All examples of crafting character studies and elevating the legacy of these historical characters while leaving their stamp. Now Black Adam, a character who lives in the morally gets his moment on the silver screen with his debut.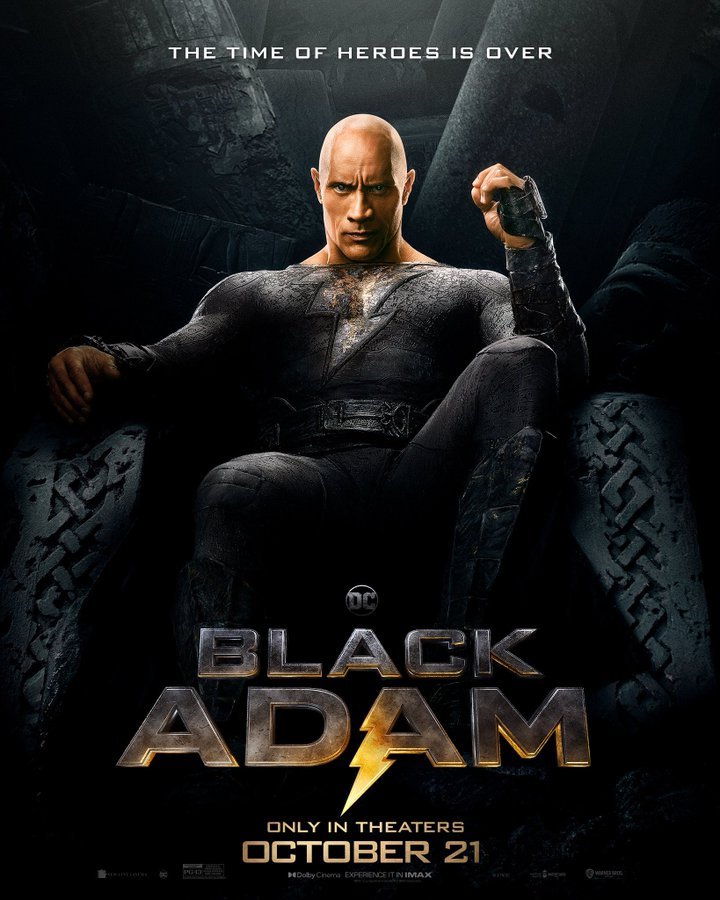 Black Adam looks to electrify and reinvigorate the love for the DCEU, and fans alike this Friday, October 21. Stay tuned for full and continuing coverage. As always post a comment, drop a like, and follow us on social media. Are you excited for Black Adam? Are you seeing the film opening weekend? Who's your favorite member of the JSA? 
KEEP READING: BLACK ADAM: ALDIS HODGE ON HIS VERSION OF HAWKMAN & HIS SUPERHEROIC PERSPECTIVE OF JUSTICE
Source: ScreenRant