Zootopia+ is a new short-form series releasing on Disney+ this week. The series features some of the interesting side characters from the Oscar award-winning movie, Zootopia, allowing Disney Animation to further develop characters and the world created in the 2016 film. Some characters explored in the short-form series include Fru Fru, the daughter of crime lord Mr. Big, Clawhauser, the dispatcher for the Zootopia Police Department, and Flash, the wonderfully-named DMV-employed sloth.
The Illumineridi was lucky enough to attend the Zootopia+ virtual press conference hosted by Disney. In attendance were Zootopia+'s directors Josie Trinidad and Trent Correy, producer Nathan Curtis, songwriters Elyssa Samsel and Kate Anderson, and iconic actors Don Lake and Bonnie Hunt. During the conference, Samsel and Anderson spoke about how legendary composer Michael Giacchino helped develop the musical episode "Duke the Musical."
MICHAEL GIACCHINO, ELYSSA SAMSEL, AND KATE ANDERSON COWROTE ZOOTOPIA+'S MUSICAL NUMBER
For Zootopia+, songwriters Elyssa Samsel and Kate Anderson, who worked together on Olaf's Frozen Adventure, worked with composer Michael Giacchino to create Duke Weaselton's musical number in "Duke the Musical." While both Samsel and Anderson are critically acclaimed songwriters on their own, Giacchino is one of the most well-known composers in the game. He has produced soundtracks for movies like The Incredibles, Zootopia, Rogue One, The Batman, and numerous Marvel movies, the latter of which he's recently moved into the director's chair for with Werewolf By Night.
RELATED: CARS ON THE ROAD: WHY LARRY THE CABLE GUY RETURNED AS THE HILARIOUS MATER AFTER 5 YEARS
In Zootopia+, following his release from jail, Duke Weaselton goes on a journey to rediscover himself. He recognizes that his time as a small-time crook has led him to miss out on many of his dreams. The musical number commences as Duke dreams of the riches he could have had if he had spent his time wisely. He decides to make a change, go clean, and return a lost wallet to an old goat lady. However, an armored vehicle crashes, spilling money across the street and sidelining his plans to go straight. Duke cuts off his song, grabs a bag, and runs away from the cops, continuing his life as a crook.
During the Zootopia+ press conference, Samsel broke down what went into crafting the song "Big Time," revealing that Michael Giacchino brought her and Anderson on board.
We had the privilege of cowriting the song "Big Time" with Michael Giacchino, and I've got to say, when he called and said there was this opportunity to write a musical number for the character Duke Weaselton, we were just so bold over with joy. When we first started writing the song, Michael had sent us the first four chords and a beautiful melody to begin the song. It is a special day when you get a voice memo from Michael Giacchino with a melody idea of him playing the piano and saying "Let's turn this into a song! What do you think?"

Elyssa Samsel, Songwriter for Zootopia+
RELATED: CARS ON THE ROAD: OWEN WILSON'S LEADERSHIP AND CREATIVITY HELPED THE BRING THE HILARIOUS SERIES TO LIFE
Samsel continued by saying that she and Giacchino took heavy inspiration from Queen and David Bowie while crafting the music for "Big Time," as the duo really wanted Duke to rock out during his musical number.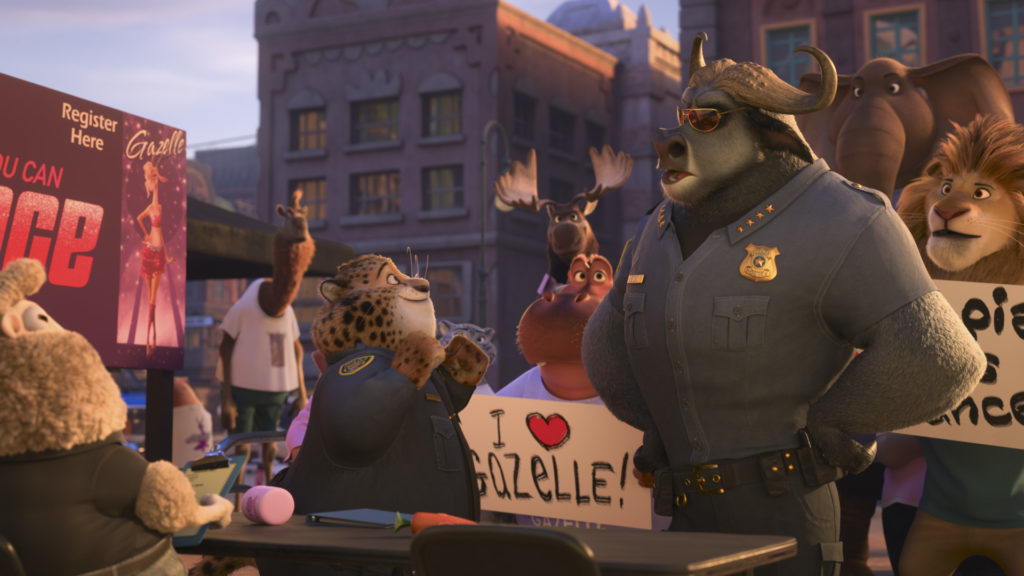 When it came to the lyrics for the song, Anderson explained that directors Josie Trinidad and Trent Correy approached her and Giacchino with ideas of Duke's imaginative journey. The song features numerous weasel-related puns as Duke imagines potential career paths but always finds a way to weasel more money into his pockets. His dreams start small with the idea of being a used-car salesman but grow larger with every thought, culminating in his big-time vision of a world takeover as he builds a rocket and flies to the moon.
Finely crafted by Samsel, Anderson, and Giacchino, "Big Time" is another wonderful Disney song that delivers a fun musical number that Zootopia fans of all ages can enjoy.
RELATED: DANIEL KALUUYA JOINS THE AMAZING CAST OF SPIDER-MAN: ACROSS THE SPIDER-VERSE AS SPIDER-PUNK
Zootopia+ drops on Disney+ on November 9.
What are your thoughts on Zootopia+? Did you like the musical number featured in "Duke: the Musical?" Do you think Disney should make more side-character-focused spinoffs of their movies? Let us know in the comments or on Twitter, and check back with The Illuminerdi for more Disney Animation news.
KEEP READING: BLACK PANTHER: WAKANDA FOREVER REVIEW – A POWERFUL EMOTIONAL EPIC THAT REIGNITES CLASSIC MARVEL FIRE WITH A NEW FLAME