Titans Season 4, Episode 4, "Super Super Mart" is a funny, wild comic book adventure that struggles to balance tone. 
Titans is a DC TV series created for HBO Max. It is a loose adaptation of the Teen Titans DC Comics franchise. Nightwing, Starfire, Raven, Superboy, Beast Boy and Tim Drake comprise the team of not-so-teen Titans on the show. Characters like Jason Todd, Rose Wilson, Wonder Girl and Dove are still alive and active within the show's universe, but they have not yet appeared in Season 4.
The central arc of the latest season revolves around Mother Mayhem's plot to take over the world with her son and his father, the demon known as Trigon. Sebastian Sanger is Mother Mayhem's son, though he never knew his birth-mother. Sebastian is played by Joseph Morgan, and his storyline finally takes center stage on this week's episode of Titans.
Morgan's acting ability is obviously next-level, and the season has so far only scratched the surface of his talents. Joseph Morgan's performance is nuanced, rackling with energy under the surface, despite Sebastian's generally reserved nature.
TITANS: SEBASTIAN IS THE HIGHLIGHT OF SEASON 4 SO FAR
Sebastian's heritage is revealed, and his half-sister Raven comforts him and looks after him. The newly formed bond between Sebastian and Raven is the emotional heart of "Super Super Mart". Sebastian's destiny is to become Brother Blood and fight the Titans alongside Mother Mayhem. But facing his own sister in combat may not be easy for him, considering how caring and kind she has been to him.
Throughout Titans Season 4, Episode 4, we revisit "The Organization" through flashbacks. The gang has faced these violent foes before, when they sought to turn Raven into the destroyer of worlds back in Season 1. Our heroes were able to defeat Trigon, and Raven imprisoned him in a jewel. The Mother Mayhem has since stolen that Jewel. 
RELATED: TITANS SEASON 4 EPISODE 3 "JINX" REVIEW: NIGHTWING SURE KNOWS HOW TO BE A DICK 
Mother Mayhem, or "May" has a very sad history with The Organization and Trigon that is best left unspoiled. The horrors that people endure when they join cults is explored in a powerful, tragic fashion. The creative team also goes out of their way to link Mother Mayhem's rise to power to the events of Titans Season 1.
TITANS: SUPER SUPER MART BRINGS THE PAST AND PRESENT TOGETHER
The past and the present collide in many ways during Super Super Mart, including the return of a fan favorite. Deathstroke The Terminator returns from the dead to kidnap Sebastian, resurrected by Mother Mayhem's necromancy. This zombified version of Slade Wilson does not talk, and unfortunately the incredible Esai Morales did not reprise his role.
That being said, the action sequences with Deathstroke, Superboy and Nightwing were extremely fun. The combat was a genuine treat for fans of the franchise, even if it was marred by a few shots of sub-par CGI. There's a wonderfully tongue-in-cheek gag that references Deathstroke's offscreen relationship with Deadpool, and some delightfully brutal twists of the knife as well.
READ MORE: IRONHEART'S DOMINIQUE THORNE PROMISES NEW SERIES WILL EXPLORE IRON MAN CONNECTION
Fans of Deathstroke The Terminator may be disappointed that this is all we got of the classic DC villain in Season 4, which is quite understandable given how he was teased in the marketing. But his return works quite well in the context of the episode. 
TITANS WORKS BEST WHEN THE TEAM IS TOGETHER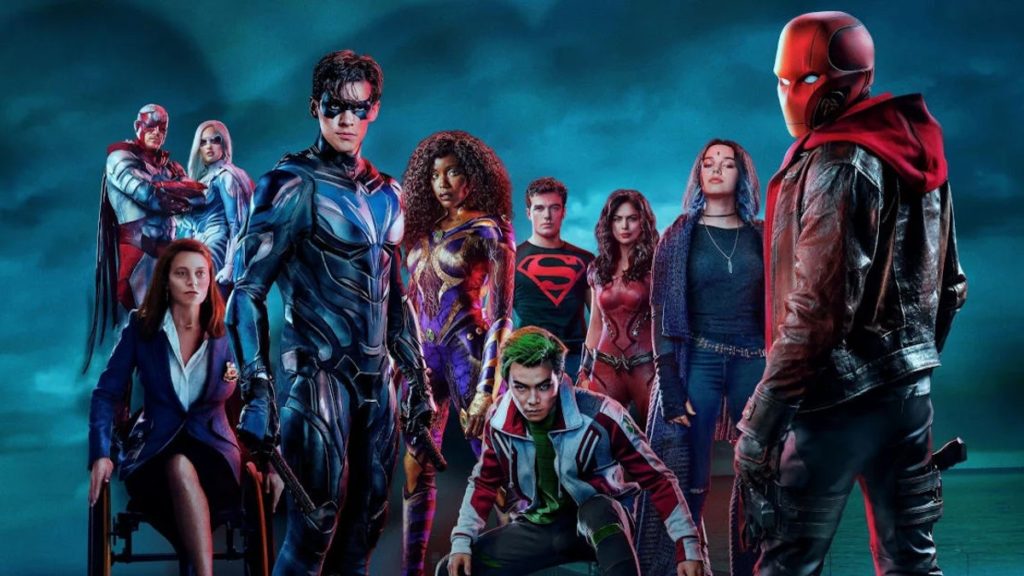 Beast Boy's arc regarding "the Red" and his connection to the animal world was sidelined completely this week, but Ryan Potter's performance was so charming and spot-on that it's almost forgivable. Gar always knows how to make us smile, Titans and Titans fans alike. 
The team is working together, unified in their quest for most of the episode, and it elevates Super Super Mart. Jinx's unique perspective and abilities clash with the other Titans, creating some wonderful super-powered conflict. Her character independent of Dick Grayson is really taking shape, and I can't wait to see more of her mystical machinations. 
READ MORE: TITANS SEASON 4 PREMIERE REVIEW: THE R-RATED TEEN TITANS TV SHOW CONTINUES TO STRUGGLE
Titans Season 4, Episode 4, "Super Super Mart" is zany and very comic-booky when the team are fighting zombies. Raven cuts off one of their heads with a chainsaw, and the camera captures every bloody second of it! But when the show focuses on the horrors of the cult known as "The Organization" and Sebastian's secret history, the tone becomes dark and gritty.
The shift from tense and brooding to silly and playful can be a bit jarring, but overall, this episode really works. 
Titans is streaming now on HBO Max. What did you think of the latest episode of Titans? Let us know your thoughts in the comments below or on our social media! 
KEEP READING: REMARKABLE BLACK PANTHER: WAKANDA FOREVER POST-CREDIT SCENE EXPLAINED [SPOILERS]