WWE Hall of Famer Barry Windham is in the hospital after suffering a heart attack.
Windham's niece, Mika Rotunda, shared that on Friday evening the hall of famer suffered a "massive" heart attack while in the Atlanta airport. They have also shared a link to a GoFundMe to help pay for his medical expenses.
RELATED: SAMI ZAYN COMPARES HIS LONG CAREER TO HUGE WRESTLING LEGEND
Rotunda released a statement on the GoFundMe page about the incident and Barry Windham's current medical condition.
"With deep sadness I regret to inform that my uncle, WWE Hall of Famer, Barry Windham suffered a massive heart attack Friday evening," Rotunda said. "While traveling through the Atlanta airport, his darkest fear became a horrific reality as he went into cardiac arrest. He is currently in the ICU and has undergone an emergency procedure to save his life. As a family, we are impatiently waiting to hear that he will be okay. But as of now, the future is uncertain.

As is the future for many in his position. And for those who have formerly devoted their lives to their craft. Barry Windham, has an iconically, decorated resume as an American professional wrestler. He traveled all over the world for decades, entertaining people of all ages with his athleticism and undeniable charisma.

After those countless years of wrestling matches, traveling and entertaining world wide, he experienced a number of taxing injuries and ended up undergoing multiple surgeries. That led to other health complications. Barry hung his boots for the last time in the early 2000's. Since then he has been limited with work due to his medical history as well as left without health insurance."
Part Of A Big Wrestling Family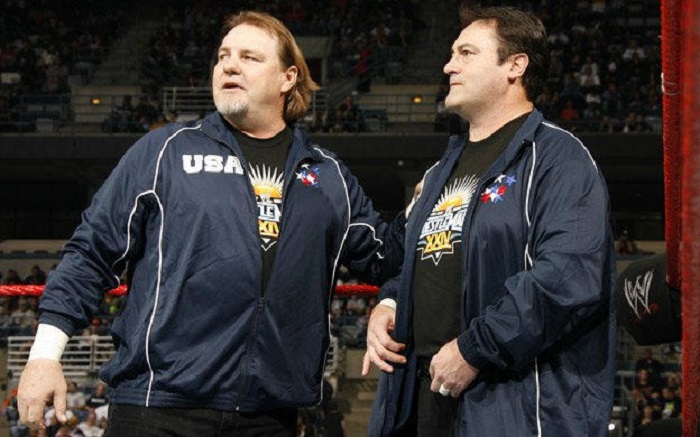 Barry Windham is the son of Blackjack Mulligan of the WWE Hall of Fame tag team, The Blackjacks. He is also the brother-in-law of Mike Rotunda, aka IRS, and the uncle of Bo Dallas and Bray Wyatt.  
Windham began his wrestling career in 1979 after being trained by his father and Harley Race. In 1984 he joined the WWF and teamed Rotunda to form The U.S. Express. While teaming with Rotunda they won the WWF Tag Team Championships on two occasions. He eventually left WWF and began wrestling for NWA territories, AWA and WCW.  
RELATED: SHAWN MICHAELS COMPARES BRET HART RIVALRY TO THE LEGENDARY BATMAN AND JOKER RIVALRY
While wrestling Windham collected many championships, especially tag championships. Some of his ex-tag partners include Lex Luger, Tully Blanchard, Dustin Rhodes and Curt Hennig. He even joined one of the most famous stables of all time, The Four Horsemen.
Mentors A Young JBL In The New Blackjacks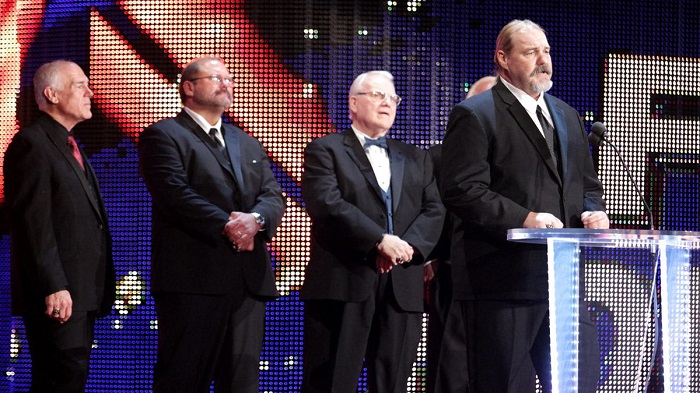 In 1997 he returned to WWE to form a tag team with a young talent who would eventually become a big star in WWE. He and Justin "Hawk" Bradshaw aka JBL would form The New Blackjacks in an obvious homage to his father's Blackjacks tag team. Although this team was not able to capture the WWF Tag Team Championships they left their impact on the division due to their brutal old-school-shoot style. Some of their opponents include British Bulldog and Owen Hart as well as Road Dogg and Billy Gunn.
Barry Windham finally retired and hung up his boots in 2010. In 2012 Windham was inducted into the WWE Hall of Fame as part of The Four Horsemen.
We here at The Illuminerdi are hopingBarry Windham pulls through and makes a full and speedy recovery. Our thoughts are with the Windham and Rotunda families and urge those with the means to do so to donate to the GoFundMe and help his family during this tough time.
What are your favorite Barry Windham memories? What do you think was his best rivalry? Who was his best tag team partner? Leave a comment over on social media and let us know who is the "Barry Windham" of the modern era.
KEEP READING: PEACOCK ANNOUNCES DEFINITIVE RIC FLAIR BIOGRAPHICAL DOCUMENTARY WOOOOOO! BECOMING RIC FLAIR
Sources: Wrestling Inc., Barry Windham's GoFundMe