William Regal tells the world how much he respects and admires Bryan Danielson.
Regal is one of the most respected men in the wrestling business.  He has been in wrestling since he was 15 years old and has had a very respectable career wrestling in WCW, AEW, WWE, and WWF.  He eventually went on to work with young talent in NXT before being released in January 2022.
RELATED: AEW'S DAX HARWOOD TALKS ABOUT HIS LOVE FOR SASHA BANKS AND CM PUNK
WILLIAM REGAL EXPLAINS WHY BRYAN DANIELSON IS ONE OF THE BEST IN THE WORLD
In Regal's long career he has been able to work with some of the best wrestlers ever.  In a recent interview with Inside The Ropes, Regal talked about why Danielson is one of the best and the wrestler he wishes he became.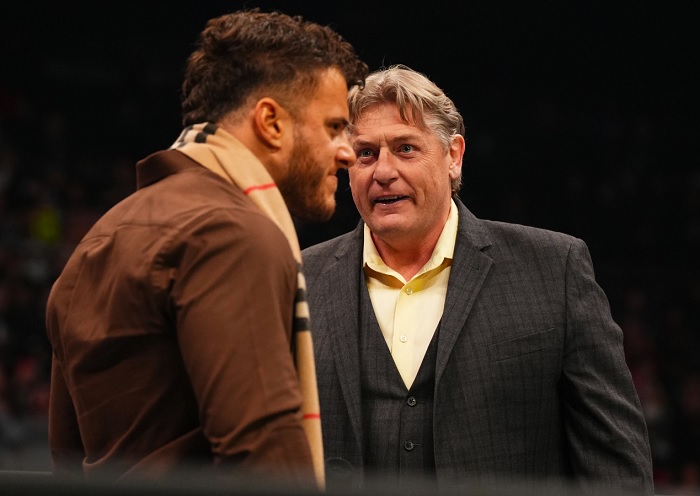 "[It's] because he's got no bad habits. There's been times where he's had problems, injury-wise, and he's been out, but he's overcome it all…but I was never as good as him. When I first met him, in 2000, he was 19 or 20. [The] first night I watched him, I'm like 'Wow, he's in a different league to where I was.' I wanted to be a wrestler as good as him, but I wasn't built for it.

I wanted to be a junior heavyweight, like [Mark] "Rollerball" Rocco and Fit Finlay, or a mid-heavyweight, but I grew to 6'3″ and I didn't have the athletic ability, so I went the traditional British heavyweight route, and that changed over time with different things, but I had to grow into that.

Bryan has no…whatever I have going on and things that set me off the wrong path…and Bryan has, since I've met him, has stayed polite, kind, helpful; done everything right, and he has the same kind of set of standards as me…he's better at this than I ever was. He's got a better brain for this. I've got a really good brain for this, but he's better, and I've said this before: There's a lot of people better at putting match structures together, or knowing when to do the right thing at the right time, I just go out and do my thing; it either worked or it didn't."

H/T to Wrestling Inc. for the transcription
WILLIAM REGAL DEALT WITH ALCOHOLISM AND DANIELSON DIDN'T
Regal dealt with substance abuse issues for much of his career. This is most likely the bad habits he is referring to and prevented him from reaching the peaks he deserved.
In 2000, William Regal left WCW and returned To WWF.  He was sent to the WWF developmental territory at the time, Memphis Championship Wrestling.  This is when he met a young Danielson.  They developed a tight bond before Danielson was eventually released from the company.
RELATED: EDDIE KINGSTON SAYS AEW STAR BRYAN DANIELSON IS "A JUDGMENTAL PRICK"
Danielson went on to ROH and helped to build the young promotion along with other future stars like CM Punk, Samoa Joe, AJ Styles, and Christopher Daniels.  He continued to develop his skills becoming one of the most respected wrestlers in the world.
Danielson's technical wrestling style is one of my favorite styles and was not seen much back then and even less as time has passed.  His in-ring work is only surpassed by his natural charisma.  
REGAL AND DANIELSON MEET AGAIN IN WWE AND AEW
Regal continued to work with WWF/WWE and continued to garner respect from fans and his peers. One of the biggest travesties in wrestling is that Regal never held the WWE or World Heavyweight Championships. However, he was without a doubt one of the most reliable wrestlers in the ring and on the mic of the era.
Regal and Danielson did meet again in WWE and most recently in AEW.  Regal recruited Danielson to his Blackpool Combat Club faction.  The faction consists of Danielson, Jon Moxley, Wheeler Yuta, and Claudio Castagnoli.
William Regal asked for and was granted his release from AEW earlier this month and is on his way back to WWE to help his son in NXT.
Do you think Danielson deserves the praise William Regal put on him?  Who do you think was better in their prime?  If Danielson was the 2000s and 2010s Regal then who is the current version of Regal?  Do you think Tony Khan was dumb to let Regal go from AEW and even dumber to let him return to WWE?  Let us know if you think Bryan Danielson would have become the star he is today if he didn't go to ROH and stayed with WWE.
KEEP READING: DEONNA PURRAZZO INVITES BIG EX-WWE STAR TO JOIN IMPACT WRESTLING
SOURCE: Inside The Ropes, Wrestling Inc.