While it's still unknown what James Gunn might be planning at the moment, you can see what he shared with the fandom below:
JAMES GUNN TEASES NEW UNANNOUNCED DC UNIVERSE TV SHOW
Gunn wrote in the tweet, teasing an upcoming not-yet-announced DC television show, "My day: wrote 1/3 of an unannounced DC TV show (*Smiling Emoji*); ok'd 100 VFX shots, did reference acting for Rocket, & gave editing notes for Vol 3; & had two big DC Studios meetings." Gunn is certainly a busy individual, gearing up his plans for the DC Universe, along with continuing his work on Marvel Studios Guardians of the Galaxy Vol. 3, which hits theaters later this May.
RELATED: JAMES GUNN SHOOTS DOWN "UNTRUE" RUMORS OF APOCALYPTIC DCEU RECASTING DESPITE NEW LIST LEAK AND SUICIDE SQUAD THEORIES
Of course, it's no surprise that Gunn is looking to stay busy. Soon, Gunn and DC Studios co-head Peter Safran are expected to officially unveil a small glimpse of what could be a game changer in comic book-related films and a cohesive experience that spans animation, gaming, comics, and film. Both men officially share the title of Co-CEO and Chairman for the newly appointed and formed DC Studios. The news came as somewhat of a surprise, but the more Gunn keeps promoting and voicing his thoughts on social media for the future of DC, it does feel that the brand could be in safe hands.
GUNN'S TRACK RECORD OF EXCITING DC PROJECTS
Let's examine Gunn's track record for DC. He previously directed and wrote The Suicide Squad, released in 2021, a Quentin Tarantino 80' action-thriller love letter that fleshes out the humanity and essence of characters such as Bloodsport, Polka-Dot Man, and Peacemaker. While the film contains the zany comic book feel that elicits an emotion of childhood euphoria from almost every audience member, it's reinforced with the maturity and direction of an auteur. 
Also, you need to give Jams Gunn credit. He wrote a Peacemaker HBO Max series that allowed John Cena to shine and give the performance of his career. A D-list character who many do not even know, that now stands next to the trinity in terms of popularity for DC. Of course, we can't forget that James Gunn confirmed before that season 2 is set to film this year.
GUNN WRAPPING UP HIS TIME WITH MARVEL STUDIOS
Now we turn to Gunn's ties with Marvel Studios and how his magnum opus, Guardians Of The Galaxy Vol. 3, is just months away from its theatrical release. Then, throw in the fact from the recently released trailer and footage that the sequel looks like an epic adventure, but one bearing emotion and heart. However, what makes Gunn vital to the prosperity of the comic book movie genre is his ability to zone in on emotion, bringing characters to life with finesse and passion, and injecting them with ample amounts of humanity.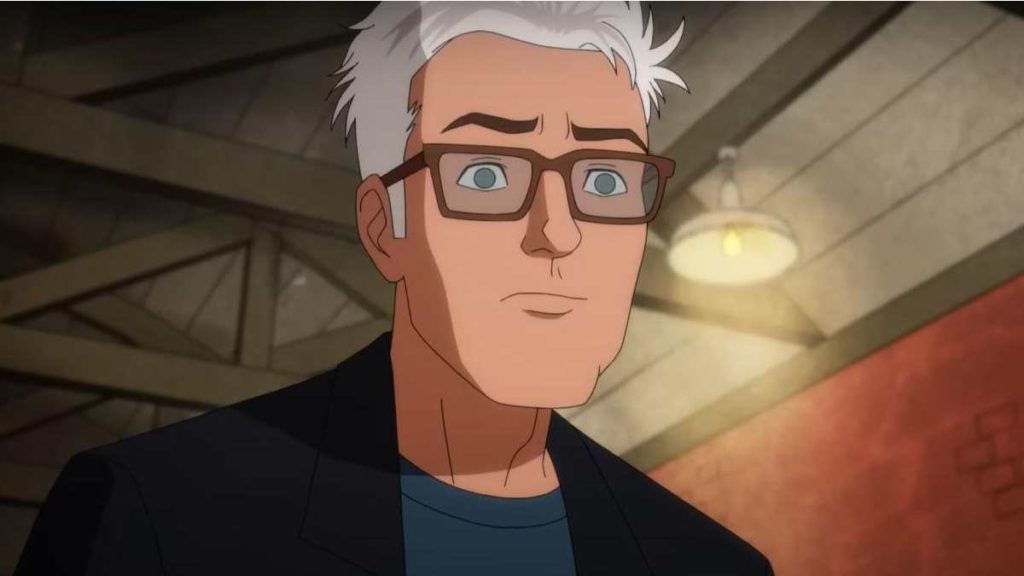 But the main question revolves around what Gunn is working on or possibly teasing. First, we already know, and it's been established, that Gunn is writing a script for a new Superman movie. The film is expected to feature an early year one, first day Clark Kent as a beat writer on the streets of Metropolis, which bears promise. The possibilities are limitless because of the glorious golden glow of Metropolis, with an art deco portrait background reinforced by a character study that delivers the essence of the Siegel and Schuster classic comics while allowing the beacon of hope to find a different lens and path. 
LET THE THEORIES BEGIN!
Another possible series Gunn could be creating and writing could be a Bloodsport spinoff featuring Idris Elba, continuing his storyline from 2021's The Suicide Squad. Elba's character did gain great reception from the film, during the film marketing and also garnering critical and audience acclaim. 
Another theory is that Gunn could be taking another gamble on his broken misfits, Task Force X, aka the Suicide Squad. But could it also be a Harley Quinn series? The role was played with finesse and brought to reality through Margot Robbie's theatrical performance. What if the mystery project could be a take on Gotham City Sirens?
RELATED: DC STUDIOS' HEAD REVEALED: JAMES GUNN AND PETER SAFRAN TO USHER NEW HIERARCHY OF POWER
It's no lie that Robbie wants an actress to bring Poison Ivy to life and usher in a comic book-accurate portrayal of their openly lesbian relationship while expanding the mean streets of Gotham City and giving a different layer and appeal to the Batman mythos. The pieces could already be set because Gunn did appear as himself in a somewhat satirical version of himself on the hit animated HBO MAX series, Harley Quinn, during Season 3.
Again none of this is confirmed, and it's pure food for thought, but it should be known that with Gunn leading the DC Studios or the new film slate, aka the DCU. The brand could be in good hands, and at the end of the day, all we ask for is for our favorite heroes to be honored and shown the respect they deserve. 
Gunn's swan song from Marvel Studios, Guardians Of The Galaxy Vol. 3, races into theaters May 5, 2023. Gunn and Safran plan to announce their plans for DC Studios later this year.
So from the evidence we put forward, what do you think James Gunn could be working on? What do you think of the news? Do you have any ideas on what television series James Gunn might be working on for DC Studios? Do you have a wishlist for what it could be? Do you enjoy the new leadership of DC Comics? What's the one film or project you want to see from DC? Let us know what you think! As always post a comment, drop a like, and follow us on all our social media.
KEEP READING: DC STUDIOS MASTER 8-10 YEAR-LONG PLAN TO BE ANNOUNCED THIS MONTH, WILL INVOLVE WONDER WOMAN FROM THE BEGINNING
SOURCE: James Gunn, Twitter