Grab your morphers Ranger Nation, The 30th anniversary of Power Rangers is closer than ever, and of course, the Hasbro Pulse team is here to kick off their celebrations.
Courtesy of Entertainment Weekly, fans got an early look at Once and Always and Cosmic Fury, but ultimately Hasbro came out on top with their treats.
The 30th anniversary live stream exceeded our expectations with what it's in store for the franchise. We now "officially" know that the 30th anniversary is called Mighty Morphin Power Rangers: Once And Always, in addition to finding out that Barbara Goodson and Richard Horvitz will be returning as Rita Repulsa and Alpha(No, not Alpha 5).
We also know what the full Cosmic Fury looks like, as well as the new colors two of them would wear.
A Cosmic Status Quo Is Alligned For Power Rangers Cosmic Fury
Rangers Reunited And It Feels So Good
ABOUT POWER RANGERS
Power Rangers is celebrating 29 continuous years on the air, making it one of the longest-running kids' live-action series in television history, with more than 900 episodes aired to date. Created by Haim Saban and launched in 1993 with Mighty Morphin Power Rangers, the series has a worldwide fan base and legacy. Power Rangers celebrates its 29th overall season with a new season of Power Rangers Dino Fury, airing now exclusively on Netflix in the U.S. Coming in 2023, kids, families, and fans can celebrate Power Rangers' 30th year with the premiere of the 30th overall season, Power Rangers Cosmic Fury, and the anniversary special, Mighty Morphin Power Rangers: Once And Always.
ABOUT EONE
Entertainment One Ltd. (eOne) is a talent-driven independent studio that specializes in the development, acquisition, production, financing, distribution, and sales of entertainment content. As part of global play and entertainment company Hasbro (NASDAQ: HAS), eOne's expertise spans film and television production and sales; production, distribution, and brand management of kids and family properties; digital content; and immersive and live entertainment. Through its extensive reach and scale, and a deep commitment to high-quality entertainment, eOne unlocks the power and value of creativity.
ABOUT HASBRO
Hasbro is a global play and entertainment company committed to making the world a better place for all children, fans, and families. We deliver immersive brand experiences for global audiences through consumer products, including toys and games, entertainment, and gaming. Our unparalleled portfolio of approximately 1,500 brands includes MAGIC: THE GATHERING, NERF, MY LITTLE PONY, TRANSFORMERS, PLAY-DOH, MONOPOLY, BABY ALIVE, DUNGEONS & DRAGONS, POWER RANGERS, PEPPA PIG and PJ MASKS, as well as premier partner brands.

RELATED: MIGHTY MORPHIN POWER RANGERS REUNION SPECIAL TO RELEASE ON NETFLIX APRIL 2023: EXCLUSIVE
Mighty Morphin Power Rangers: Once and Always stars David Yost as Billy Cranston the Blue Ranger, Walter Jones as Zack Taylor the Black Ranger, Steve Cardenas as Rocky DeSantos the Red Ranger, Catherine Sutherland as Kat Hillard the Pink Ranger, Charlie Kersh as Minh the Yellow Ranger, Johnny Yong Bosch as Adam Park, Karan Ashley as Aisha Campbell, Barbara Goodson as Rita Repulsa, and Richard Horvitz as a new Alpha.
Once And Always will arrive on Netflix internationally on April 19th.
Power Rangers Cosmic Fury stars Russell Curry as Zayto the Zenith Ranger, Kai Moya as Ollie Akana the Blue Ranger, Hunter Deno as Amelia Jones the Red Ranger, Tessa Rao as Izzy Garcia the Green Ranger, Chance Perez as Javi Garcia the Black Ranger, and Jordon Fite as Aiyon the Gold Ranger.
Cosmic Fury will debut on Netflix This fall.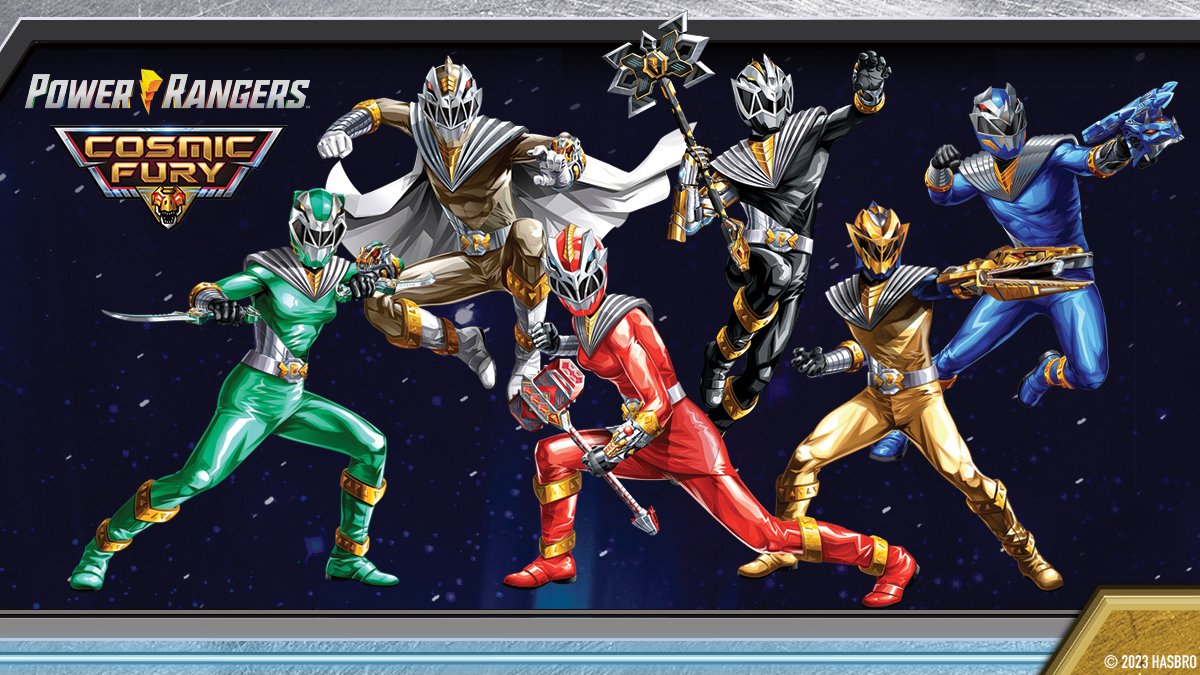 Between Cosmic Fury and Once And Always, which one has you more excited? How do you plan on celebrating the 30th anniversary of Power Rangers? I'm planning on binge-watching all seasons on Youtube thus far. Follow us on Twitter so you don't miss any more content like this in the future, we're always watching.
KEEP READING: THAT TIME I WAS REINCARNATED AS A SLIME THE MOVIE: SCARLET BOND REVIEW – THIS MOVIE IS EPIC AND MAKES THE SERIES EVEN BETTER