The Walking Dead franchise continues to grow with a first look at Clementine: Book Two. The Skybound Comet imprint recently released some first-look images at the next release in the young adult graphic novel.
Clementine: Book Two is the next chapter in a graphic novel trilogy published by Skybound Comet. The following pages mention a major spoiler from the first book in the series. Reader discretion is advised.
RELATED: RICK AND MICHONNE REUNITE IN BTS OF DANAI GURIRA AND ANDREW LINCOLN ON SET OF THE WALKING DEAD SPINOFF
CLEMENTINE: BOOK TWO: EXTENDED FIRST LOOK AT NEW TWD COMIC
The extended first look at Clementine Book Two features Clementine and her new friends on the run in a wasteland of a world. They hunt rabbits, discuss those they've lost, and of course, encounter deadly walkers. The shifting dimensions of this trio, romantic, platonic, or otherwise, are teased. More importantly, the first look ends with Clementine asking "Who said we were kids?"
Clementine may be youthful, but she is no kid. She had to grow up before she even got the chance at a normal childhood. She's had to be more of an adult every day since then, and in Book Two, she's done being treated like some child.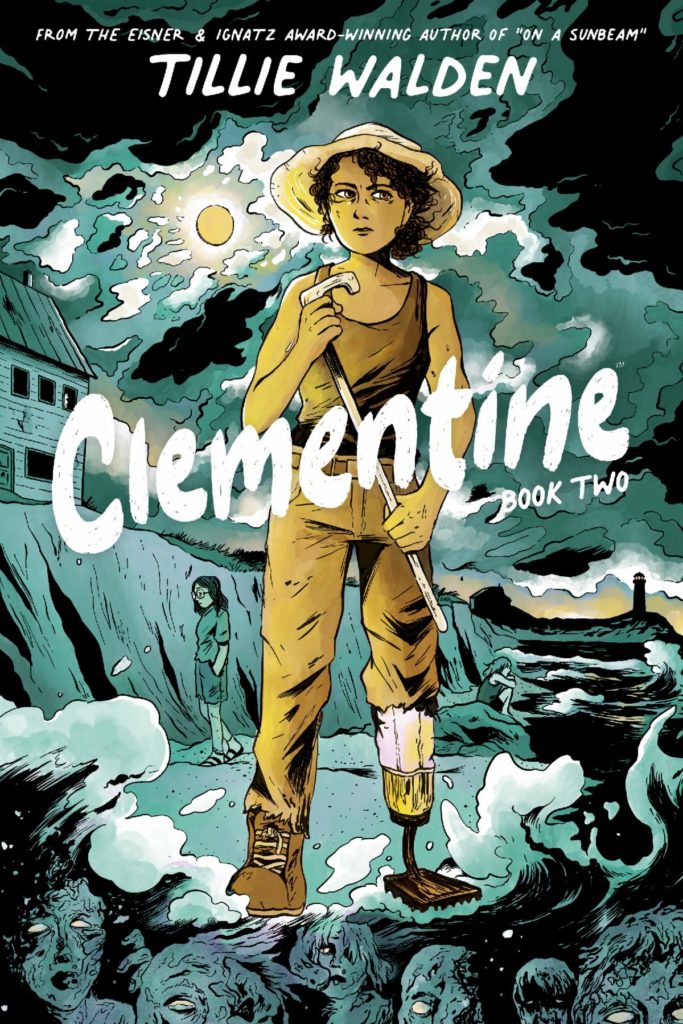 The official synopsis for Clementine Book Two teases a new location, a new leading figure, and a community of secrets waiting to be unraveled.
CLEMENTINE: BOOK TWO OFFICIAL SYNOPSIS
"In Clementine Book Two, Clementine and her new friends are rescued by an island community led by an enigmatic doctor, Miss Morro, but just as Clementine's scars are finally beginning to heal, she discovers dark secrets that threaten to tear her new life apart. Can Miss Morro be trusted? What about the rest of the islanders? And just how far will Clementine go to protect the ones she loves?"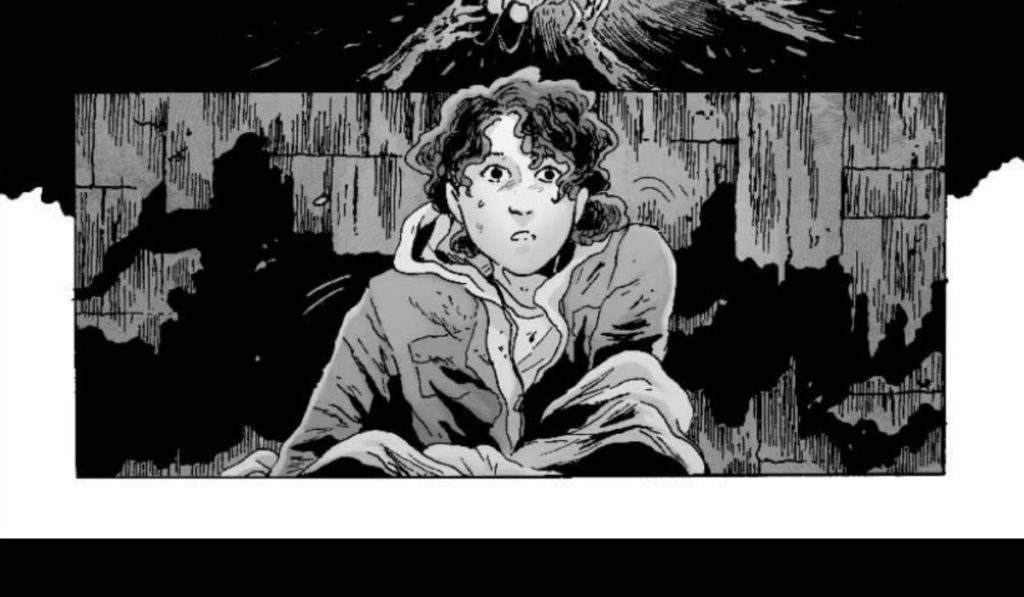 Miss Morro could be a benevolent healer, leading an island community in an attempt to survive a zombie apocalypse. Or they could be a manipulative tyrant with a god complex, or anywhere in between. We don't know enough about Miss Morro to judge if they are even friend or foe to Clementine yet. But enigmatic leaders in The Walking Dead franchise often have a tendency towards sociopathy.
Skybound Comet is a "Young Adult and Middle Grade Imprint from Skybound and Image Comics". Skybound is a multiplatform entertainment venture from Robert Kirkman, creator of The Walking Dead, Invincible, and more. Image Comics is one of the most successful and inventive comic book companies working today, and Kirkman has a long history with the company.
CLEMENTINE: BOOK TWO COMES FROM WRITER/ARTIST TILLIE WALDEN
Award-winning writer & artist Tillie Walden is the creative mind behind Clementine: Book Two. Walden continues the story of Clementine, a character first introduced in The Walking Dead video game series from Telltale Games. In those games, you play as the character Lee Everett, a tough but caring man who takes care of Clementine in her parents' absence.
Clementine has spent most of her life in the world of The Walking Dead. She knows better than to trust anyone, walker or human. Everyone is out to hurt you, and getting attached to people is only going to end in more pain and suffering. Anguish is Clementine's life, and that tragedy was displayed excellently in Clementine Book One.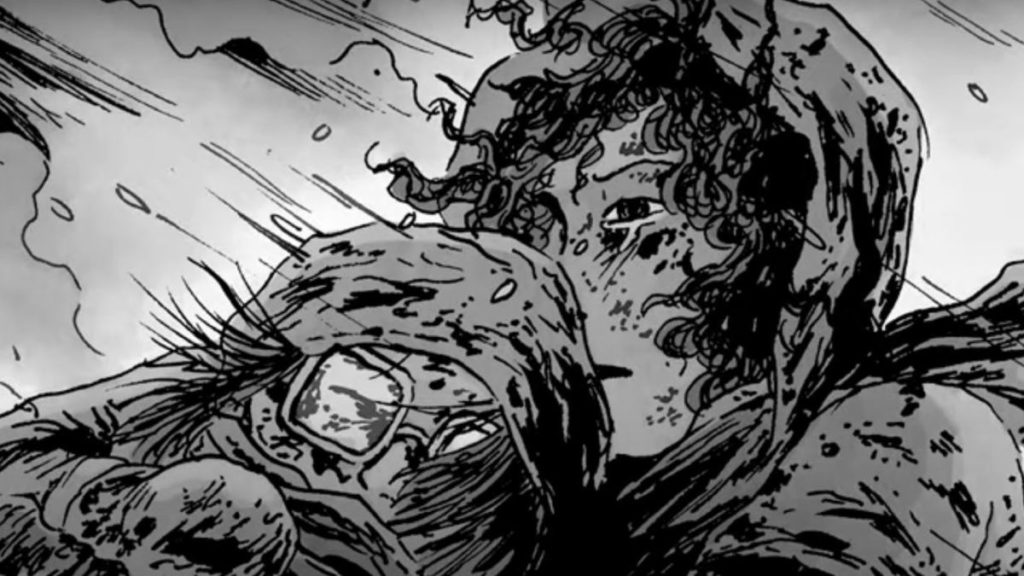 Tillie Walden expanded the universe created by Robert Kirkman by taking The Walking Dead by telling a personal, deep story with painful stakes. The story follows Clementine as a young wanderer, stripped of her childhood, family and friends, and even her lower leg. On her quiet journey towards isolation, she encountered a community of Amish people, who offered her their aid and assistance.
She was hesitant to trust them of course, and she left in a hurry after being helped with supplies and a new prosthetic. Before long, Clementine encountered a naive, hopeful boy named Amos. He was from the town that she had just left, and he was too unacquainted with the harsh realities of the world outside of his quaint parish. But he was handy with a hatchet, and more importantly, he was kind to Clementine.
CLEMENTINE: BOOK TWO CONTINUES A BONE-CHILLING SAGA
She feared that his journey towards a promised land in the mountains, free of walkers and complete with a working airplane, was a fool's errand. But despite how hardened it had become through loss, Clementine's heart got the best of her, and so she followed him. The quest of Amos and Clementine is heart-breaking, inspiring, and bone-chilling.
RELATED: CLEMENTINE BOOK ONE: A NEW GRAPHIC NOVEL IN THE WALKING DEAD UNIVERSE ARRIVES JUNE 2022
The vicious cold of the winter they struggle through comes to life through the incredible illustrations of Walden and the passionate gray tones done by Cliff Rathburn. The less spoiled about the harrowing events of Clementine Book One, the better. Suffice it to say, this is a wonderful entry point into The Walking Dead franchise for readers of all ages. Clementine's story is dark and rife with tension, but it's not without moments of brevity and hope.
Clementine Book two is part of a promising 2023 slate for Skybound Comet. February will see the release of Scurry, a graphic novel by Mac Smith. In April, watch out for Outpost Zero: The Complete Collection, from Sean Kelley McKeever and Alexandre Tefenkgi.
CLEMENTINE IS PART OF AN EXCITING SKYBOUND COMET SLATE
In May 2023, Micelle Fus' young adult graphic novel, Ava's Demon Book One: Reborn arrives from Skybound Comet. In September, Sea Serpent's' Heir: Book Two arrives as the next installment in Mairghread Scott and Pablo Tunica's fantasy trilogy.
Available everywhere books are sold October 2023, the upcoming original graphic novel is a tentpole release for Skybound Comet, a new original graphic novel imprint aimed at Young Adult (Ages 12+) and Middle Grade (Ages 8-12) audiences, but sure to captivate readers of all ages. Skybound Comet officially launched in 2022 with the release of the critically acclaimed Clementine Book One.
Clementine Book Two will be available at comic book shops on Wednesday, October 4, 2023, and everywhere books are sold, along with digital platforms including Amazon Kindle, Apple Books, comiXology, and Google Play on Tuesday, October 10, 2023.
Are you excited about Clementine: Book Two? Let us know your thoughts in the comments below or on our social media!
KEEP READING: THE WALKING DEAD ADDS LAUREN GLAZIER TO SAMANTHA MORTON'S ALPHA SPIN-OFF EPISODE
SOURCE: Skybound