Adult Swim has cut ties with the co-creator and star of Rick and Morty, Justin Roiland.
Justin Roiland is an animator and voice actor who has worked on numerous television programs over many years. His career began with creating and starring in shorts for the monthly short film festival Channel 1010, created by Dan Harmon and Rob Schrab. Roiland also regularly appeared in Comedy Central's The Sarah Silverman Program, another work that Harmon and Schrab had a hand in creating. From 2010 to 2016, Roiland co-hosted The Grandma's Virginity Podcast with Ryan Ridley and Jackie Buscarino.
In 2012, Adult Swim approached Roiland and Harmon for a new animated series, leading to the creation of the network's popular animated sci-fi comedy Rick and Morty. Not only did Roiland co-write and executive produce the first season, but he voiced the title characters, Rick Sanchez and Morty Smith, from 2013 to 2022. With the success of Rick and Morty, the show expanded into a franchise; in 2016, Roiland launched the virtual reality studio Squanch Games (formerly Squanchtendo), with its first full-length title Accounting+ released for PlayStation VR on December 19, 2017.
RELATED: South Park Season 26 Premiere Date Confirmed
Additionally, Justin Roiland served as co-creator, writer, executive producer, and star in Hulu's Solar Opposites, along with contributing to the same platform's other series Koala Man. Unsurprisingly, Roiland provided voice work for shows such as Fish Hooks, Adventure Time, Gravity Falls, Aqua Teen Hunger Force, and Pig Goat Banana Cricket. In addition, his video game studio, Squanch Game, launched a first-person shooter game, High on Life. Roiland contributed numerous voices in the game as well.
Justin Roiland is in a Real Pickle, Rick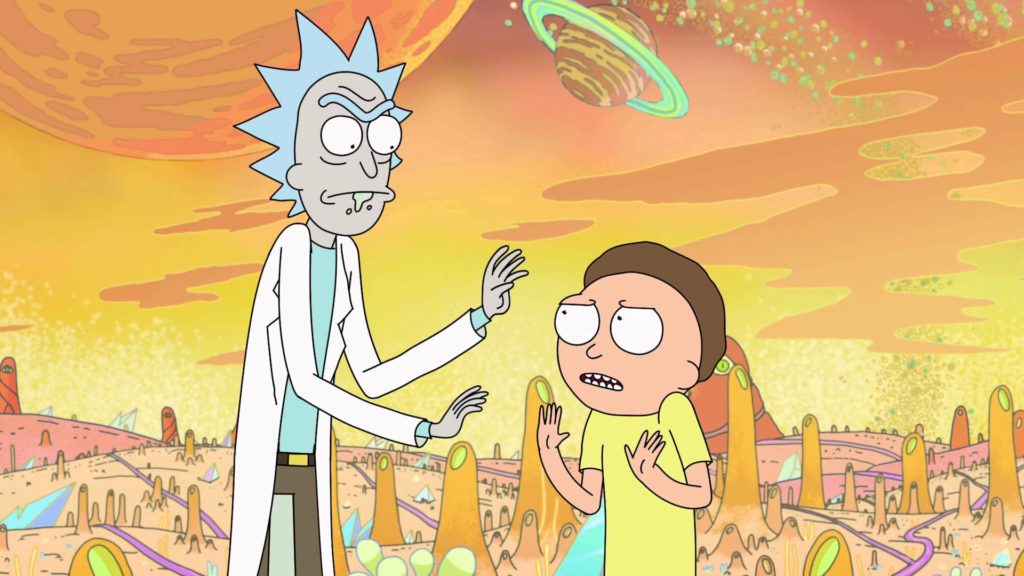 In January, Justin Roiland was charged with felony domestic violence against an unnamed woman he was dating at the time. The charges are related to a similar incident in 2020, where he pleaded not guilty. The semi-sealed case was not public knowledge until a hearing on January 12, 2023. Roiland has another one scheduled for April 27, 2023. No trial date is set as of writing. If convicted, Roiland could face up to seven years in prison.
Justin Roiland's attorney, T. Edward Welbourn, insisted that his client is innocent, noting how recent media coverage has been inaccurate with this development. He hopes for the case's dismissal once the evidence has been reviewed thoroughly, clearing Roiland's name. For now, it is a matter of waiting and seeing how it all turns out.
RELATED: Beavis And Butt-Head's "Brilliant" 1st Season Arrives March 14 on DVD For Our Chaotic Pleasure
Adult Swim Cuts Ties with Justin Roiland
Following the allegations, it was announced on Twitter that Adult Swim has severed ties with Justin Roiland. The network has no plans to cancel Rick and Morty, with the show set to continue through Season 10. Co-creator Dan Harmon is now the sole creator and Roiland's roles will be recast. Season 7 is currently in production, with Season 6 having recently concluded in December 2022. It is unconfirmed if Roiland's other projects such as Solar Opposites will meet the same fate as Rick and Morty. It is very likely any parts he was attached to play or recently played will recast.
What is your stance on Adult Swim's decision to let go of Justin Roiland and continue Rick and Morty without him? How do you think Rick and Morty, Solar Opposites, and his other projects will progress without him? Do you believe Roiland's career has a chance to survive? Let us know your thoughts on social media, please keep it civil.
Source: Deadline
KEEP READING: Sweet and Sugary Legend of Vox Machina Cereal is the Next Goal for Critical Role