Warhammer fans stay winning, as Space Marine 2 releases later this year.
Developed by Saber Interactive, the game serves as a highly-anticipated sequel to 2011's Space Marine, taking gamers back to the Warhammer 40,000 universe. The popular tabletop game's digital incarnation is getting an epic sequel. The developers and publishers, Focus Entertainment, have released a look at the game's exciting Collector's Edition, which is up for pre-order now! The Collector's Edition of Space Marine 2 comes with a steelbook case, a maoking-of artbookm and more. Keep reading for all of the information on this must-have collector's edition.
SPACE MARINE 2'S COLLECTOR'S EDITION IS 'BLESSED WITH IMMENSE POWER'
Warhammer 40,000: Space Marine first debuted in 2011, as players took control of their very own Space Marine, the Emperor's best warriors. Since its release, the series has been relatively quiet until Saber Interactive announced the exciting sequel ten years later at The Game Awards 2021.
RELATED: Epic Valorant Apparel Drop Coming from NTWRK and Riot Games Collab
A year later, the developers returned to The Game Awards, this time with a gameplay trailer showcasing Space Marine 2's high-octane action as the warrior uses a mixture of guns and massive melee weapons to take on hordes of Tyranids.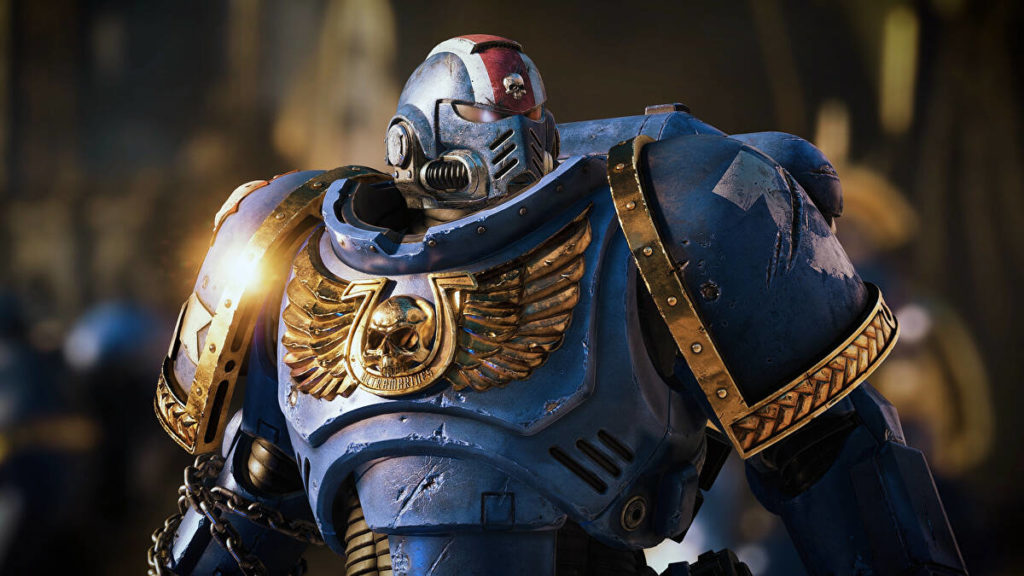 If you played the original game, Space Marine 2's release has been a long time coming. While we still don't know when in 2023 we'll be able to play the game, Saber Interactive and Focus Entertainment have revealed the game's Collector's Edition, which looks worth every penny.
RELATED: JAMES GUNN ANNOUNCES OFFICIAL TITLE AND RELEASE DATE FOR NEW SUPERMAN FILM IN 2025 ALONG WITH SO MUCH MORE!
The Collector's Edition includes:
Collector's Case with unique artwork
A statuette of Lieutenant Titus: an 8.25 x 6.7″ resin statuette with interchangeable head and helmet, finely detailed and entirely hand-painted
The game's official Steelbook
A 64-page "Art & Making-Of" book in English, illustrated by the talented team at Saber Interactive.
The game Warhammer 40,000: Space Marine 2 on the platform of your choice:

PlayStation 5 and Xbox Series X versions will be shipped as physical copies, with a Focus Entertainment Store-exclusive box art
The PC version will be sent digitally as a Steam download code

The "Macragge's Chosen" DLC
You can get a better look at the Titus statue below, and check out Space Marine 2's bloody and awesome gameplay trailer here.
The Collector's Edition is up for pre-order now on Focus Entertainment's website for USD 249.99. Reserve yours now! Any pre-orders placed from February 17 and after are subject to stock availability and are not guaranteed for delivery on day one.
ABOUT SPACE MARINE 2
Release Date: 2023
Platforms: PlayStation 5, Xbox Series X|S, and PC
Genres: Third-Person Action, Shooter, Hack-N-Slash
Publisher: Focus Entertainment
Mode: Single-player
ESRB: M
Synopsis: The galaxy is in peril. Entire worlds are falling. The Imperium needs you. Embody the superhuman skill and brutality of a Space Marine, the greatest of the Emperor's warriors. Unleash deadly abilities and an arsenal of devastating weaponry to obliterate the relentless Tyranid hordes. Hold at bay the horrors of the galaxy in epic battles on far-flung planets. Uncover dark secrets and drive back the everlasting night to prove your ultimate loyalty to humanity. Heed the call of battle. For there is only war.
Are you excited about Warhammer 40K: Space Marine 2? Do you play any of the Warhammer games? What is the likelihood Henry Cavill will cameo in the game? Let us know your thoughts and theories on social media!
Source: Focus Entertainment
KEEP READING: INCREDIBLE HOGWARTS LEGACY VOICE OVER TALENT REVEAL FROM WB GAMES AND AVALANCHE SOFTWARE