We got to talk to Hiroyuki Sanada about reuniting with Keanu Reeves and Chad Stahelski for John Wick: Chapter 4
It is Wick Week this week as John Wick: Chapter 4 is set to release and engulf the world into the secret society of assassins. Keanu Reeves reprises his role as the titular John Wick in his journey to leave the life of an assassin behind him, regardless of how many lives he has to take in order to do so. With a huge bounty on his head and a ruthless foe with unlimited resources, Wick is at a huge disadvantage. Luckily, he has friends like Koji Shimazu, played by the great Hiroyuki Sanada. We talked about Sanada's excitement to join the franchise and reunite with Keanu Reeves and Director Chad Stahelski.
Hiroyuki Sanada Reunites with Keanu Reeves and Chad Stahleski
RELATED: John Wick: Chapter 4 Review – John Wick Continues to Captivate and Elevate Action Movies
Hiroyuki Sanada and Keanu Reeves have known each other for over 12 years. in 2013, they both starred in the film 47 Ronin where John Wick Director, Chad Stahleski was a stunt coordinator. Sanada and Stahleski also worked together on The Wolver in 2013. John Wick: Chapter 4 reunites the three in an epic action film that elevates the genre to new heights. Here's what Sanada had to say about joining the film, reuniting with his friends and colleagues, and what it means to be an ally to Wick rather than an enemy.
RELATED: Scream VI Review – So Much Fun, I Feel Guilty
The Illuminerdi: What did it mean to you to get the role of Shimazu and also be John Wick's friend rather than his enemy?
"It was a great experience to work with Keanu again. And Koji Shimazu is an old friend of John Wick. I worked with Keanu 12 years ago, so we've known each other a long time. So it was easy to use that chemistry on set, easy to cooperate, and I was so happy to work with him again.

Hiroyuki Sanada, Koji Shimazu in John Wick: Chapter 4
You can see Sanada's excitement in the full interview below.
John Wick: Chapter 4 Interview with Hiroyuki Sanada
RELATED: Creed 3 Review – Michael B. Jordan Lands a Stunning Knockout with Directorial Debut
You can also see Hiroyuki Sanada and Keanu Reeves's incredible chemistry in theaters this weekend! John Wick: Chapter 4 releases exclusively in theaters on March 24, 2023.
ABOUT JOHN WICK: CHAPTER 4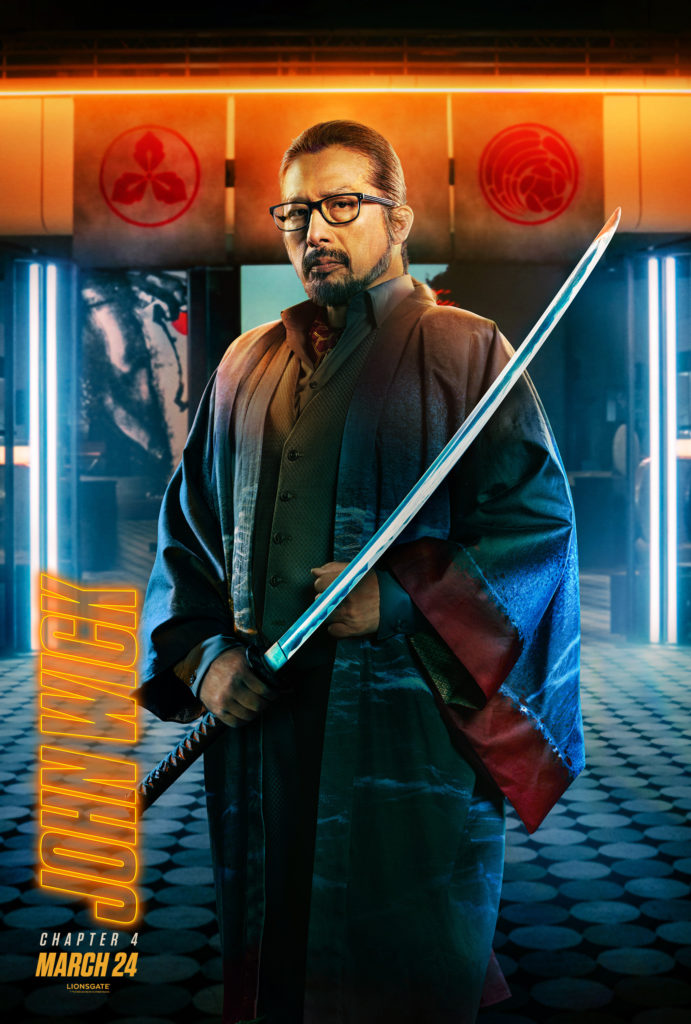 Release Date: March 24, 2024, exclusively in theaters
Directed by: Chad Stahelski
Screenplay by: Shay Hatten and Michael Finch
Based on Characters Created by: Derek Kolstad
Produced by: Basil Iwanyk, Erica Lee, Chad Stahelski
Executive Producers: Keanu Reeves, Louise Rosner, David Leitch, Michael Paseorn
Runtime: 2h 49m
MPAA Rating: R
Post Credits: 1 After Credits
Cast: Keanu Reeves, Donnie Yen, Bill Skarsgård, Laurence Fishburne, Hiroyuki Sanada, Shamier Anderson, Lance Reddick, Rina Sawayama, Scott Adkins, and Ian McShane
Logline:
John Wick (Keanu Reeves) takes on his most lethal adversaries yet in the upcoming fourth installment of the series. With the price on his head ever increasing, Wick takes his fight against the High Table global as he seeks out the most powerful players in the underworld, from New York to Paris to Osaka to Berlin.
Are you excited about John Wick: Chapter 4? What are you most excited to see with Hiroyuki Sanada and Keanu Reeves reuniting? Which characters would you want to see spin-off movies or series for? Let us know your thoughts and theories on social media!
KEEP READING: Cocaine Bear Review – A Pure Bump of Joy