AEW has big plans for the future and it will involve CM Punk. AEW is gaining more and more steam and making some bold choices.  They have already sold a ton of tickets for their huge show in England at the historic Wembley Stadium.
On this week's AEW Dynamite Tony Khan came out and told the world another huge announcement is right around the corner. Some of this upcoming news we know about, some is rumored and some will probably be a complete surprise.
RELATED: AEW Rumored to Reveal CM Punk's Return to Warner Bros. Discovery
A THIRD AEW SHOW IS IN THE WORKS
One of the things we are pretty sure is set to be announced next week is a new show.  There had previously been a rumor about the wrestling organization wanting to have a third television program.  This new show will be called Collision. 
The plan is to have it air Saturdays with the first airing being June 17.  It was rumored before that AEW wants Punk to be a big part of this first episode and according to Wrestling Observer, the episode will be called "The Second Coming" which definitely hints at a return.  The new show will air on TNT from 8-10 p.m.
Punk had an altercation with The Young Bucks and Kenny Omega back in September at AEW All Out 2023. Earlier in the night, he tore his triceps during his title match against Jon Moxley. Since then he has been missing in action from AEW. 
Punk isn't the only one which AEW is looking to showcase with a big debut or return.  The identity of this wrestler has not been announced.  However, this past week both Thunder Rosa and Miro made on-screen returns on AEW Dynamite.  So perhaps this big return is a return to the ring and just to AEW TV.
PUNK IS PUSHING FOR A MATCH AGAINST AN OLD RIVAL
It was rumored in the past that the plan was to have Punk feud with Chris Jericho on Collision and went as far as the two having meetings.  However, according to Fightful Select via Wrestling Headlines Punk has an old rival in mind for his first feud back.  It is rumored that Punk has requested to have a feud with Samoa Joe.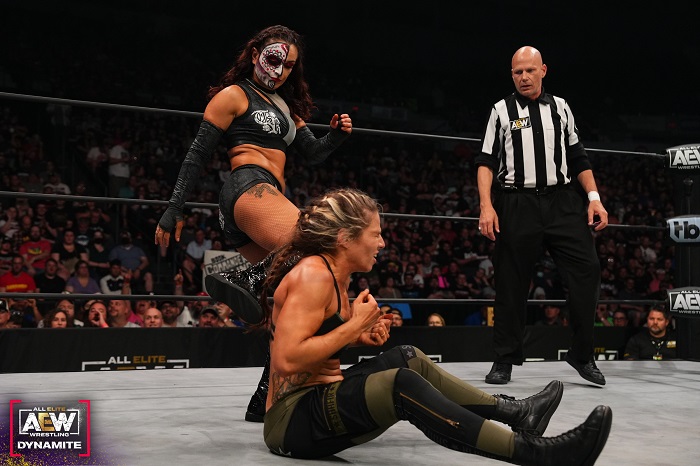 Another previous rumor for AEW is that of a roster split similar to the one in WWE.  Like with WWE, AEW will divide its roster in two.  Dynamite will continue on Wednesdays and Rampage on Fridays.  However, the split is rumored to be between Dynamite and Collision. 
Rampage is believed to be taped on Wednesday so will mostly feature Dynamite wrestlers.  Rampage is also reported to closely resemble WWE's Sunday Night Heat, so indie, lesser-known ROH wrestlers and wrestlers AEW forgot about will most likely fill the show.  If bigger-name wrestlers do appear it will be squash matches and matches which do not push storylines forward. Also, it should be noted that rumors of an AEW brand split have not been confirmed.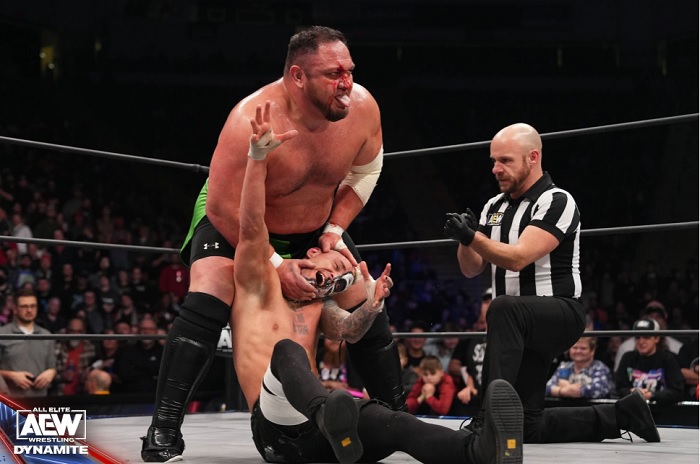 The rumored breakdown of who will be on which show goes as follows. The Elite and The Blackpool Combat Club will head Dynamite and Punk and FTR will head Collision. It was previously believed Jericho would also appear on Collision, but Joe may take his spot.
RELATED: WWE's Naomi, aka Trinity Fatu, Reveals Big Reasons For Leaving
The roster split is rumored to not be not a strict split or at least not as strict as WWE does.  AEW is looking to have a fresh approach with some of the wrestlers who have been pushed to the side.  Hopefully, it will be a way to showcase AEW's deep roster.
If All Elite Wrestling does actually split the rosters, then begs the question if certain titles become show exclusives.  This isn't a big deal for the mid-level championships like the TNT Championship and the International Championship. Next Wednesday we will see if these rumors are true and see what Khan is going to be announcing on Dynamite. Also, next Wednesday will be the WBD Upfronts.
What do you think of the roster split?  What is the key to doing it right?  Will you still watch Rampage even though it will just be AEW's Heat?  Do you like the idea of an AEW show on Saturday?  Do you think All Elite Wrestling will force the World champion to appear on both shows or will they make a new championship?  Will you watch one show over another because of its roster?  Let us know who are must-haves for The Elite's show and for Punk's show.
KEEP READING: Chris Jericho Regrets Never Working With These Two Legends In WCW
SOURCE: Wrestling Headlines, Fightful Select, Wrestling Observer, Wrestling Headlines