Disney's Crater tells a heartwarming story of a group of kids, born and raised on the moon, who set out on a last-ditch adventure to explore a mysterious crater.
With a young, star-studded cast of Isaiah Russell-Bailey, Mckenna Grace, Billy Barratt, Orson Hong, and Thomas Boyce, it's one of the most under-the-radar movies of 2023, putting a science fiction spin on a classic coming-of-age story.
With its space-based setting, Disney pulled out all the stops to bring the moon to life, going so far as to create a makeshift moon camp for the actors to attend.
The Spacewalks Took Weeks of Training and Preparation
Kicking off the Crater virtual press conference, ComicBook.com's Jim Viscardi asked the cast what it was like attending moon camp and how it helped prepare them for their lunar adventure. "It's a pretty crazy place," Billy Barratt said, joking that Disney sent the young actors to the actual moon.
RELATED: Superman Legacy: Top Contenders For The Bold 2025 Reboot Cast Have Been Revealed.
While there wasn't any off-planet method acting during production, the studio did bring in the big guns, hiring an astronomer from NASA to teach them everything about the moon.
He was very clever, and he knew everything he was talking about. And he was on Zoom, and I
remember we sat on a table, and we were just making notes. He would just basically tell us
about everything to do with the moon.

Billy Barratt, Crater Press Conference
Isaiah Russell-Bailey expanded on the prep going into Crater, revealing that it took six weeks to prepare for shooting. Four of those saw the actors working with Legacy to make their spacesuits as functional and realistic as possible, while the last two were dedicated solely to stuntwork.
We worked with Dave McCumber and his stunt team to help us, you know, look like real astronauts and
perform like real astronauts in low gravity. And most of that was actually harness work. And
they made sure our spacewalk looked as realistic as possible. And I feel like we've accomplished
that.

Isaiah Russell-Bailey, Crater Press Conference
The Little Mermaid – Jacob Tremblay Reveals His Process For Embodying a Fan Favorite Character of a Movie Released Before He Was Born
When asked what goes into perfecting a spacewalk, Mckenna Grace summed it up with one word: wires.
Crater is streaming now on Disney+!
About Crater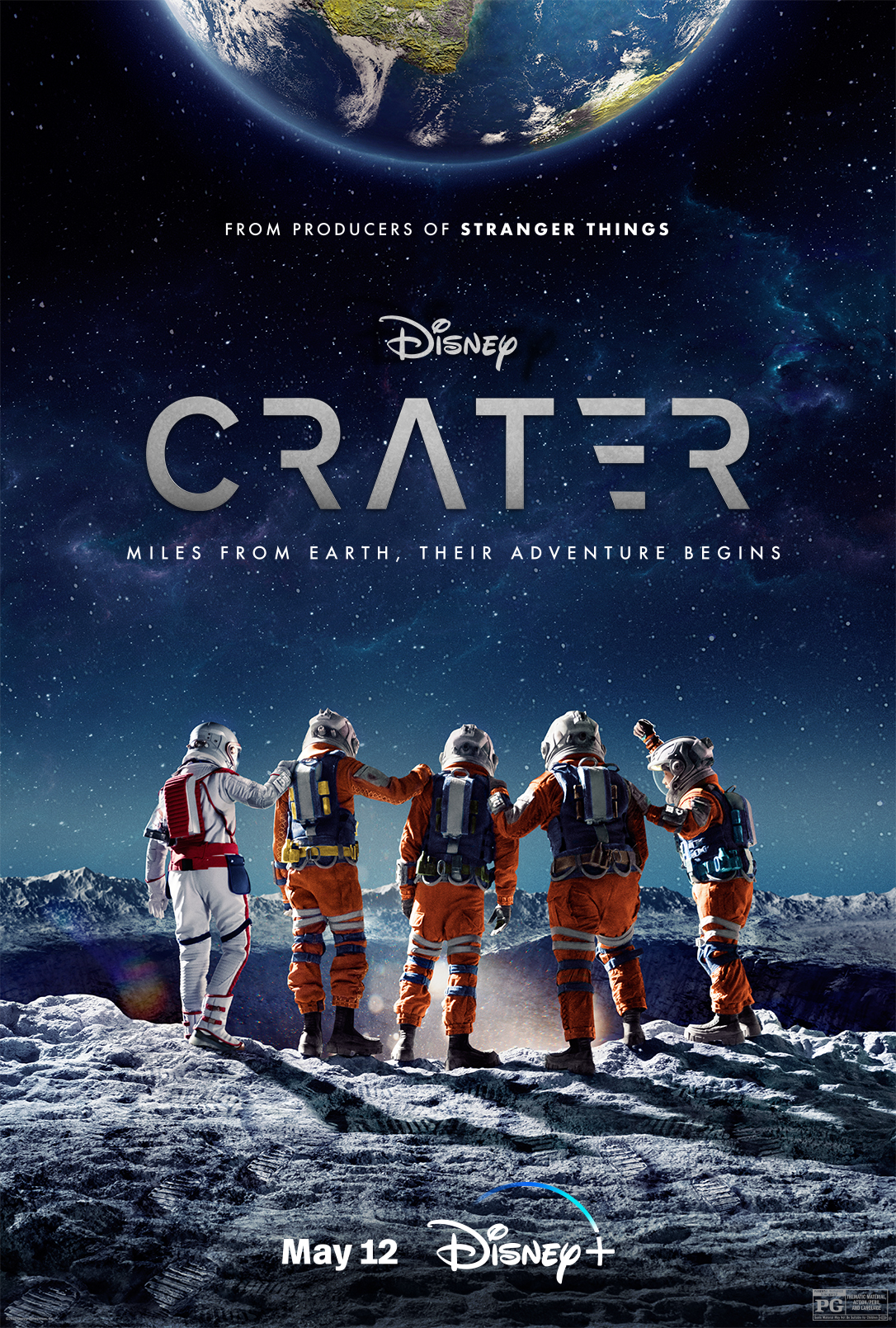 Release Date: May 12, 2023
Director: Kyle Patrick Alvarez
Producers: Shawn Levy, Dan Levine, and Dan Cohen
Distributed by: Disney+
Cast: Isaiah Russell-Baiey, Mckenna Grace, Billy Barratt, Orson Hong, Thomas Boyce, and Scott "Kid Cudi" Mescudi
Synopsis: Crater is the coming-of-age adventure story of Caleb Channing (Isaiah Russell-Bailey), who was raised on a lunar mining colony and is about to be permanently relocated to another faraway, more desirable planet following the death of his father. But before leaving, to fulfill his dad's last wish, he and his three best friends, Dylan (Billy Barratt), Borney (Orson Hong) and Marcus (Thomas Boyce), and a new arrival from Earth, Addison (Mckenna Grace), hijack a rover for one last adventure on a journey to explore a mysterious crater.
What do you think about Crater? Do you think the actors' space camp training paid off? Will you be checking out the movie on Disney+? Let us know your thoughts and reactions on social media!
KEEP READING: The Little Mermaid – Jonah Hauer-King Talks About How Weird it Is Being a Disney Prince