Fast X is a long way away from the Fast & Furious franchise's humble beginnings as a street racing film. Now, in its tenth installment, the series is bigger and more ambitious than ever before. The eleventh film, poised to be the beginning of a concluding trilogy, is a globe-trotting, action-packed thrill ride that takes Dom Toretto and his crew on a mission to save the world and The Family… again. The film is full of over-the-top action sequences, stunning visuals, and plenty of humor. While the plot is a bit convoluted, underdeveloped, and varies in logic, Fast X is still a fun and entertaining film that will leave fans of the series wanting more.
Fast X is Fun, But It's The Worst of The Saga
I love the Fast Saga. I can not wait for the next film. I even want another Hobbs and Shaw. I can not get enough of them. It is high art. Maybe not the high art you are thinking of, but it is definitely my kind of high art. I have watched Fast X three times already, twice I paid to see it in premium formats. I struggle every single theater visit if I'm going to buy that $50 popcorn container. The Fast Saga is one of the most influential and iconic film franchises ever. But Fast X is the worst one.
RELATED: New 'Ruby Gillman, Teenage Kraken' Trailer Reveals Her Powerful Hidden Heritage
Fast X was plagued with behind-the-scenes issues, and it is apparent in the film. The story is all over the place, the introduction of this new bad who is somehow badder (not a real word, but the right word for this) than Cypher is cool to watch, but terrible to think about. Characters who were borderline geniuses have now all fallen to the level of the designated simple-minded one. It's an absolute mess. It seems like the character bible was maybe glanced at, but definitely not read. And where it fails the most, it never reaches the stakes and intensity of the previous films.
There is something missing from the previous films that let you enjoy the absolute ridiculousness of this universe, that makes you realize and thoroughly focus on how ridiculous it is. And there's no car drifting across skyscrapers, parachuting cars, or cars flying into space this time. The most ridiculous thing is a car with canons built onto it, but that still feels tamed compared to what we've gotten so far.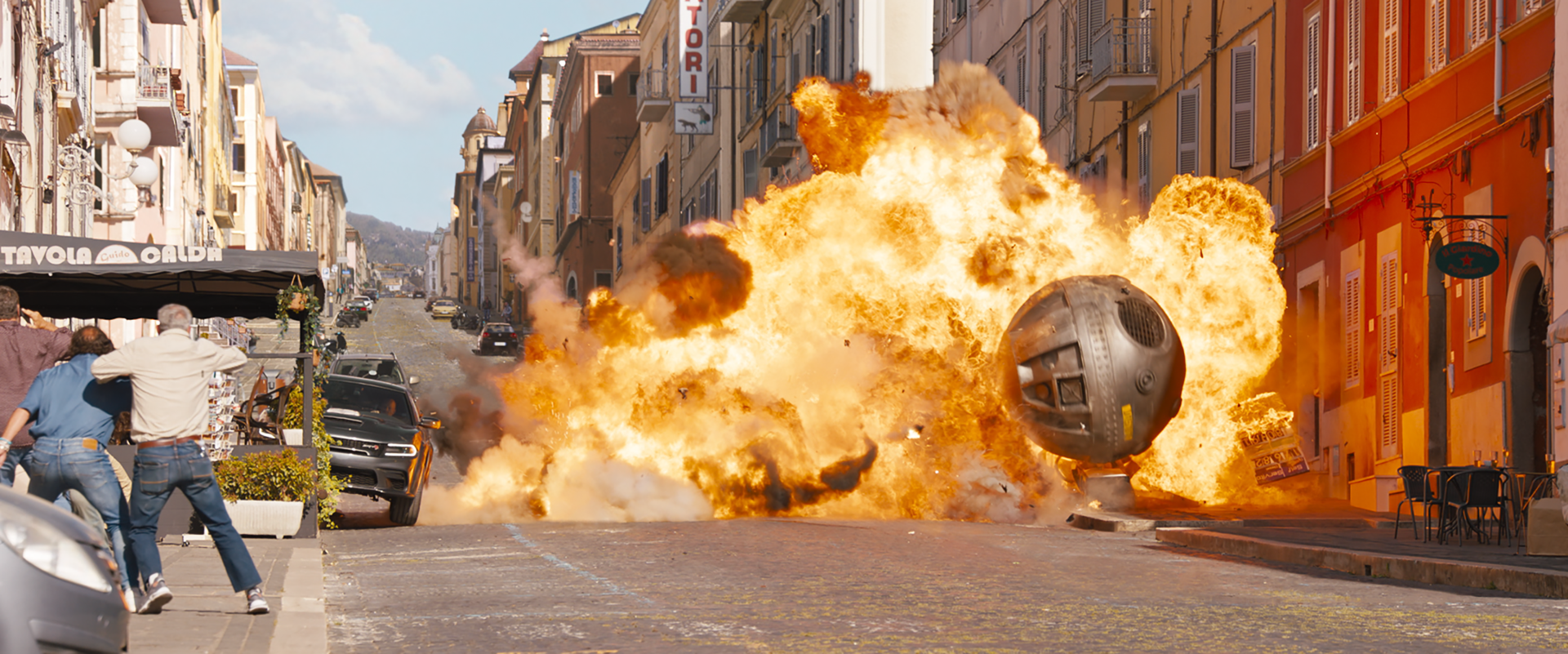 Then there's the addition of three characters who don't really get enough to do anything with, Alan Ritchson, Brie Larson, and Daniela Melchior. They are great performers but don't get enough to really make their casting worth it. It just seems to have taken away from the established members of the family and convoluted the story.
Long story short, Fast X fails to rise to the levels of the previous films, in nearly all categories, yet somehow surpasses the ridiculousness so hard that you realize it. It begins to edge into the, too-ridiculous area, where it is no longer fun and enjoyable because it doesn't have the coherent base, throughline, or X-factor the other films had. That base allowed all the other films to do whatever they want because of its solid foundation. Fast X doesn't even go as hard as the other films, but feels flimsy because of its weak base.
More Mamoa
While the scattered story, lack of gravitas/impact/umph, and character regressions were underwhelming, there were a few high notes. But it definitely wasn't the CGI. The CGI was terrible in some of the most basic of shots. Why are you making it obvious you are on a green screen, but you can make a car realistically look like it can do a rocket jump? Pick a lane.
RELATED: Oppenheimer Unveils Lengthy New Trailer Ahead of 7/21 Release Date
But despite all of that, there is still some greatness to be found. The combat fight sequences were awesome. John Cena and Jordana Brewster had a wonderfully destructive brawl with a bunch of Agency goons in the Toretto home. Ludacris, Tyrese, and Nathalie Emmanuel had a pretty awesome alley scuffle. Emmanuel made impressive use of a laptop. Sung Kang and Jason Statham continued their scene from the post-credits of Fast 9 which was a terribly thought out plan in the movie, but a brutally savage beatdown on some unwarranted guests.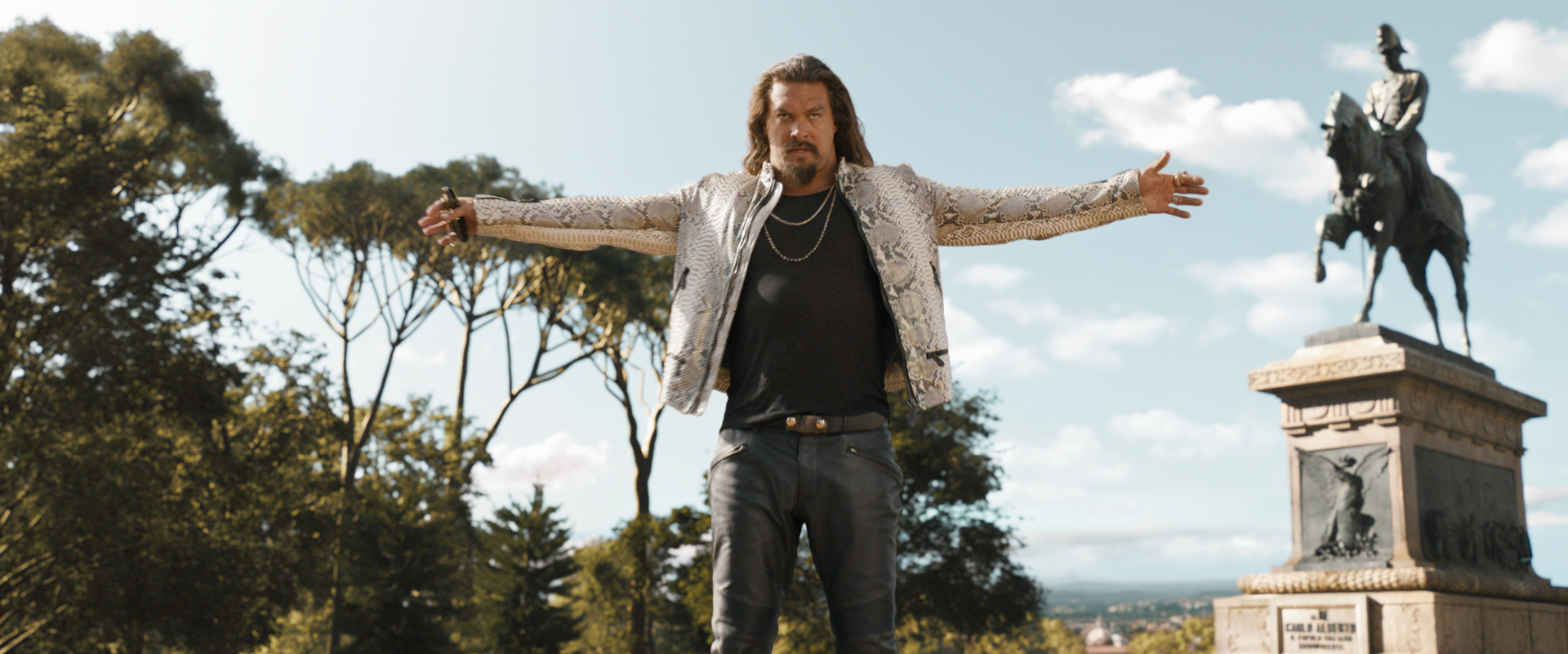 Hands down, the best part of Fast X, Jason Mamoa. Mamoa seems to be the only character that makes sense. He is not going against any previous progress or setup from previous films, and he also seems to be the only one not bound to the bland whole-oat wheat bread lines written for them. Because he is having a great time on screen and it radiates to everyone watching. There's also a costume that has to be a tribute to Genie from Aladdin or Kenan Thompson's Ishbu.
The humor was also solid, and probably the only thing that comes close to being on the same level as the other films. Mamoa has a heavy hand in this aspect of the film, and it's impossible to not enjoy it. However, there were a noticeable amount of misses this time around from other characters and situations, which I'm not sure the other films had.
Even When You Hate Family, You Love Them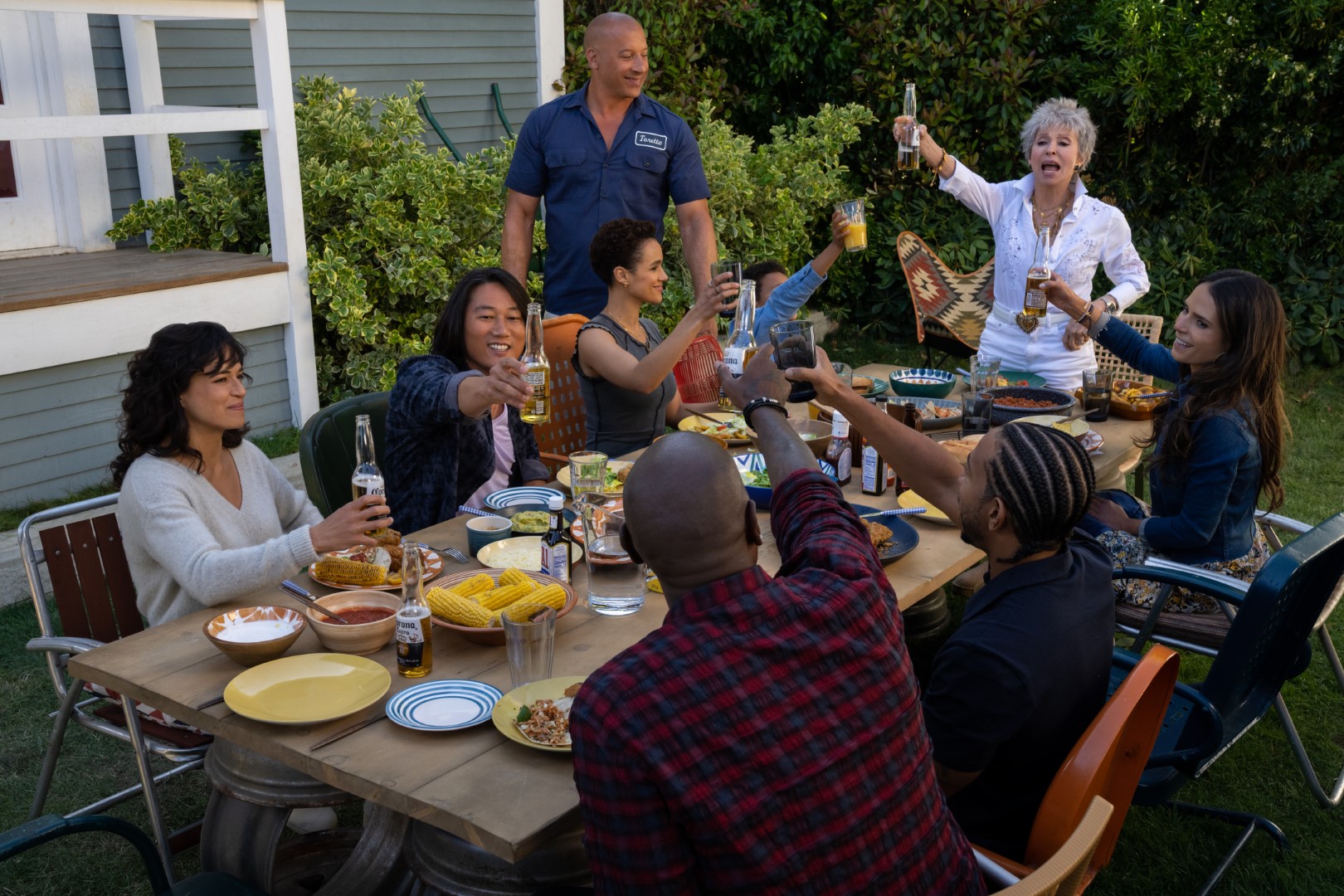 Despite all that, I still enjoyed the movie. Objectively speaking, it is the worst-crafted film of the franchise. It demands you to realize all the plot holes they're purposely creating, which takes far too much reasoning than the franchise has ever asked of me in the 20+ years of its existence. The Fast Saga is not for me to dwell on and point out its mistakes. The Fast Saga is supposed to go pedal to the metal and go so fast we don't realize or care we've gone beyond physics and logic.
The Fast Saga is supposed to make God furious with how they break the rules of his world. Instead, it makes the audience furiously whelmed. It was still fun, I can't wait for more, but hopefully, the next two won't be as messy.
For failing to infuriate God with their fast antics, I give Fast X a 5/10.
Fast X releases exclusively in theaters on May 19, 2023.
About Fast X
Release Date: May 19, 2023, Exclusively in Theaters
Directed by: Louis Leterrier
Screenplay by: Justin Lin, Zach Dean, Dan Mazeau
Based on Characters Created By: Gary Scott Thompson
Producers: Neal H. Moritz, Vin Diesel, Justin Lin, Jeff Kirschenbaum, Samantha Vincent
Executive Producers: Joseph M. Caracciolo, Jr., David Cain, Chris Morgan, Amanda Lewis, Mark Bomback
Genre: Action Thriller
Post Credits: 1 Mid-Credit
Cast: Vin Diesel, Michelle Rodriguez, Tyrese Gibson, Chris "Ludacris" Bridges, Jason Momoa, Nathalie Emmanuel, Jordana Brewster, John Cena, Jason Statham, Sung Kang, Alan Ritchson, Daniela Melchior, Scott Eastwood, with Helen Mirren, Charlize Theron, Brie Larson and Rita Moreno

Synopsis:
Fast X, the tenth film in the Fast & Furious Saga, launches the final chapters of one of cinema's most storied and popular global franchises, now in its third decade and still going strong with the same core cast and characters as when it began. Over many missions and against impossible odds, Dom Toretto (Vin Diesel) and his family have outsmarted, out-nerved and outdriven every foe in their path. Now, they confront the most lethal opponent they've ever faced: A terrifying threat emerging from the shadows of the past who's fueled by blood revenge, and who is determined to shatter this family and destroy everything—and everyone—that Dom loves, forever.
Are you ready for the adrenaline-pumping incredibleness that is Fast X? Did you watch it more than once? How made are you that it isn't called Fast X Your Seatbelts (FastTen Your Seat Belts)? Let us know your thoughts and favorite things about the franchise on social media!
KEEP READING: The Little Mermaid Review – New Magic, Classic Story