White Men Can't Jump but Calmatic and Kenya Barris can make a superb reboot of the classic sports comedy that graced screens across the globe in 1992.
It's a tale as old as time about ebony and ivory living in imperfect harmony. White Men Can't Jump invites you to the streets of Los Angeles to meet Kamal and Jeremy, played by Sinqua Walls and Jack Harlow respectively, as they form a brotherly covenant out of sweat, basketball, and hustling fools out of their money.
The MVPs Of White Men Can't Jump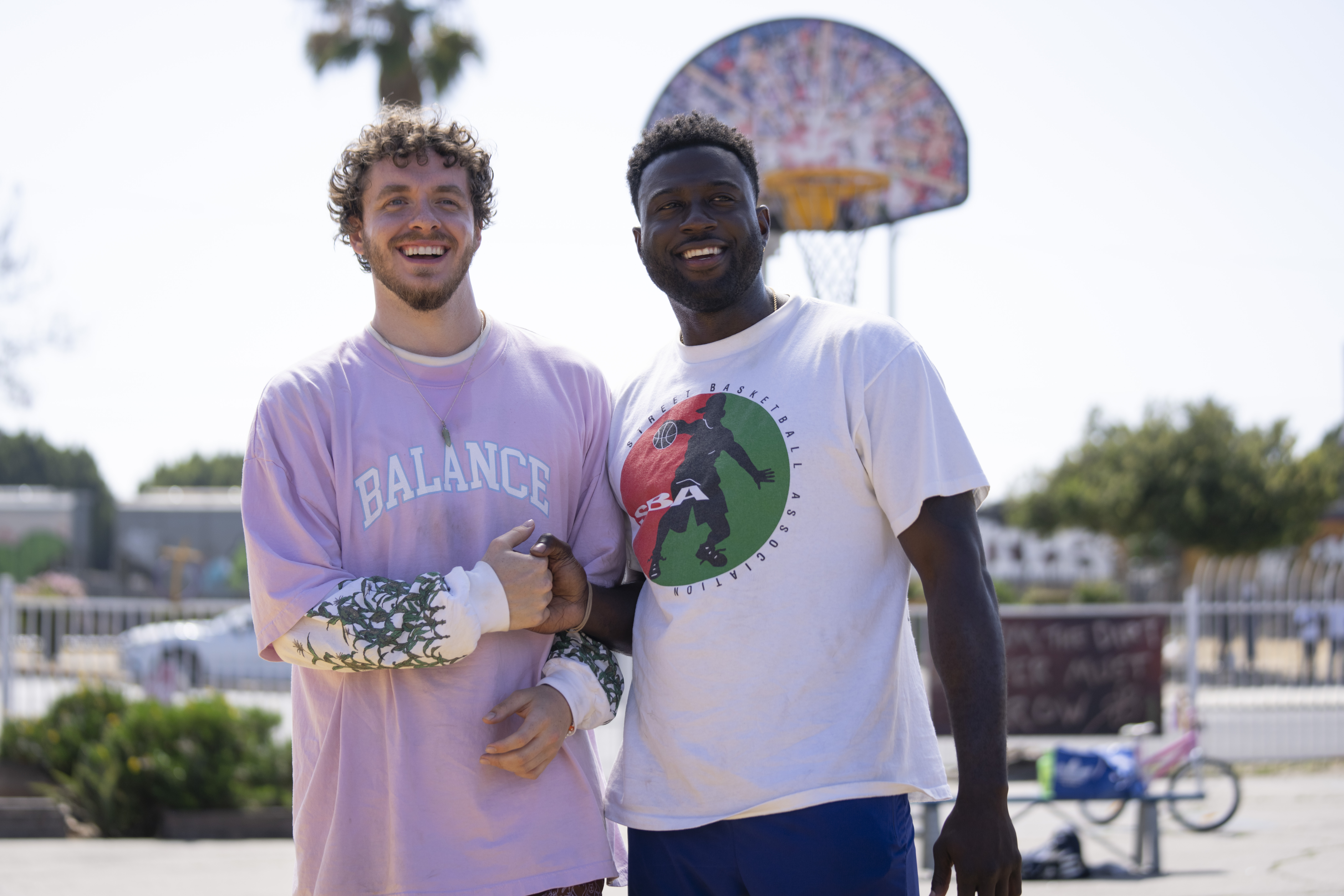 Walls and Harlow rule over this film like the kings they truly are. Watching their relationship evolve from a brief rivalry to a professional partnership culminating in a fraternal bond was cathartic.
Sinqua Walls is multi-layered as Kamal Allen. He is commanding, comedic, and captivating while carrying the weight of the world on his shoulders. He's essentially the pilot of the movie, steering it with his emotions, words, and entire body. He can make the audience feel comfortable and safe when the ball is in Kamal's court, both in the metaphorical as well as the literal sense. Unfortunately, no one always wins, when he loses, we lose, when he crumbles, we crumble. Walls' portrayal of such a human character provides an immersive and realistic character study of anyone fighting for their dreams.
RELATED: WHITE MEN CAN'T JUMP'S JACK HARLOW DISCUSSES HIS UNFORGETTABLE ACTING EXPERIENCE IN 2023 REBOOT
For a first-time actor, Jack Harlow wonderfully portrays Jeremy with a thorough understanding of a man who valiantly fights to be more than okay, when in all actuality, he's far from okay. Jeremy is seen to be in a good mood for most of the film, radiating positive energy anyone can naturally gravitate to. However, at times when he's not in a good mood when we see the hand that life has dealt him, Harlow puts everything about his character into perspective.
Harlow's character essentially parallels Wall's character. Jeremy is the opposite of Kamal, but they're two sides of the same coin.
Welcome To The Best Part Of LA
One of the highlights of White Men Can't Jump would be the setting. Watching this film in a part of Los Angeles that's seldom depicted on screen was an immersive experience for me. Like its predecessor, the reboot transported me to an urban part of Los Angeles I'd barely seen before, it was so nostalgic and refreshing to see that neighborhood in a city where everyone wants to be famous.
Everyone in White Men Can't Jump either just wants to play basketball or enjoy each other's company. The sense of community throughout the film should not go overlooked, it is truly something special to see.
White Men Can't Jump Reveals The Truth Behind Basketball
Of course, basketball is the heart of White Men Can't Jump, and Calmatic's eye for directing religiously makes sure audiences never forget this. Every single basketball scene is shot with perfect precision and edited seamlessly to deliver the most authentic street-level basketball experience possible. If you're a basketball fan, I guarantee you will fall in love with those scenes.
RELATED: SINQUA WALLS OPENS UP ABOUT 2023'S WHITE MEN CAN'T JUMP AND HIS LOVE FOR BASKETBALL
White Men Can't Jump is an honorable reboot that doesn't rely heavily on its predecessor, it respects the past but embraces the future, or present in this case. While the plot is the same, and the characters are similar, the story is quite different, adapted to a contemporary setting. The film is a wonderful modern testament to comradery, family, perseverance, ambition, and diversity, all of which revolve around basketball.
About White Men White Men Can't Jump
Based on the 1992 film by Ron Shelton
Release Date: May 19th, on Hulu
Director: Calmatic
Writers: Kenya Barris, Doug Hall
Producers: Kenya Barris, Jonathan Deiner, E. Brian Dobbins, Blake Griffin, Paul Hall, Ryan Kalil, Jim Powers, Noah Weinstein
Cast: Sinqua Walls, Jack Harlow, Teyana Taylor, Laura Harrier, Vince Staples, Myles Bullock, and Lance Reddick
Description
This is a contemporary reimagining of the beloved 1992 film where a hustling partnership between two diverse ballers evolves into an unbreakable brotherly bond.
White Men Can't Jump arrives on May 19th, 2023, only on Hulu.
Will you be watching White Men Can't Jump? Are you sticking with the original phenom? Let us know and follow us on social media so you don't miss any more reviews like this. We're always watching.
KEEP READING: CAPTAIN AMERICA 4: SAM WILSON'S NEW WORLD ORDER COSTUME REVEAL AND SETH ROLLINS UNCOVERED IN SET LEAK