The Little Mermaid is one of Disney's most beloved animated films, and now it's coming to life in a live-action adaptation. The film stars Halle Bailey as Ariel, a mermaid who dreams of becoming human. When she meets Prince Eric, she makes a deal with the sea witch Ursula to trade her voice for legs. But the deal comes with a price, and Ariel must race against time to save herself and her father's kingdom. In large part, it is like the original, but there are some key differences and changes, keeping it from being a shot-for-shot remake like other Disney live-action adaptations.
The Little Mermaid Now and Then
Story-wise, the new adaptation of The Little Mermaid is the same as the original. Song-wise, The Little Mermaid's live-action adaptation removes one song and adds a couple of original ones. There are also some updated lyrics and an entirely new character, Queen Selina (Noma Dumezweni), Prince Eric's Mother. The most notable change, and in my opinion to the benefit of the film, is that Prince Eric is a much more realized character in this film. There's a reason Ariel and Eric are drawn to each other, and it's not superficial. This is the one objective advantage the live-action version has over the original. The story works better because of it.
RELATED: The Little Mermaid – Noma Dumezeweni Lovingly Faced No Challenges Playing a Completely Original Character
Sea Stars
Outside of the more congruent story, the performances of The LIttle Mermaid are spectacular across the board. Both Javier Bardem and Noma Dumezweni play powerful parental figures that wisely restrict their children, but lovingly come to learn from and understand them. Daveed Diggs, Awkwafina, and Jacob Tremblay constantly steal scenes as Sebastian, Scuttle, and Flounder. Jonah Hauer-King as Prince Eric, won me over. Prince Eric, to me, was a moist paper towel from the original version so I expected very little. However, Hauer-King with David Magee's writing and Rob Marshall's direction made him a rather likable character.
Then there's Melissa McCarthy, who is really good as Ursula; her greatness is obvious. But it feels like she was dialed back. Not to her fault, as she makes a meal of every scene she's in. But for me, it seems like the technology could not keep up with her and held her back. It's so close to being an iconic performance, but it just seems like she got to the finish line and stopped. It doesn't ruin the movie, but it feels like a wasted opportunity.
Luckily there is Halle Bailey as Ariel. Bailey's performance is worth the price and fully justifies the existence of this adaptation. Bailey's rendition of "Part of Your World" is breathtaking. During the press screening, the audience erupted in applause after it. She also perfectly captures the youthful spirit and energy of Ariel that resonates from Jodi Benson's performance. Halle Bailey is elegantly continuing the legacy and a wonderful Ariel for a new generation.
RELATED: The Little Mermaid – Javier Bardem Unveils How Parents Learn Real Love From Their Children
Rough Waters
While overall, The Little Mermaid is a fun film I'm sure most will enjoy, there were some things that didn't work. For me, the color and saturation felt very muted. How is the original more vibrant and eye-popping? It was especially noticeable during "Under the Sea' where gorgeous CGI creatures seem like they're in a tinted aquarium. It keeps the film from being the spectacle we crave from Disney, and musicals in general.
On top of that, the film is 2 hours long. And it is a noticeable two hours. There's noticeable drag in the story, and while there is some visual storytelling and impressive cinematography that contribute to the runtime, it doesn't really add to the film. It's especially not something I feel should not be added to a film geared more toward children.
RELATED: The Little Mermaid – Jonah Hauer-King Talks About How Weird it Is Being a Disney Prince
Treading Water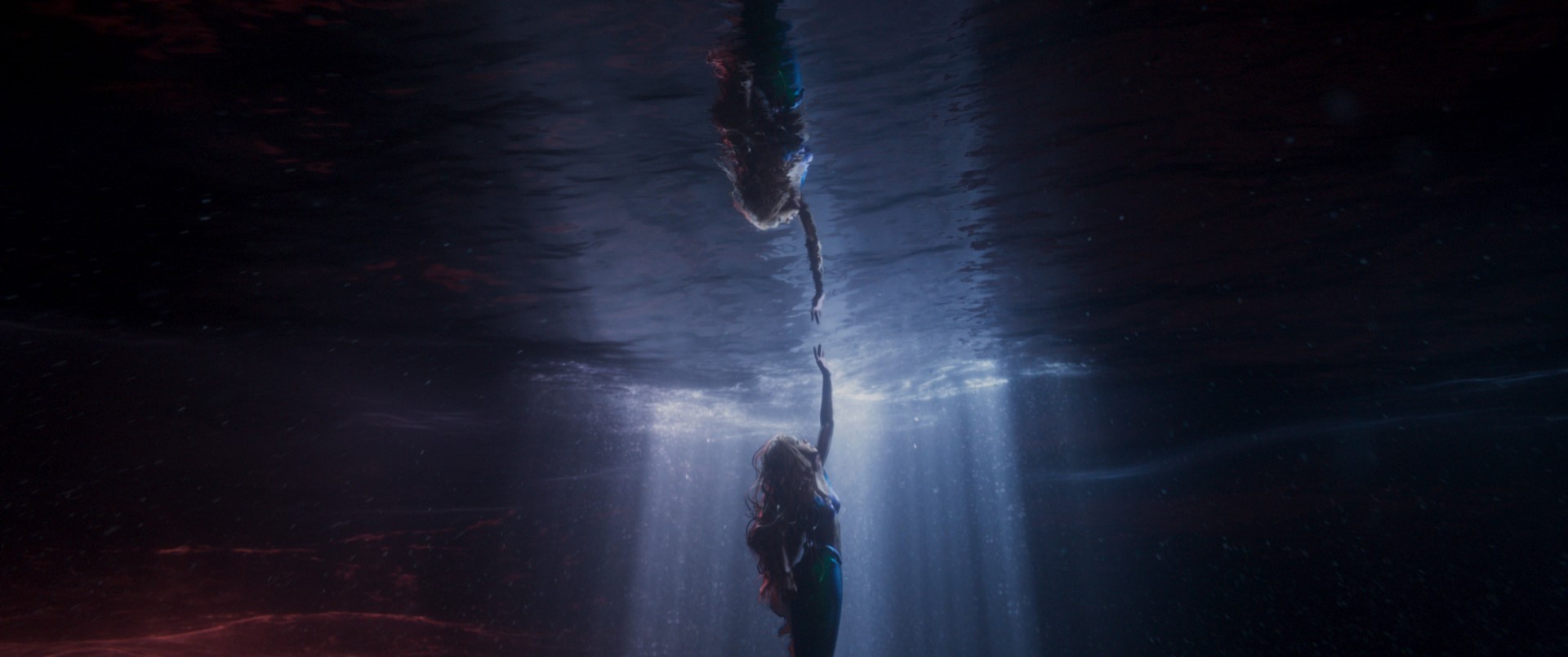 Personally, I do not see the need for live-action adaptations. I have a lot of the remastered versions of the animated films on Blu-Ray and they hold up well. However, The Little Mermaid did change my perspective, largely due to Halle Bailey's performance. Halle Bailey does not take anything from Jodi Benson's legendary performance, if anything I feel she adds to the legacy. And while it is easy to jump to the conclusions of Disney cash-grabbing on their own IPs, being too lazy to develop new properties, and the usual selfish corporate greed excuses, I now see it more like Broadway, sports, or comic book runs.
Lin-Manuel Miranda is no longer regularly headlining as Hamilton, but does that mean people no longer want to see it? That other performers do not want a chance to play Hamilton and Aaron Burr? No, it is still continuing to be performed and applauded around the world with numerous different performers, directors, and companies, putting in their own interpretations.
Or sports team. Just because I saw the Los Angeles Rams win a Super Bowl at Home, does not mean I never want to see them win another Super Bowl. Just because we get a new quarterback, doesn't mean I hate the team. And I mean Cowboys and 49ers fans are still hooked on their runs from the 90s, but it hasn't stopped them from being fans and completely disparaging players on their team.
Or even comic book runs. The current run of Spider-Man under Zeb Wells is my least favorite ever, but it doesn't affect my fandom. I still have my connection to it, and hopefully, the next run will correct the course.
We don't own these teams, movies, shows, etc., they mean something to us, but it's out of our hands. Personally, I believe we should want others to experience and share in our fandom so we can get more, but at the very least just let people enjoy it. Let other artists get their chance to create with it. Give it a chance, or don't. Just don't be a knob about it and try to ruin it for others.
RELATED: The Little Mermaid – Jacob Tremblay Reveals His Process For Embodying a Fan Favorite Character of a Movie Released Before He Was Born
Part of Our World
The Little Mermaid wonderfully adds to the magic of the original film. It retells the story with a spectacular new cast and a truly worthy successor to Jodi Benson, Halle Bailey. With new songs and better rounded-out characters, fans of the original can enjoy this new version without feeling like it's an unnecessary clone, but rather a loving new run of a monumental classic. Coloring, saturation, CGI, and noticeable runtime aside, The Little Mermaid is still a magical experience and probably the best of the live-action adaptations so far.
For being the film that will help many understand the value of live-action adaptations, I give The Little Mermaid a 7/10
The Little Mermaid release exclusively in theaters on May 26, 2023.
About The Little Mermaid
Release date: May 26, 2023 (USA)
Director: Rob Marshall
Producers: Marc Platt, Lin-Manuel Miranda, John DeLuca, Rob Marshall
Executive Producer: Jeffrey Silver
Adapted from: The Little Mermaid
Music by: Alan Menken
Production companies: Walt Disney Pictures; DeLuca Marshall; Marc Platt Productions
Distributed by: Walt Disney Studios Motion Pictures
Cast: Halle Bailey, Jonah Hauer-King, Daveed Diggs, Awkwafina, Jacob Tremblay, Noma Dumezweni, Art Malik, with Javier Bardem and Melissa McCarthy

Synopsis
"The Little Mermaid" is the beloved story of Ariel, a beautiful and spirited young mermaid with a thirst for adventure. The youngest of King Triton's daughters and the most defiant, Ariel longs to find out more about the world beyond the sea and, while visiting the surface, falls for the dashing Prince Eric. While mermaids are forbidden to interact with humans, Ariel must follow her heart. She makes a deal with the evil sea witch, Ursula, which gives her a chance to experience life on land but ultimately places her life – and her father's crown – in jeopardy.
Are you excited to see Halle Bailey as Ariel in The Little Mermaid? Which characters do you feel connected to? What lessons have you taken away from them? Let us know on social media!
KEEP READING: The Little Mermaid's Halle Bailey Shares The Valuable Lessons She's Learned From Ariel