Disney+'s genre-hopping new series American Born Chinese is now streaming! Based on the incredible graphic novel of the same name, by Gene Luen Yang, this captivating series follows the life of Jin Wang, a typical teenager trying to navigate the complexities of high school while balancing his cultural heritage. The show boasts an impressive creative team, including showrunner Kelvin Yu and director Destin Daniel Cretton. The stellar cast features Michelle Yeoh as "Guanyin," Ben Wang as "Jin Wang," and Yeo Yann Yann as "Christine Wang," among others. Notably, the talented Daniel Wu portrays the iconic character "Sun Wukong."
American Born Chinese's Daniel Wu Finally Did Not Feel Like the Outsider on Set
Daniel Wu is a highly accomplished actor whose career spans both the Chinese and global entertainment industries. With his charismatic presence and versatile performances, Wu has garnered international acclaim and a dedicated fan base. Rising to prominence in Asia, he became a household name with his notable roles in films such as One Nite in Mongkok and Protégé. Transitioning to Hollywood, Wu made a significant impact with his portrayal of Sunny in the hit TV series Into the Badlands, where his martial arts prowess and acting skills captivated audiences worldwide.
RELATED: With Love Season 2 Interview – Isis King Reveals The Profound Lessons She's Learned from Sol
His global acting career also includes appearances in major Hollywood productions like Tomb Raider and Warcraft, showcasing his ability to seamlessly blend into diverse roles. Wu's success and recognition have solidified his status as a talented and respected actor, contributing to the representation and appreciation of Asian talent on the global stage.
But being an Asian American working in Chinese cinema and then being an Asian working in the American entertainment industry, Wu always felt like an outsider on set. In our interview, I asked him how working on American Born Chinese was different from all of his other projects. To which he responded,
"It sits right there in the middle of it all. You know, so many years in Asia and then coming back here and working in the U.S. for the past seven, eight years has been really interesting experience because you get to see the differences in both sides. But what's what was interesting is like in both places always felt like an outsider. You know, in Asia, even though I was really well embraced there and became a huge star
there, I always felt different because of my background.

I grew up 21 years in the States before I moved over there. And so a lot of aspects of my personality are very different than local people. And then vice versa, coming back here, working on American productions, being like one of the only few Asians on set, you also feel like an outsider, right? And so this project was like the perfect conglomeration of both because we had people from Asia, people
from America, a bunch of Asian Americans working together, and it just felt like a family, you know?

Everyone came from different backgrounds, but we also shared similar collective experiences
growing up and all that. And so a lot of the themes and topics and little nuances and details that we're talking about in the show, everyone's experience in some way, form of another or another. And so there's, you know, a general collective understanding of what we're doing and why it's important to be telling this story.

Daniel Wu, Sun Wukong in Disney+'s American Born Chinese
RELATED: American Born Chinese Review – Season 1 Brings New Magic to Television
It's amazing that despite his success, Daniel Wu never experienced belonging the way he did on the set of American Born Chinese. It's great that he finally gets to experience it and its effect can definitely be felt in the performance.
American Born Chinese is now streaming, on Disney+. Or if you're more of a reader or want more after binging the series, you can read Gene Luen Yang's graphic novel for free with Kindle Unlimited.
ABOUT AMERICAN BORN CHINESE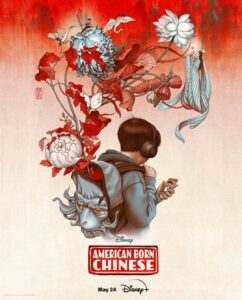 Based on the graphic novel by Gene Luen Yang
Release Date: May 24, 2023, on Disney+
Showrunner: Kevlin Yu
Director: Destin Daniel Cretton
Executive Producers: Kelvin Yu ("Bob's Burgers," "Central Park"), Destin Daniel Cretton (Marvel's "Shang-Chi and the Legend of the Ten Rings," "Short Term 12"), Melvin Mar and Jake Kasdan (both of "Doogie Kamealoha, M.D." for Disney+, "Fresh Off the Boat" and "Jumanji: Welcome to the Jungle" and "Jumanji: The Next Level" feature films), Erin O'Malley ("Doogie Kamealoha, M.D."), Asher Goldstein ("Short Term 12," "Just Mercy") and Gene Luen Yang

Cast: Michelle Yeoh as "Guanyin," Ben Wang as "Jin Wang," Yeo Yann Yann as "Christine Wang," Chin Han as "Simon Wang," Daniel Wu as "Sun Wukong," Ke Huy Quan as "Freddy Wong," Jim Liu as "Wei-Chen" and Sydney Taylor as "Amelia"

Description:
Based on the graphic novel by Gene Luen Yang, "American Born Chinese" tells the story of Jin Wang, an average teenager juggling his high school social life with his home life. When he meets a new foreign student on the first day of the school year, even more worlds collide as Jin is unwittingly entangled in a battle of Chinese mythological gods. The genre-hopping action-comedy explores identity, culture, and family.
Have you watched about American Born Chinese? Did you read the graphic novel? Were times you felt like an outsider? Let us know your thoughts about the series on social media!
KEEP READING: With Love Season 2 Interview Benito Martinez Reflects on Favorite Scene that was Almost Cut