Get your thinking caps and coffee ready, because Detective Pikachu returns for another case to solve!
RELATED: Mysterious Newly Discovered Pokemon to Debut Soon
Detective Pikachu is one of many spin-offs in Nintendo's popular Pokémon franchise. It focused on a talking Pikachu who teamed up with a boy named Tim Goodman to solve mysteries. Tim's father Harry was the lead detective investigating the source of strange incidents occurring in Ryme City before disappearing in a car accident, where Pikachu was found at the time. Pikachu had lost his memories and gained his speech capability, and he and Tim went on a quest to uncover the truth.
Unlike the mainline Pokémon games, Detective Pikachu emphasizes narrative storytelling, similar to the anime series. A key difference from the mainline games is the inclusion of voice acting to characters beyond Pikachu and a few other species. This repurposes the abandoned plan to have every Pokémon talk in the anime; OLM Inc. was unable to conceptualize it in a way that Game Freak was satisfied with, ultimately compromising by having Team Rocket's Meowth as the only Pokémon (at the time) to talk.
The Rise Of Detective Pikachu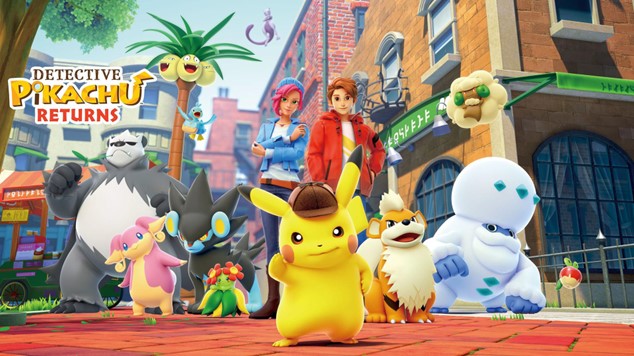 RELATED: Pokémon Scarlet and Pokémon Violet Announce New DLC
Detective Pikachu was first released in Japan on the Nintendo eShop on February 3, 2016. Initially titled Great Detective Pikachu: Birth of a New Duo, it was removed from the eShop on January 12, 2018, with the full version receiving a physical 3DS release on March 23, 2018. Detective Pikachu is notable for being the final Pokémon game to be released for the 3DS family before the series moved to the Nintendo Switch, followed by the 3DS's discontinuation on September 16, 2020.
On May 10, 2019, a live-action film adaptation of Detective Pikachu was released in theaters, produced by Legendary Pictures and Warner Bros. Directed by Rob Letterman, the film starred Justice Smith, Kathryn Newton, Ken Watanabe, and Bill Nighy, with Ryan Reynolds as the voice of Pikachu. A film sequel is currently in development, with Jonathan Krisel directing and Chris Galletta rewriting the screenplay.
That's Very Twisty!
RELATED: Pokémon: Detective Pikachu 2 Still in Surprise Early Development
On June 21, 2023, the sequel to Detective Pikachu was announced during a Nintendo Direct presentation. The upcoming game, Detective Pikachu Returns, continues the mystery-solving adventures of Tim and Pikachu. Because several years have passed since the first game, Pokémon introduced in Generation 8 make appearances. These include Inteleon, Raboot, Indeedee, Milcery, and Morpeko, all of whom originated from the Galar region, the setting of Pokémon Sword and Shield. Interestingly, this lines up with how the film adaptation was shot in the UK, the inspiration for Galar.
Although the film adaptation has a resolution on what truly happened to Tim's father, it is unknown if the story of Detective Pikachu Returns will follow a similar progression. Given the fate of the main antagonist in the first game, it is likely that the sequel will take a different direction. More details on the plot are to be announced.
Detective Pikachu Returns will be released on the Nintendo Switch on October 6, 2023.
RELATED: Special Pokémon Presents Airing February 27 with Exciting News Across the Franchise!
Are you excited for Detective Pikachu Returns? How do you think the mystery of Tim's father will unfold? Let us know on social media. If you like what you read there's more where that came from. Make you're following The Illuminerdi for more Pokémoncontent like this. We're always watching.
KEEP READING: SUPERMAN LEGACY: DAVID CORENSWET AND RACHEL BROSNAHAN CAST AS SUPERMAN & LOIS LANE AS DC GETS READY TO USHER NEW ERA IN 2025