The Incredible Hulk director Louis Leterrier has spilled the beans on his initial plans for a sequel, and they sound insane.  While promoting Fast X before the WGA/SAG-AFTRA strikes, Leterrier told Comicbook.com about some of the crazy plans Marvel initially had for The Not-So-Jolly Green Avenger.
Marvel's Wild Original Plans for The Incredible Hulk 2
Based on Leterrier's comments, Marvel Studios originally had some wild plans for the original sequel they wanted to make, which would've included the Grey Hulk and Red Hulks. Leterrier stated, "Yeah there was like a whole sequel…There was like Grey Hulk, Red Hulks – there was a lot of good stuff that we were planning." 
RELATED: Shang-Chi Producer Confirms Tim Roth's Voice Performance As Hulk Villian Abomination
The Incredible Hulk is unique among the original line-up of MCU movies, especially on the heels of the largely upbeat and wonderous Iron Man. The Incredible Hulk went for a comparably more somber man-on-the-run story crossed with a monster movie with its lead, Edward Norton's Bruce Banner, coming to terms with the literal monster inside him. 
The movie is the most sci-fi heavy of the pre-Avengers films, with a heavy emphasis on scientific experiments and a creature feature vibe at times that also sets up potential sequels featuring Tim Blake Nelson's The Leader and later General Ross (Then played by William Hurt).  Introducing Red Hulks and Grey Hulk in the mix for a sequel isn't that far out of the realm of possibility, but as we all know, that's not the hand fans were dealt.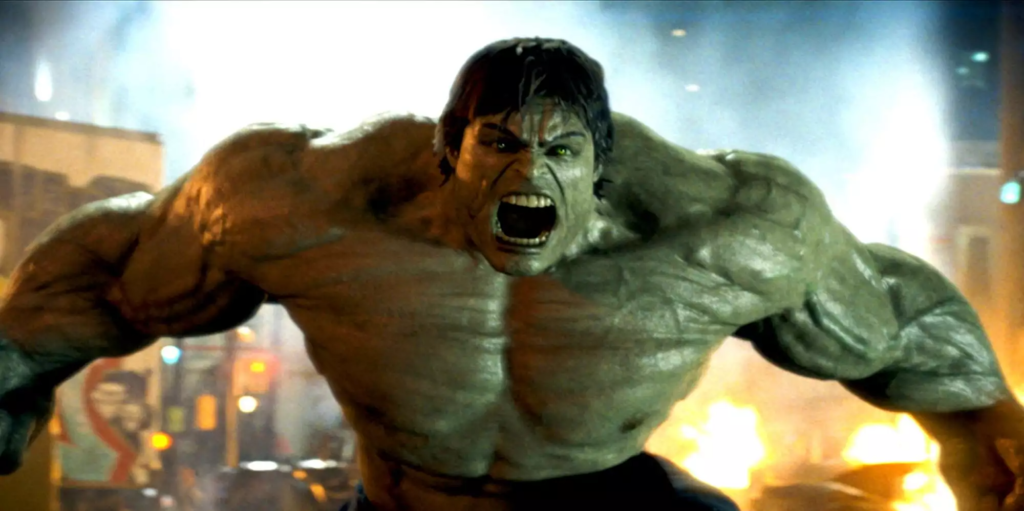 The History of the Hulk in the MCU
As Universal Pictures owns the film rights to The Hulk character, Marvel couldn't independently make movies with him as the lead. However, they reached a deal with Universal that allowed them to use The Hulk as a supporting character in other films. This tactic was used for The Avengers, its sequels Age of Ultron, Infinity War, and Avengers: Endgame, Thor: Ragnarok, and Iron Man 3 (Which only featured a cameo of Ruffalo as Banner).
Following The Incredible Hulk, the original lead actor Edward Norton parted ways with Marvel Studios over strong creative differences with how the film had turned out, leading to Mark Ruffalo replacing him in all future appearances of the character.  The character also popped in for the Disney+ series She-Hulk: Attorney At Law, as did Tim Roth's Emil Blonksy, aka Abomination, albeit now a far more zen individual.
It seems we'll finally get to see at least one plot point from The Incredible Hulk followed up on in the upcoming Captain America: Brave New World.  Tim Blake Nelson is set to reprise his role as Doctor Samuel Sterns from that film, and Harrison Ford's Thunderbolt Ross is heavily rumored to become Red Hulk.  Ford took over the role following William Hurt's recent passing.
Louis Leterrier's Thoughts on the Modern MCU Hulk
While The Hulk hasn't been legally allowed to headline his own movies, the MCU has given him an arc over its run.  Currently, Bruce Banner has overcome the negative sides of Hulkdom and now lives his life as a type of Smart Hulk, a creature with a scientist's mind and a monster's body. 
Letterier offered his thoughts on the modern Hulk saying, "Hulk is a complex character within the Marvel Universe." The director continued, "You want the primeval Hulk… the rage Hulk. And then when you go Grey Hulk and Smart Hulk you lose that a little bit and you get a little bit more kiddish with it." 
Some MCU fans have voiced agreement with Leterrier over the direction of the Hulk in the MCU, but the director himself sounds like he's happy to have worked on the character even if he's now far removed from what Letterier had originally envisioned, as he explained to Comicbook.com:
"But that was the fun of where I was in my movie, with the access to consciousness and all that stuff. That was really fun. And that's what I was aiming to do. But take my time with it. Because there's so many characters they want it all fast [laughs]. I like She-Hulk, but then you know, yoga between Hulk and… I was like 'Okay! yeah, we're very far from my Hulk.'"
RELATED: "What Is a Red Hulk?" Said The Incredible Harrison Ford When Asked After Torn Pants Were Spotted on Set of Captain America 4
While we'll never get to see Louis Leterrier's insane-sounding Hulk sequel, we can at least enjoy his contributions on The Incredible Hullk and see where Samuel Sterns and General Ross end up in Captain America: Brave New World.
What do you think of Louis Leterrier's abandoned plans for The Incredible Hulk sequel?  Would you have liked to see Red Hulks and Grey Hulk onscreen?  What did you think of The Incredible Hulk?  Do you prefer Edward Norton or Mark Ruffalo in the role of the MCU Bruce Banner?  Let us know on our social media.
SOURCE: Comicbook.com
KEEP READING: Captain America: New World Order: Mark Ruffalo Rumored to Reprise Hulk Role in Captain America 4