AEW wrestler Roderick Strong recently talked about why he left WWE, his big AEW debut, and who he is looking to have matches with now that he's part of the company. Roderick Strong may not be the biggest name in wrestling, but it is hard to argue with his experience.  He has wrestled throughout the US and in Japan.  Some of the well-known American wrestling promotions include Ring of Honor, TNA/IMPACT Wrestling, PWG, WWE, and currently AEW.
RODERICK STRONG REVEALS HE WAS GETTING LONELY IN WWE
Strong made a big impact in WWE as part of the Undisputed Era faction along with Adam Cole, Kyle O'Reilly, and Bobby Fish.  Even though he was not the center of that faction, that honor would go to Cole and O'Reilly, his contribution can't be overstated.  The faction became one of WWE's hottest factions and certainly the hottest in NXT.
RELATED: Malakai Black Talks Core To His Popular WWE Character And What He Learned From Seth Rollins
The Undisputed Era members all began leaving the WWE and joining AEW starting with Cole.  Eventually Strong was the sole member left in WWE. On a recent episode of AEW Unrestricted, Strong spoke about his departure from WWE late last year and why he decided to leave. He stated the following on why he left the company:
"In August of last year, I got injured and I was out for some time. When it was getting closer to the year, my contract, actually, expired from WWE. It was just one of those situations where, one, I was rehabbing in a pretty decent place but not exactly sure what was going to go on with me at that time. I had someone representing me just kind of reached out and I was talking to both companies. It was one of those weird things it just felt like it was almost inevitable."

H/T to Wrestling Inc. for the transcription
It was pretty evident that Strong's time in WWE was coming to an end once the Undisputed Era members had left.  He continued to take part in solid feuds and led his own faction, The Diamond Mine, but the spark that he had once had was lost.  It was not surprising that he was looking to leave once his WWE contract expired.
Strong's wife, Marina Shafir, is also over in AEW.  She was released from WWE in June 2021. Also, there was a time when every other member of the Undisputed Era had made their way over to AEW.  Strong went on to say one of the big reasons he left WWE was "I really wanted to be with my buddies and with my wife."
RELATED: Christian Cage Talks About Being A Good Heel And Long Friendship With Edge
Strong eventually made the jump to AEW and debuted in April.  He came out to help his friend and former stablemate in The Undisputed Era, Adam Cole. Strong also talked about making sure his AEW debut was a secret and why it was so hard for him to keep that secret. He continued on Unrestricted:
"It was very difficult, but it's also something that I feel bad because I misled people. I didn't outright lie, but you do realize, especially nowadays, there are no real secrets anymore in wrestling. And to actually be able to be one is huge. It's something that people will remember forever."
RODERICK STRONG'S TOP-SECRET AEW DEBUT
Strong went on to say that he worked really hard to keep the secret of his debut.  He said that he didn't even tell family members about his move to AEW. Since his AEW debut, Strong's most notable matches were a win over Chris Jericho and a match in Owen Hart Foundation Men's Tournament where he was defeated and eliminated by Samoa Joe.
Now that Strong is in AEW he has a whole roster of new rivals and some old ones as well.  He revealed some names he would like to wrestle with for the first time and some old names he has unfinished business with. He continued on AEW Unrestricted:
"Pentagon, Rey Fenix, Action Andretti. It's funny because sometimes I'm so focused on some of the things I've done, but it's so different now, I'm so different. For example, me and Bryan [Danielson] wrestling now would be substantially different than it was before [in ROH]."

H/T to Wrestling Inc. for the transcription
RIVALS BOTH NEW AND OLD
Roderick Strong and Danielson are some of ROH's originals and had some very heated matches during their time in the promotion.  However, there are other ROH wrestlers from his past in AEW and Strong also wants to show them what he has learned since then.  Some of these big names include The Young Bucks, CM Punk, and Samoa Joe.
However, Strong isn't just focused on reigniting old rivalries.  He also has his eye on one of AEW's big men and the outspoken AEW World Champion MJF. He said on MJF:
"MJF, definitely. I want to see what he's all about. He likes to say what he's all about, so we'll see, right? Big Bill is also someone I never worked with. Honestly, just watching him there, [I'm] such a big fan. His story, too, is crazy, so to see him overcome that kind of stuff … my mom is also a recovering addict. Wardlow is another one I'd like to work with."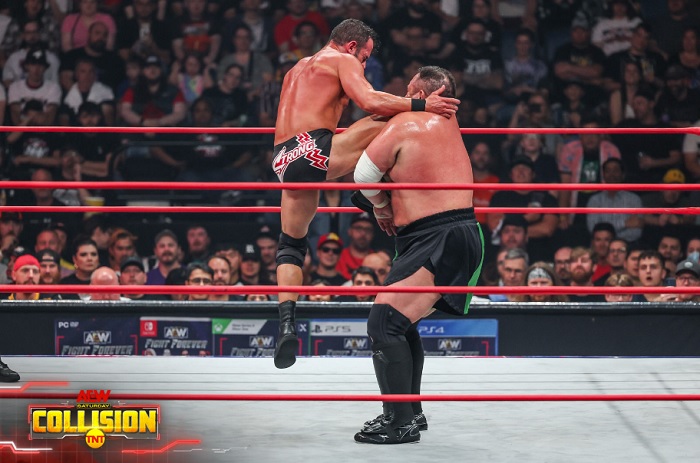 Roderick Strong is throwing out some pretty big names he wants to wrestle.  With the AEW Collision show starting to pick up steam he just may get to start some of those feuds in the near future.
What have you thought of Roderick Strong's time in AEW so far?  Is the work of Roderick Strong in AEW a huge step up or a step down from his days in WWE?  Do you think moving to AEW was a smart move or should he have stayed with WWE where he could build his own legacy without the Undisputed Era?  Let us know which of the names he listed would you be most excited to see him start feuding with on The Illuminerdi's social media.
SOURCE: Wrestling Inc., AEW Unrestricted, Wrestling Inc.
KEEP READING: Bryan Danielson Talks Wheeler Yuta And Important Lesson John Cena Taught Him