Park Beyond's huge update is nearly here with massive changes and the first Theme World added to the game. The latest theme park simulator will include a significant update that will vastly improve the experience, with a new sharing platform. Players will finally be able to obtain and share various designs created by the community. The first Theme World has also been revealed as an upcoming release with the update, featuring 90's themed additions for any amusement park.
Park Beyond is the latest theme park simulator that allows players to create their own parks as the Visioneer. From managing and designing the park, players can create their own amazing or insane rides as part of their amusement line-up. The game also allows players to decorate and customize a range of buildings and areas, adding unique designs to every aspect of the park. There are thousands of themed scenery props available but there is still a limit to the amount accessible in the base game.
Park Beyond Goes eXtreme with New Content
RELATED: Park Beyond Closed Beta Test Now Live
A massive free update is coming to Park Beyond on September 29. Update 2.0 will include performance improvements, reworked visitor flow, mission redesign, modular building improvement, and more. On top of this, the very anticipated parks and prefabs sharing platform powered by mod.io will also be implemented, allowing players to share their amazing parks and creative prefabs across all platforms, all around the world!
Finally, September 29 will also mark the release of the game's first Theme World: Beyond eXtreme, adding new missions focused on the explosive character Blaize, two new flat rides, entertainers, and more than 250 scenery items. 90s vibes and crazy rides, Beyond eXtreme calls out to all adrenaline junkies out there willing to make their park a thrill-seeker's paradise!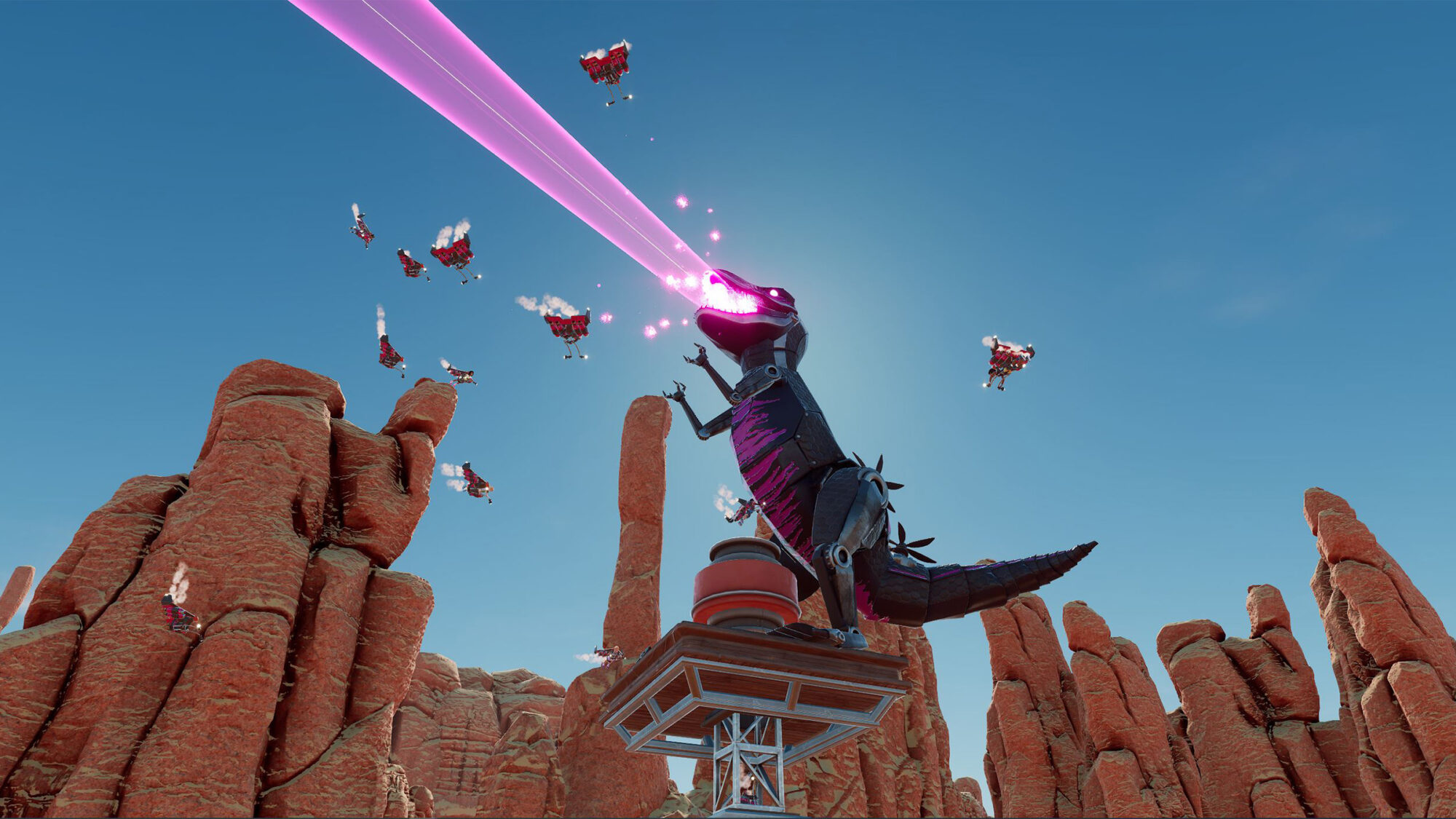 RELATED: Park Beyond Is Coming to PC, PlayStation 5 AND Xbox Series X/S On 16th June 2023
The new sharing platform is exactly what players have wanted for the game as sharing different designs goes a long way. Along with using your own designs, it is fantastic to use or try the mad creations of other players. The improvements will also go a long way to enhance the simulator experience, just as you start mixing in an unlimited range of custom designs. With the first Theme World, it will be interesting to see how designs may evolve as more content is added to the game for a greater range of choice and flowing ideas.
The 90's theme is a fantastic choice for the first Theme World to be added to the game as it contains so many nostalgia-influenced items. The mechanical dinosaurs featured in the theme world are going to be a visually stunning addition to any park, along with a range of other visuals. It will be interesting to see how the whole scene for the game changes if all these new lighting options are used during the nighttime. As this is the first Theme World to be released, it will be exciting to find out what other additions are revealed for the game in the next release.
Park Beyond is available for PlayStation 5, Xbox Series X|S, and PC. The Update 2.0 for the game will be implemented on September 29, 2023, with the new Theme World: Beyond eXtreme released the same day.
About Park Beyond
Release Date: 16 June 2023
Publisher: Bandai Namco
Developer: Limbic Entertainment
Platforms: Steam® (PC), XBOX Series X|S, PlayStation 5
Genre: Simulation Game
Rating: PEGI-3
What do you think of the Update 2.0 for Park Beyond? Are you excited about the first Theme World expansion? Will you be incorporating designs from other players into your amusement park? Let us know on social media and keep following The Illuminerdi for more gaming news. We're always watching.
KEEP READING: THE LAST OF US SEASON 2 RUMOR MIGHT REVEAL HUGE STAR FOR HIGHLY COVETED ROLE OF ABBY
Source: Bandai Namco