As the Power Rangers franchise will begin a reboot after Power Rangers Cosmic Fury, now is the perfect time to consider evolving beyond its original concept. The current formula for each series usually revolves around a 'Monster Of The Week' and is often subjected to specific formats for characters and concepts. However, an opportunity will soon arise for Power Rangers to fundamentally change its quirks and venture into a new concept. As there are many routes it could take, we are sharing our thoughts on what changes could be implemented to bring Power Rangers to a wider audience.
Power Rangers is currently celebrating its 30th anniversary, celebrating the air date of Mighty Morphin Power Rangers. From Boom! Studios comics to the recent 30th anniversary special, the Rangers have begun diving into different formats that extend the story further than before. So far, the only notable reboot for the franchise is Power Rangers (2016), which unfortunately didn't find its footing to bring forth more movies continuing the story. Since Power Rangers Beast Morphers, fans have started noticing a greater amount of original footage, without as much reliance on Sentai content. Power Rangers Cosmic Fury has now gone beyond this by featuring original footage for the entire series, except for the Zords.
Evolving Power Rangers For The Future
With the reboot drawing closer, now is the perfect time to evolve the Power Rangers franchise as production changes for the future. This includes the move of production out of New Zealand and the upcoming release being developed by Johnathan Entwistle and Jenny Klein. Many fans await the first reveal of the new vision but some changes could be implemented that could create a greater concept and bring the franchise to a mainstream audience.
RELATED: The New Era Of Power Rangers Could Hopefully Arrive As Soon As 2025
Create Originals Away From Sentai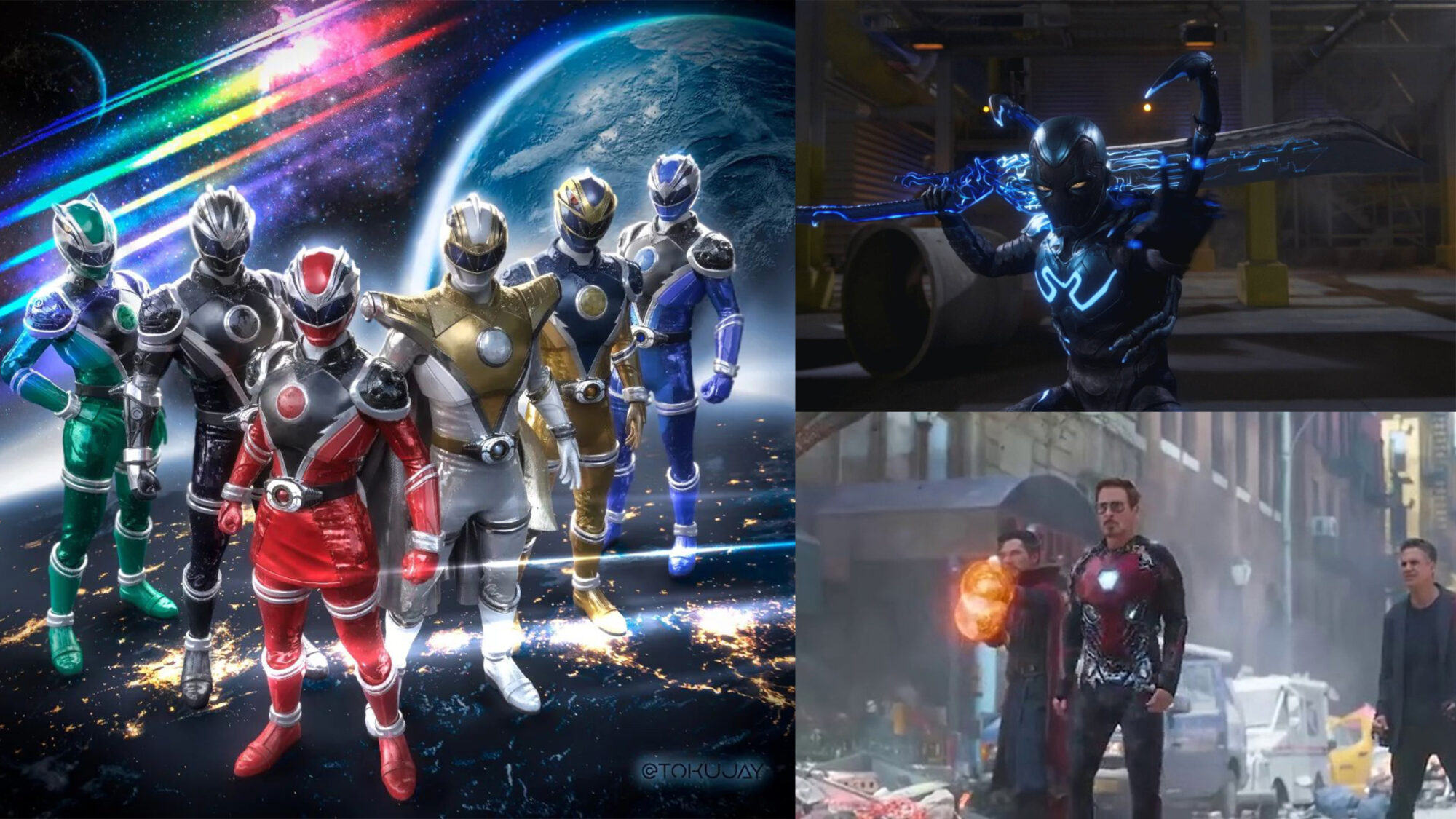 Although a reinvented Mighty Morphin team, the concept of taking Power Rangers away from Sentai would be an important jump. The appearance of the arsenal and suits have been one of the biggest features to tackle, but it's important these evolve away from the concept fans are used to. With a high budget involved, fans might even be delighted by an upgrade, which is highlighted by the fan art created by @TokuJay. Although many other superheroes would be a good reference, including the recently released Blue Beetle movie and even Marvel's Iron Man.
It is always worth stating that a lot of fans are now constantly comparing the Super Sentai series to Power Rangers. This can also affect the growth of the franchise since it will always clash with its counterparts. With Toei working on a global IP plan, now is the best time to evolve Power Rangers into its own entity. This would also benefit the Tokusatsu community as it will add to the library and would allow completely new releases and debuts, instead of being an adapted past release without surprises.
RELATED: Power Rangers Cosmic Fury: Familiar and New Details about Season 30's Dark Ranger
Change the Format of Villains
The 'Monster Of The Week' concept fans are used to derives from the episodic concept of the original series, which is still seen in the Super Sentai series today. However, this concept also restricts the characterization possibilities in favor of providing focused challenges every week. Although fans are used to the format, the concept does take away the potential for deeper characters among villains. This is also magnified by the production as Simon Bennett recently shared his view on using the Monster footage from the Sentai, highlighting the difficulty of adaption. This does not necessarily apply to henchmen as there are ways that foot soldiers could still be an asset to any reboot.
As the target audience will now be young adults, the overall design and concept for villains do need to be stronger for a chance for serious tones to feature. The whole 'Monster' concept can also weaken characters as creating wasteful opponents often does not help the hero profile, plus it also limits interactions. By making stronger characters for the villains and giving them devastating or dramatic backgrounds, a reboot could appeal to a vast range of viewers and add greater gravitas.
RELATED: Dark Magic & Possession in Your First Look at Mighty Morphin Power Rangers #112
Give more Superhero Representation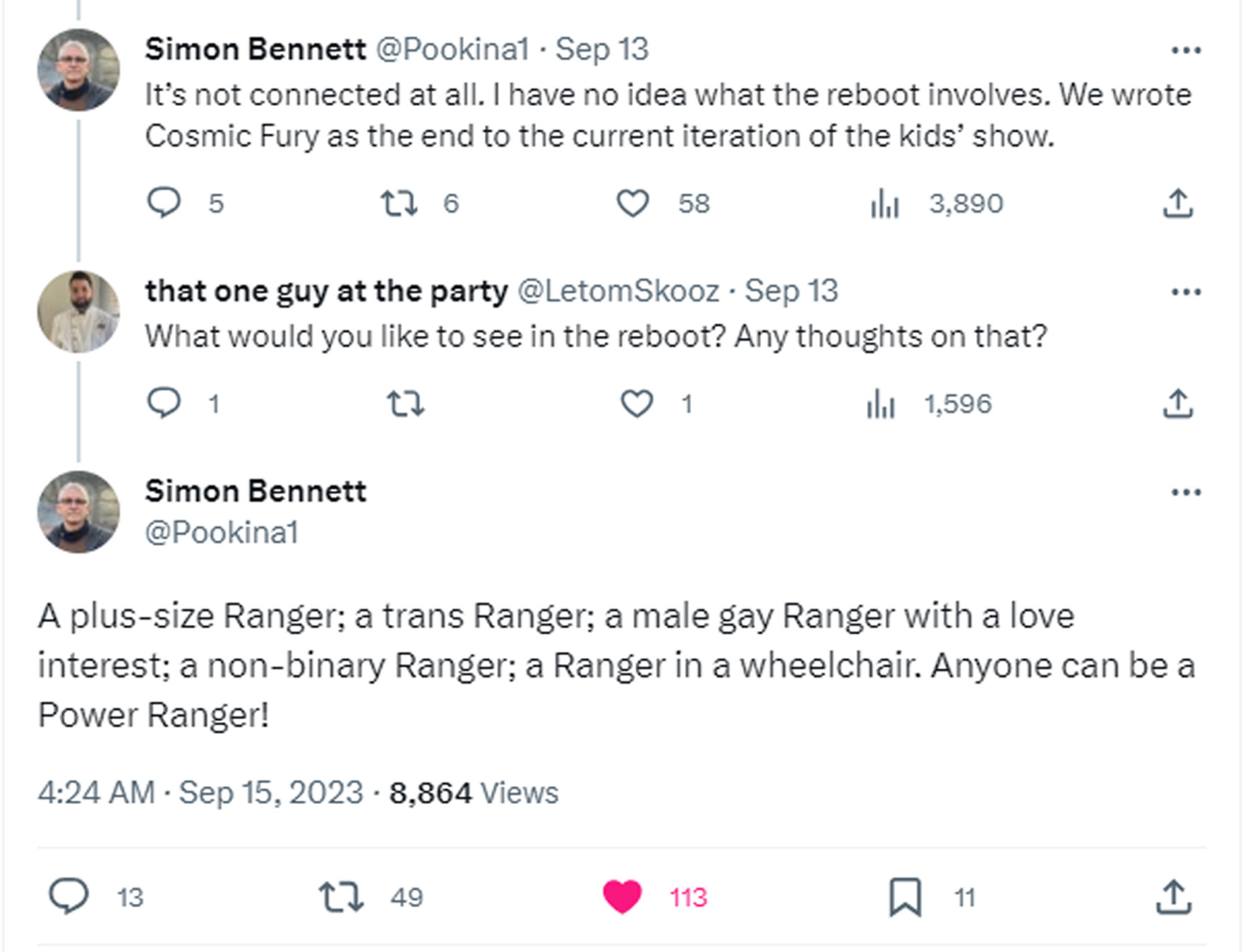 A reboot could also mean changing the standard ratios and features that fans are used to, including adding more representation. Simon Bennett has also spoken regarding the kind of representation he would love to see in the future for Power Rangers. There are thousands of ways that new characters could be forged and the same applies to Rangers. Both Hyperforce and the Boom! Studio comics have greatly contributed to the expanded representation with Hyperforce Yellow and Ellarien, the Solar Ranger. However, there is still room for more that could expand, which could lead to more audience members feeling included.
Better balancing Concepts and Toys
One of the biggest issues with the franchise currently is the quality of toys and the overall theme of the series' arsenal. The Cosmic Fury Morpher toy is a good example of Hasbro not matching the fantastic designs crafted for a Power Rangers series. However, this also applies to many releases from past series with some questionable choices in various seasons. Even Super Sentai has realized that action-based henshin devices are much more appealing to their target audience, favoring swords and gun-based designs. Overall, there must be a balance so series features, and show-accurate merchandise will appeal to the audience and collectors.
RELATED: Power Rangers 30: Full Cosmic Fury Teaser Trailer Finally Revealed!
Overall, the reboot of the franchise may evolve beyond any of the eras before it, with rumors already suggesting fundamental changes. Power Rangers Cosmic Fury has highlighted the build to an original Season since fans have witnessed the franchise go from adapting footage to only adapting Zords. Although the 2017 movie and previous Seasons didn't live up to expectations, they have laid the groundwork with feedback since it gifts the reboot with a better idea of what everyone desires. With a new target audience, fans could see a new exciting Universe for Power Rangers and maybe even a start to new original Ranger teams.
Power Ranger Cosmic Fury will be the upcoming 30th Season releasing on September 29, 2023, via Netflix. The next anticipated release will be the Power Rangers reboot project currently in development.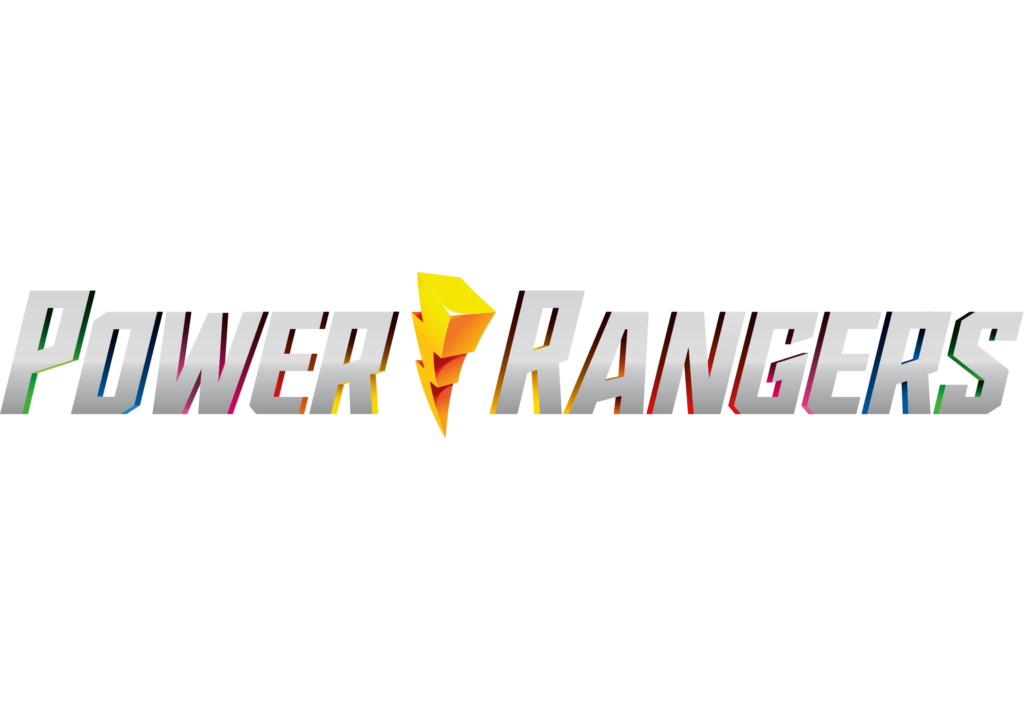 What do you think of the future of Power Rangers? Do you think Power Rangers should evolve for a larger audience to enjoy? Are you looking forward to what Johnathan Entwistle and Jenny Klein are creating for the reboot? Let us know on social media and keep following The Illuminerdi for more Power Rangers content.
KEEP READING: Power Rangers Cosmic Fury – Latest Preview Confirms Mick Kanic's Return