AEW star Chris Jericho recently spoke about why WWE Hall of Famer Edge going to AEW would open a big world of opportunities to him.
Last week, WWE had a bunch of releases.  Wrestling promotions around the country will soon have some free agents to try to convince them to join their promotion.  However, the biggest name promotion and the one most of those released wrestlers will try to sign with is certainly AEW.
RELATED: Matt Riddle Confirms His Release From WWE
Out of all the free agents in wrestling at the moment, the biggest name is Edge.  His contract expires this month, so technically he may not be a free agent yet.  On Aug. 18 Edge wrestled the last match in his WWE deal against Sheamus.  Since then he has been waiting out his contract, and there has been speculation that Edge may not be retired from wrestling but just WWE.
With this speculation, the discussion of where Edge would go comes up.  The logical choice is AEW.  It is the number two US promotion and his best friend, Christian Cage, is already there.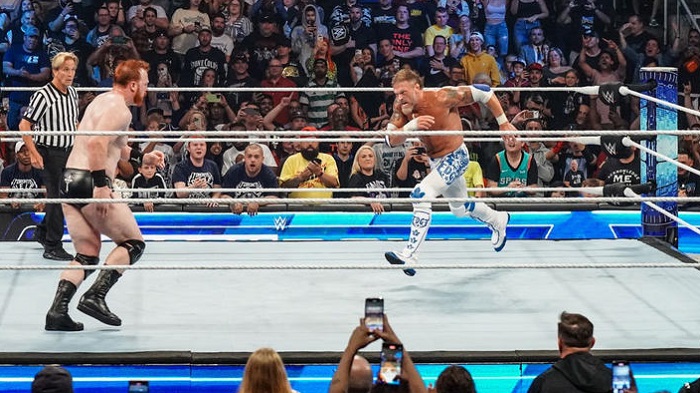 In a recent interview with Superstar Crossover, Jericho weighed in on Edge joining AEW, what great opportunities AEW has to offer, and how well he thinks Edge would fare there. The former WWE and AEW World Champion stated the following:
"Who's to say for sure, but if you look at Chris Jericho, for example, where I was in WWE, there really wasn't much more that I could do there," Jericho said. "You're there for many years, and you've wrestled everybody, and it's great. But it's always good to shock people and to show up with a new kind of mission.

"For [Edge] to come to AEW, it'd be a whole fresh new coat of paint. Whole new roster of matches that he could have, obviously a new name, which would then, knowing him, knowing me, what I would do is a whole new look, a whole new mindset. That's the best thing about having AEW and about us being as successful as we are, is that there's now a visible alternative. I don't want to say competitor because it's not that, but you can now go to either company."

H/T to Wrestling Inc. for the transcription
Chris Jericho And Edge's Final Years in WWE
Jericho's final years in WWE are much like Edge's.  Both men were in high-profile feuds with some of the best wrestlers in WWE.  They were both entertaining and still able to have entertaining matches.  However, it was also apparent that neither man would have the WWE Championship around their waist.  There wasn't or in Edge's case, isn't, a whole left for them to accomplish in WWE.
Jericho went to AEW and wrestled a whole new crop of wrestlers and became the first-ever AEW World champion.  He reinvented himself and has since faced some of the best non-WWE wrestlers in the world, and I mean the world because of AEW's relationship with NJPW.  AEW offers so much more freedom that WWE does not.
Edge would have so many options the day he stepped foot in AEW.  He has old rivals like Jericho and The Hardy Boyz to start feuds with.  However, he has old allies like Cage which he can tag with or choose to feud with.  He of course has a huge list of wrestlers he has never wrestled like Kenny Omega, Jon Moxley, Sting, and Bryan Danielson.
In late August Edge announced via his Twitter/X account that he doesn't know what his future will hold.  WWE offered him a contract extension and he hasn't decided if he wants to take it.  We very well could see Edge in the next few weeks in WWE.
If he does decide to continue wrestling outside of WWE we could see him as early as October because WWE's 90-day non-compete clause ends when the contract does.  
RELATED: Jade Cargill's Exciting Rumored Jump To WWE One Step Closer
If AEW was only able to sign one of the released wrestlers or Edge, which would you choose?  Do you think Edge will continue wrestling?  If he does, will he stay with WWE?  Would AEW be the best place for him to end up?  Would you like to see him put immediately into a championship feud or ease into it?  Who would you like his first feud to be with?  Let us know if you think AEW should pair Edge and Cage up or keep them far apart on our social media.
SOURCE: Superstar Crossover, Wrestling Inc., Edge's Twitter/X, PWTorch
KEEP READING: AEW's Jon Moxley Talks About The Pride He Takes In His Work And Toll On His Body